FINALLY - A NEW GARDEN ZONE MAP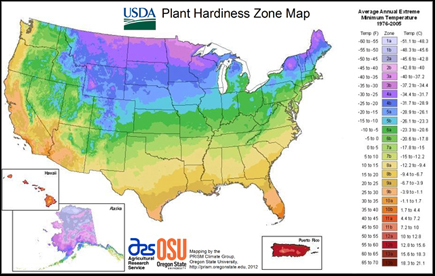 FIND YOUR ZONE
Go to the new
USDA Zone Map
and you will find a fabulous post-climate change site that shows you the country, the region,
the state, etc. and basically, has officially recognized that Yes!
Things are getting warmer.
We East End of Long Islanders are now on the record as Zone 7a. Those west of us closer to Manhattan are Zone 7B.
WOW – that's almost Zone 8, where you can grow Agapanthus and all sorts of other things formerly restricted to California and other perceived warmer places.
Interestingly, note that the data used to compile this newly sanctioned map was complete as of 2005. Now, we all know that since 2005 it has become increasingly warmer…so this tidbit of officially compiled information is especially useful when…
RETHINKING YOUR GARDEN
January and February are definitely the most delicious time to rhapsodize about Your Garden's Immediate Future and to bury yourself in the astonishing array of mail order plant catalogues.
Now, that it is decreed I am a Zone 7a, at least, garden…I will get riskier with that, i.e. $18 Farfugium 'Kaimon Dake' and that $22 woodland ginger
There are many great catalogues, which is why I was so dismayed to
read in the Southampton Press that
Andrew Messinger, a garden writer colleague and a devoted East End
gardener, was waxing persuasively and endlessy about
As long ago as my book
DIRT
was published, I had already decided that the WWF catalogue was classic and nice but "be wary as they are extremely computer driven and very expensive." My view has not changed, but also feel moved to add to my misgivings, that in my experience, they ship rather puny little plants.
Although once in a while, they do have things before anyone else.
The very best catalogues –sad but true – have no color pictures…
but what they offer and what you get are top-notch.
I wholeheartedly recommend :
Forest Farm of Oregon
– extensive list + great descriptions + shipping is expensive, but you get full-fledged plants and small thriving trees.
Niche Gardens
of North Carolina – wonderful selection of mostly American plants and they ship in big pots
While these terrific catalogues are a compendium of
full-color pictures:
Klehm's Song Sparrow
of Wisconsin – they specialize in peonies but have extremely choice offerings otherwise.
also of North Carolina.