DIRTIER ....The Newsletter




Volume 52 Thanksgiving 2013

Aaaaaah...
The variety
Oh the shapes
Oooh the smells

I had every intention of getting this to you while bulb planting was at its frenzied peak, but been too busy doing just that as well as Speaking Shakespeare in my much-loved class, seeing extraordinary Shakespeare in NY, feeding the ducks and millions of other things.

So, it's a little after-the-fact to tell you this new-found tidbit:
WHEN THE CRICKETS CEASE TO CHIRP
It's time to plant tulips!!! Or so they say...
And it proved to be true too

Look at the little green shoots saying
Plant Me Now
Plant Me Now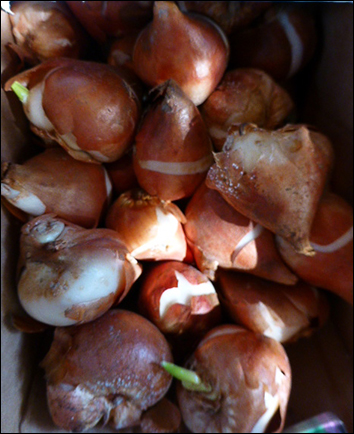 Another clue is when the sweet doggies lie in the sun instead of under a tree and, of course, falling leaves is another sure sign.
But for most of us in the Northeast, bulb planting is out of the question once the wind begins to howl and the degrees dip down
to below 30....like right now.
What am I going to do with the few hundred bulbs just arrived? (couldn't stop myself with 40% off from van Engelen...
and shady lane border desperately needed tulips
and you know,
who can resist a really good deal?)

Well, I am going to wait for those inevitable few nice days, whenever they may be, and take the advice of smart Jack Larsen... who says it's never too late to plant bulbs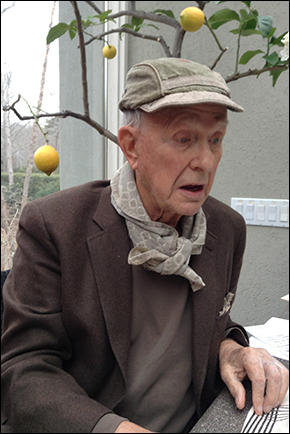 In the meantime......here are a few ravishing images from the last few weeks before Thanksgiving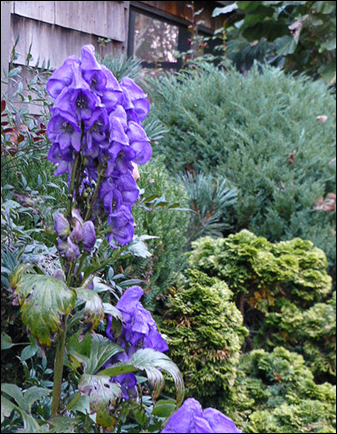 The always surprising luminosity and stamina of Monkshood,
Deadly Nightshade that it is,
and the closest I'll ever get to the elusive delphinium look.
A totally white leaf on the Cornus controversa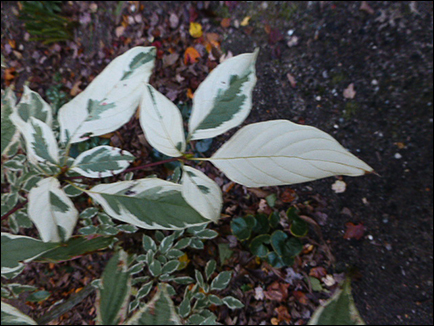 The Japanese Rice Paper Plant (Tetrapanax) pushes out
seductive new growth to the very last minute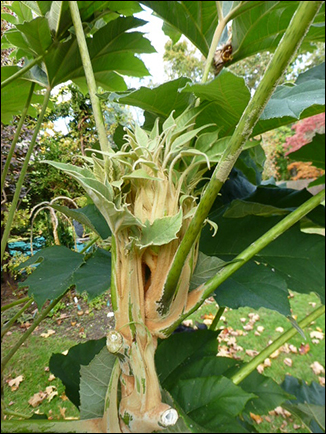 Living next door to the 26 acre East Hampton
Nature Trail has its distinct advantages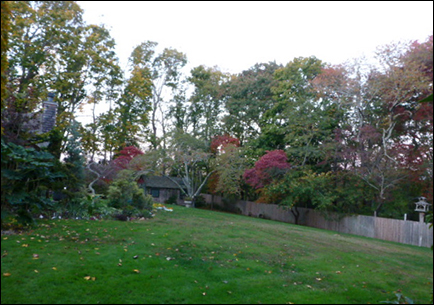 AND this is THE HAMPTONS most famous feature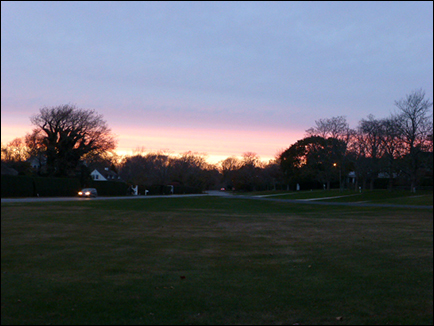 That extraordinary pink evening sky ...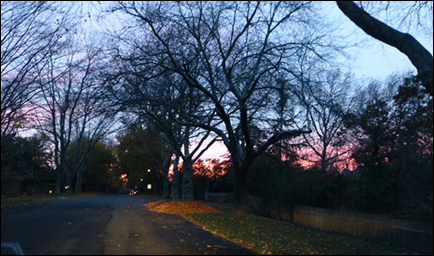 Our street (and our leaves)


Oh yes, and on November 12th we had our first dusting of snow...always magical, but not often combined with the
gorgeous range of autumn color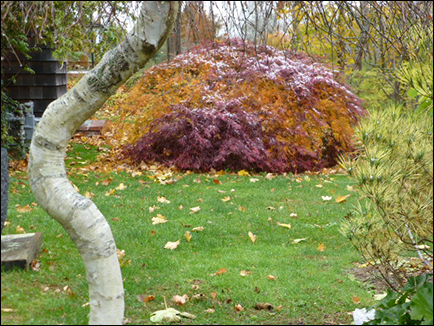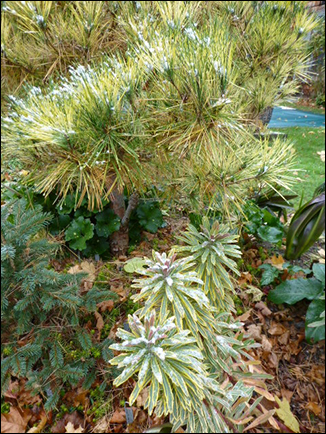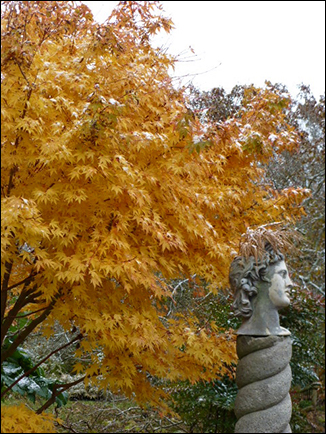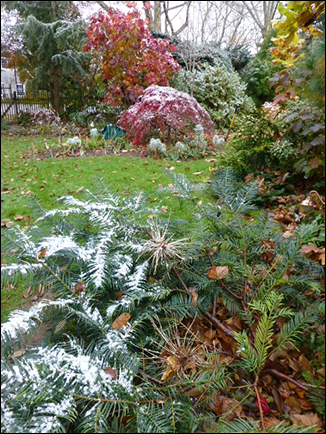 SO SICK OF THIS
Following is a quote from a recent issue of the
New York Observer describing Carine Roitfeld,
once Vogue
Paris editor and now one of the Fashion's Big Things


"Sultry. Decadent. Dusky. Unapproachable.
Not the sort of
person who would wear denim,
even to do gardening. Not that she would garden."

What kind of talk is that?

As if gardening is so bad?
The concept here just despicable: who is to say that
gardeners are not fashionable.

How dare they?


I, for one, consider myself quite glamorous ....
Here I am last week at a Venezuelan Cultural Gala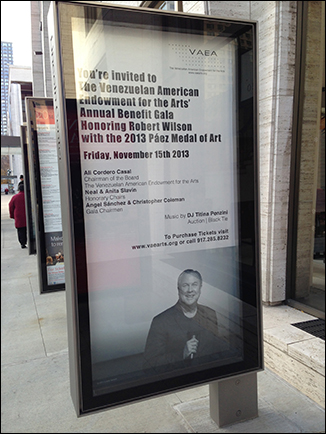 at Lincoln Center accepting an award on behalf of Robert Wilson.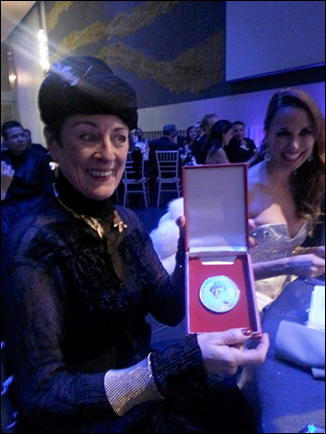 While Bob himself was very busy being toasted by tout Paris with his image plastered stories high on The Louvre
(look at the people walking
beneath for a nice sense of scale)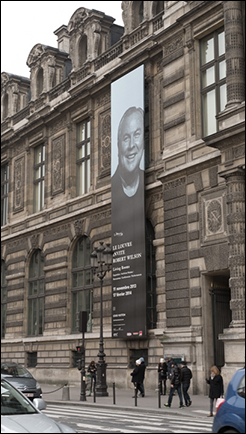 Laurie Lambrecht Photo



There is a fabulous show right now at
The Brooklyn Museum, The Fashion World of Jean Paul Gaultier.
In this show there is a big wall placard
describing a little bit of my (very fashionable) career...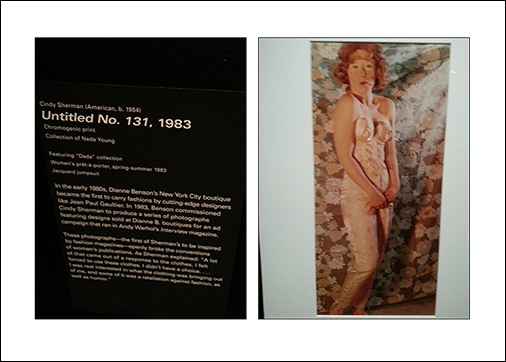 translation:
In the New York of the 1980's, Dianne Benson was the first to carry such cutting edge fashion names as Issey Miyake, Comme des Garcons and Jean Paul Gaultier. In 1983 she commissioned the artist Cindy Sherman to produce a series of photographs using designs sold at Dianne B. boutiques for an ad campaign that ran in Andy Warhol's Interview magazine...
You see, dear gardening friends, when fashion
is in your blood it shows up in everything you do.
That is why my book is called
DIRT, The Lowdown on Growing a Garden with Style.
And don't miss the Gaultier show.
This is its sixth stop on a museum tour that has spanned
America and Europe...
The mannequins walk and talk...among other delights.

It is there through February.
WHAT CAN I SAY...how beautiful is November
The falling leaves accentuate the shapes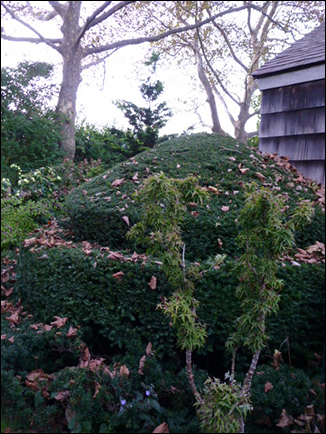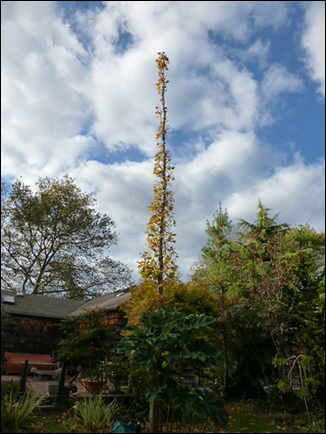 The yellowing maple monumentale against that super blue sky
is just too much, isn't it?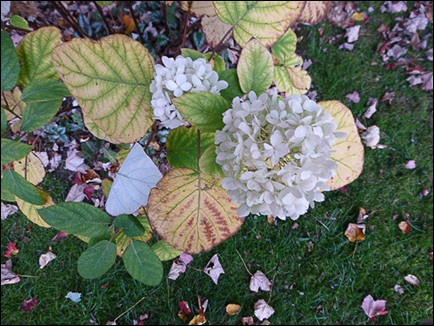 the last flowers and changing colors of
Hydrangea arborescens radiata
(this species confirmed by Ken Druse, no less).
Note that the underside of the leaf remains white.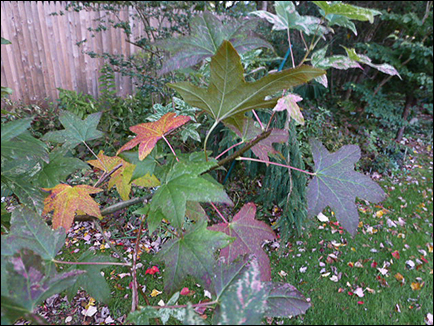 SIX different colorways on ONE LIMB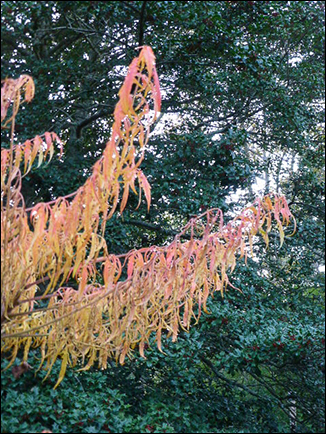 brilliant gold of that super Sumac, Rhus typhina 'Tigers Eye'

A more distant view of it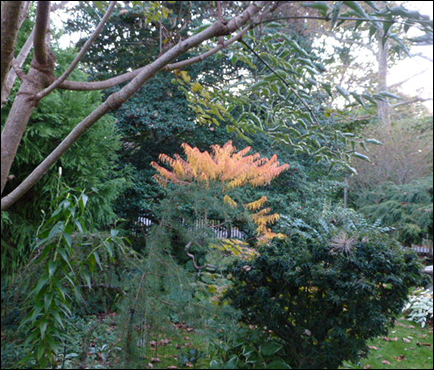 And the startling red of the dwarf Japanese maple 'Shaina', I think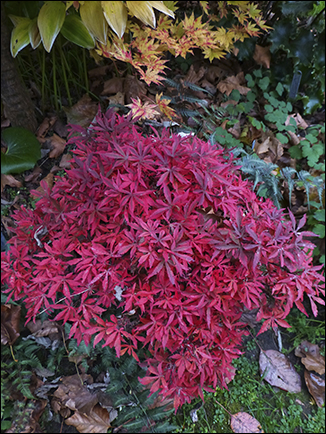 EVERYBODY LOVES SHAKESPEARE...
Maybe you just don't realize it until you see it really well-done.

Don't miss the fabulous Old Globe production of Twelfth Night.
It is deserved of every dazzling word in every remarkable review.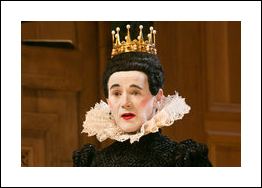 The extraordinary actor Mark Rylance as Olivia.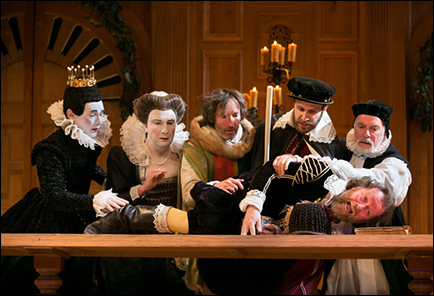 Lys loved it and laughed through every scene...and she didn't even particularly want to see it.

Then...when you've had the best (of the best) of comedy...

Go to see Macbeth at Lincoln Center. It is a full-blown electrifying production in which my great friend John Glover
plays a (the) Witch.
Ethan Hawke is Macbeth, but John is the star.
(They even said that in the New York Times)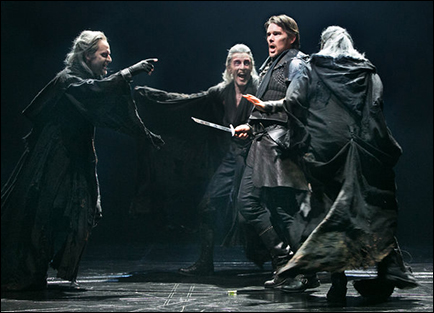 John in the middle...


And you might remember that last winter I was a witch in the
Roundtable Production of Macbeth
(therein the extra special spark
when John told me about Lincoln Center ).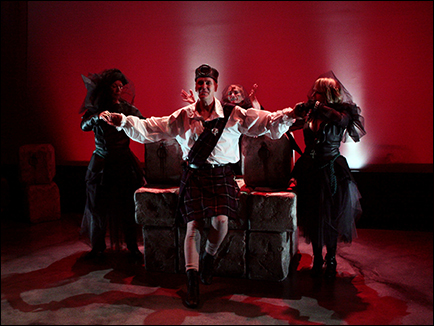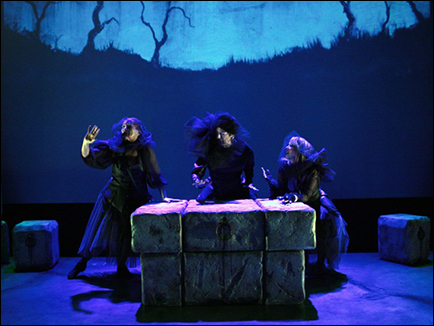 Both of the Broadway productions are running through January,
but if you shouldn't get to NY or can't get tickets...
and, actually, even if you can...

COME see US
next Wednesday night, December 4th
The beautiful theater at Guild Hall, East Hampton
7PM
Roundtable Speaking Shakespeare Scene Night.
And unlike Broadway --- it's Free.

I am particularly excited because I get to play Gertrude
to Tristan Vaughan's Hamlet in the legendary
'Good night, Mother' scene.
That Tristan is the perfect age, a professional, handsome and
our teacher -- makes it that much better.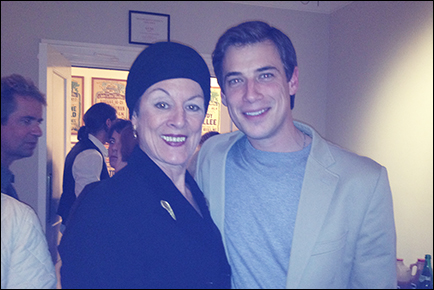 You are all invited...

GIFT TIME
For the gardeners in your life, forget
that dismal-sounding Black Friday
The solution for every gardener on your Christmas list
is right here:

MAKE THEM HAPPY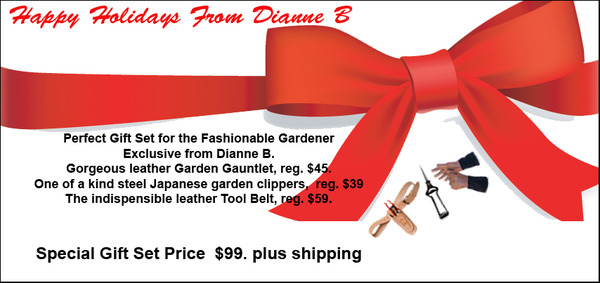 Making this great deal is my present to you.

The tool belt
The clippers
The leather gauntlet
For Only $99

You know, these three greats
can only be had
at diannebbest.com

All this and chic wrapping too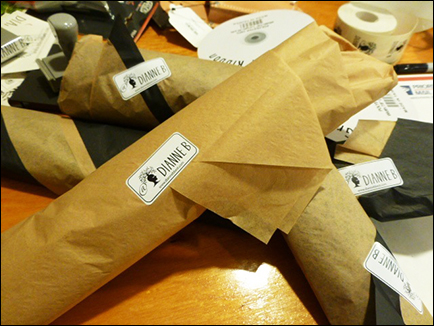 HAPPY + BOUNTIFUL
THANKSGIVING WEEKEND
TO ALL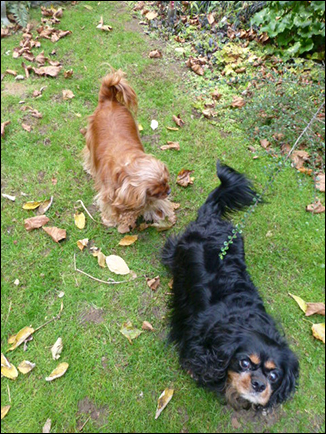 One last look at the great chimera of color
of the (big) Japanese maple,
Acer japonica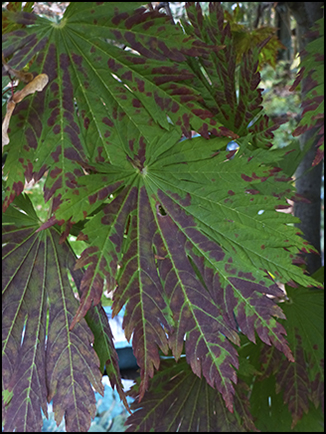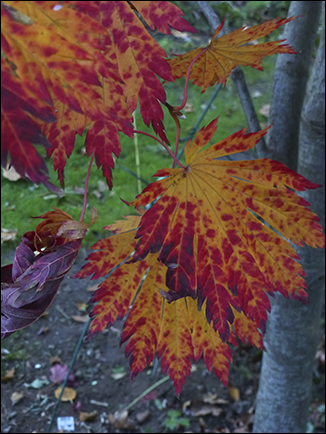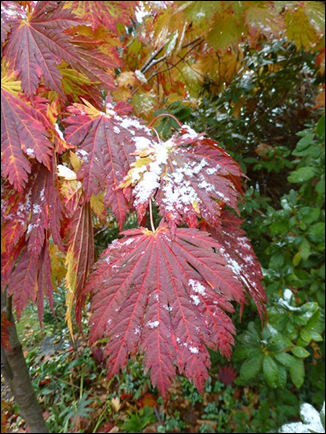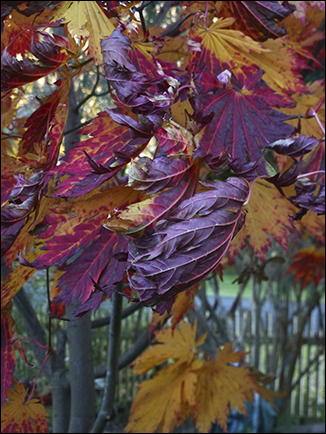 What could be more fashionable?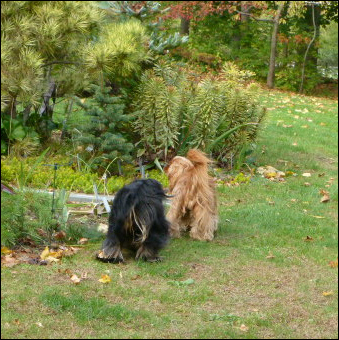 Don't forget to do your Christmas shopping at Dianne B...there's never been such a good deal