| | |
| --- | --- |
| DIRTIER ....The Newsletter | |

DEVELOP A MENTAL THERMOSTAT
BABY IT's Still Cold Outside
But gardening in spite of it, I do believe,
is a state of mind.

A Dutchman named

Wim Hof

theorized the mental thermostat idea to achieve a certain mindset needed for his goals,
like climbing Mount Everest in a pair of shorts.

Now, that is a crazy concept...
but I do find that there is a special
Gardener's Mental Thermostat
that can be piqued and persuaded to kick in when all looks particularly barren...and grim.
Like this,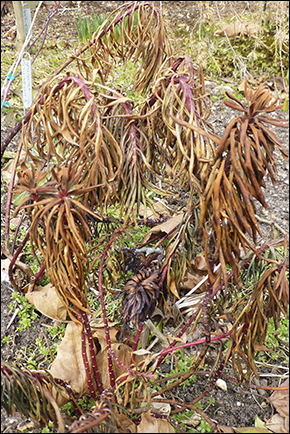 Even Euphorbia 'Ascot Rainbow'
couldn't take it ...


Neither could the always hardy
Hellebore foetidus
But I know you don't tune in to
DIRTIER
to see pictures of broken old dead plants,
you probably have enough of your own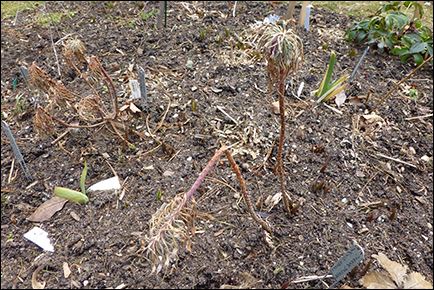 So, let's move on to what brings on
THAT TiNGLING FEELING
You know that sensation: a little bit of a prickle,
or an itch --
sometimes accompanied by a little buzz or a quiver --
the one you get
(or at least I get)
when out from an icy thaw, or a bed of old dried needles and leaves, peeps that sensational rush
of new life ...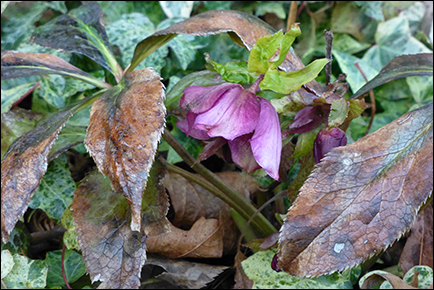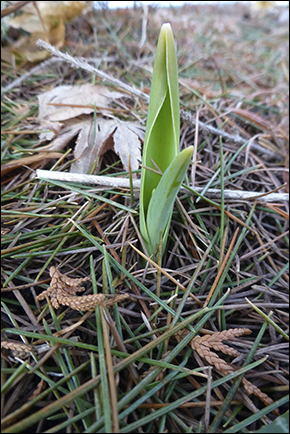 My mental thermostat shoots right up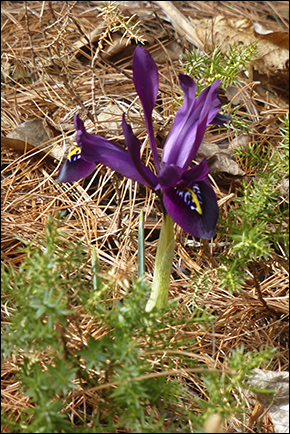 and keeps me warm
That's what Mama Nature does too.
Her colors withstand, even respond to,
the winter's cold
and become almost indescribably tantalizing

The golds are golder.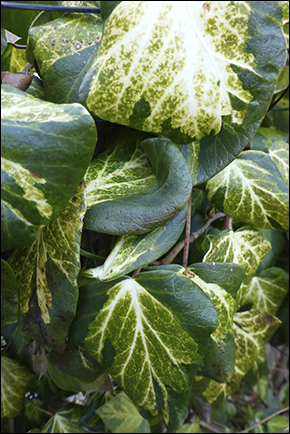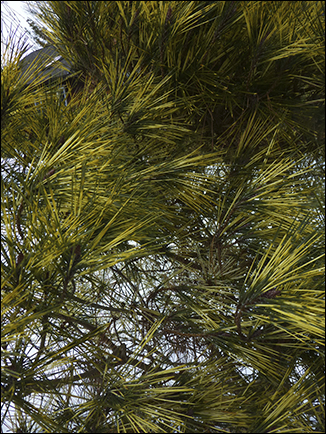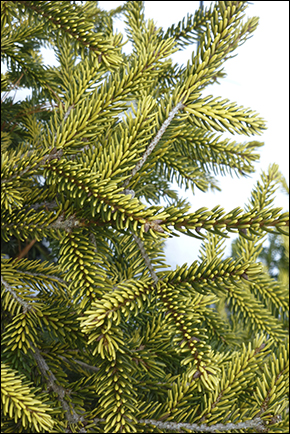 The blues are definitely bluer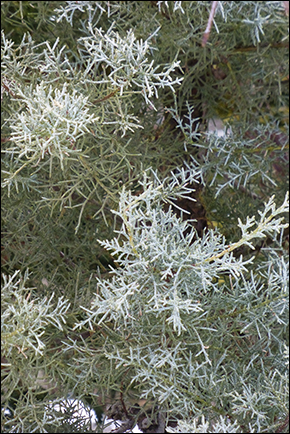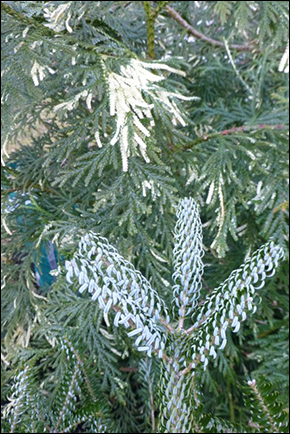 Even the basic green of the first new leaves
causes little vibrations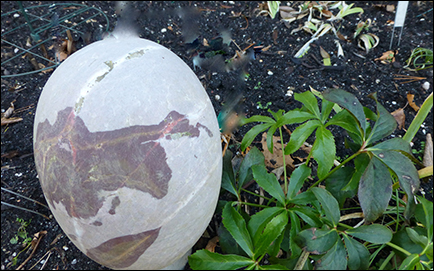 And as the desire to be outside burns....
the cold, somehow, magically
becomes tolerable.
I spent 4 hours in the garden on a withering
February day with
much of the garden still under snow cover.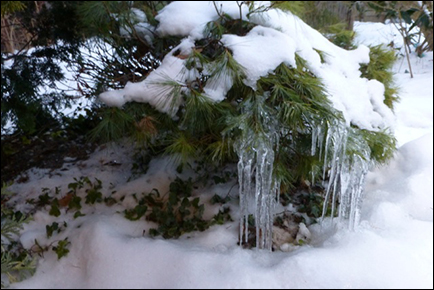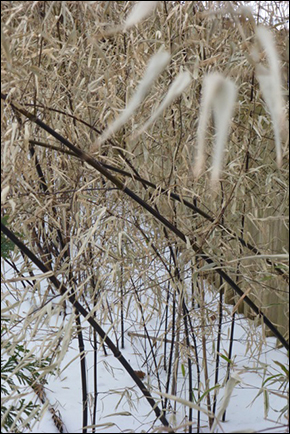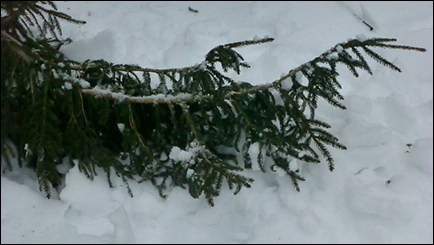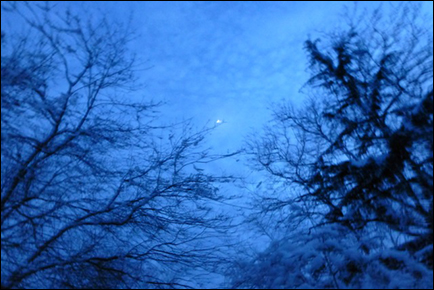 This past Sunday - hours of hacking back hydrangea and lespedeza - thankful for temps in the 40's ...
Some survivors
just can't be kept down,

like Fatsia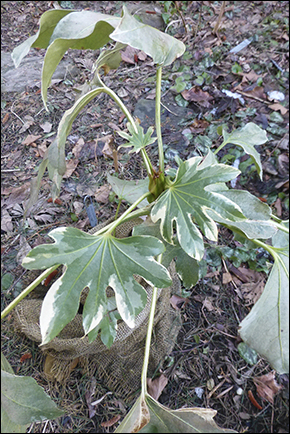 Hellebores + me

It's that mental thermostat thing...
SNOWDROP SCRUTINY
There are only 3 kinds, if you ask me.
tall fat ones
doubles
and the good old snowdrop

Although, if you were to say that to a Galanthus fanatic

they would shoot you.

There are 100s of variations and most all
rather expensive, even the small and most common are about a half dollar each...and when you envision a drift...it becomes many $$$.

To get specialized, well, then honey...be prepared
to cough up.
But when they do bloom and you make the first little bouquets of the season with a few different kinds...

Well, that is very rewarding


Galanthus single hybrid 'S. Arnott' are the biggest.
I bought three of them in 2010 for $10 each (I think that's a fortune for 3 snowdrops, don't you?)
from the royalty of the Snow Drop world:
Hitch Lyman's
Temple Nursery.
This year I have a clump of 10, so if you amortize
over time, it sort-of works out.

Good news is now

Brent and Becky


offer several species for quite a bit less
than Hitch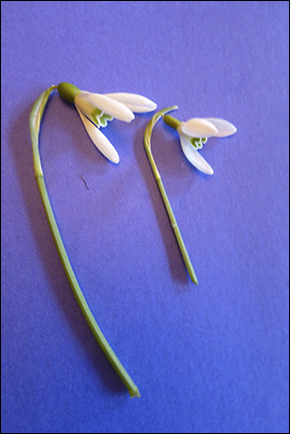 S. Arnott and a regular G. nivalis

The fluffy doubles that have the most presence are
Galanthus nivalis 'flore pleno'.
These you can buy for $6 each from Temple...or 50/$32 from
van Engelen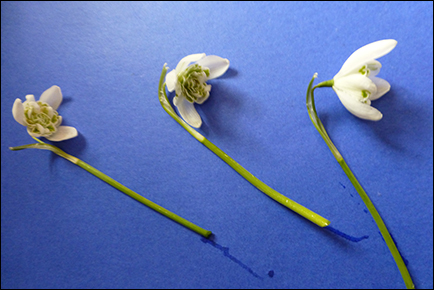 The sweet, simple, typical Galanthus elewesii, are available everywhere and you can never have enough.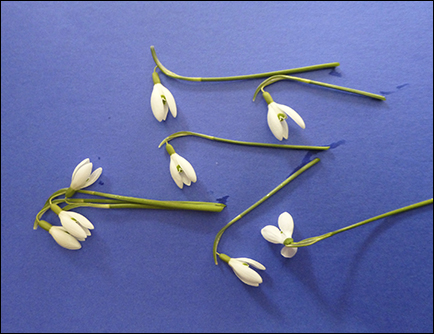 Though the named varieties sport a
little greener spot here
and a little longer pedicel there...
truth is, I can barely tell the difference.
In this case, like few others, it is quantity I find most interesting.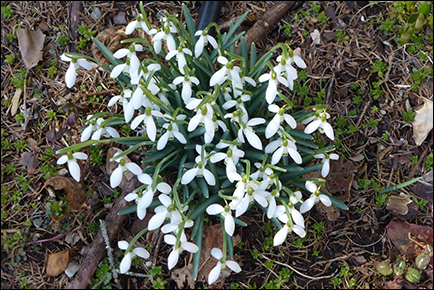 A final comparison: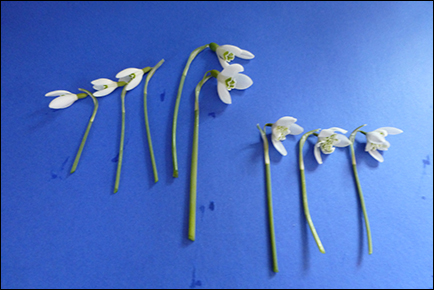 But the big difference in what you get from the others and what you get from Temple is savoir-faire.

A keepsake catalogue, gorgeously addressed to you in patrician long hand in real ink, is a hallmark.
So, if style is important to you...
send $5 and get your
catalogue now, because Mr. Hitch Lyman sends his freshly dug hand-wrapped
snowdrops
at the beginning of April.
Box 591
Trumanburg, New York 14886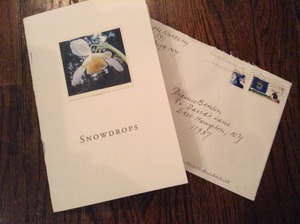 While attempting to capture the snowdrop's
charm against blue,
I became intrigued by the idea of a
DECONSTRUCTED BOUQUET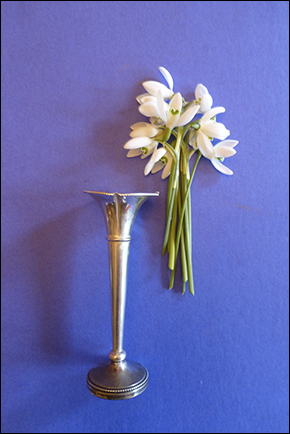 What do you think?

OTHER TURN-ONS
Should you not be as taken by the small signs of spring as I,
perhaps you want to induce your own vision,
maybe even a hallucination.

Now that everything is legal,
by chance you might try this...

On

DaVinci's Demons

...my favorite TV show
last season
(this season, so far it is too bloody and not romantic)
...the funky Florentine in-crowd of Leonardo back in the 15th C. swore that you could conjure a
potent state-of-mind
by smoking tobacco (or whatever) mixed with BLACK HELLEBORE !

This one is my blackest, and there is a certain deleriously fantastic quality to it as it emerges from the cold earth.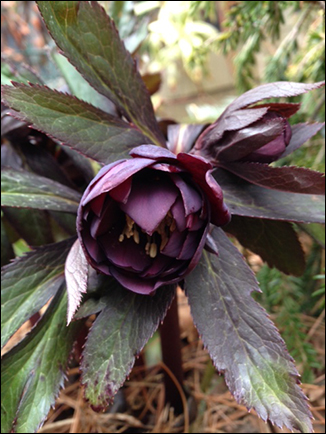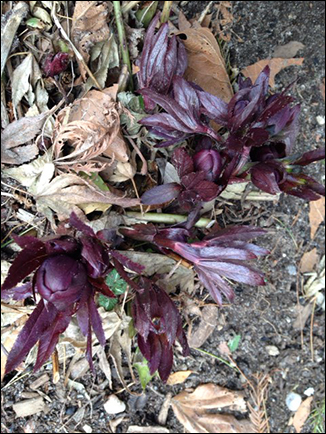 I can't say if it's a hallucenogenic one,
but it sure is trippy.


And who can resist this magical white hellebore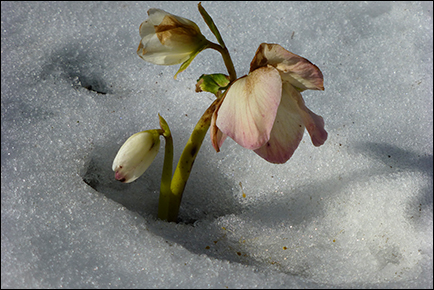 And here is proof that this flower
persistently emerged from
under 10 or so inches of snow.
Yes, just look
to the penumbra of the shadow
and there
on the right you will see the top of a


Dianne B. Zinc Marker



...and you know, those markers are
absolutely 12" high.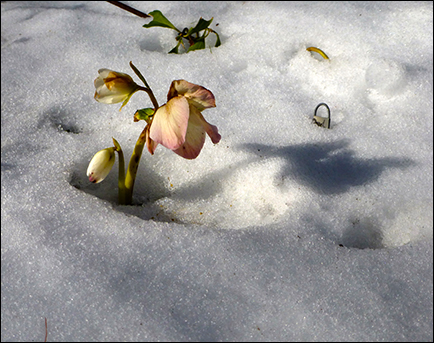 And speaking of these fabulous

zinc markers

, I have just gotten in a fresh supply because we're coming into the time of the year when the garden is crying out to be identified.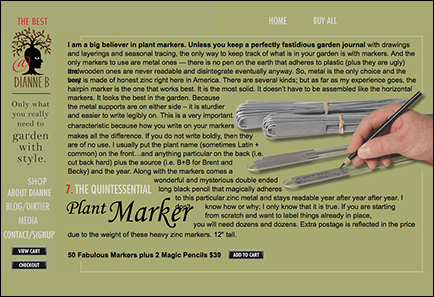 A FEW DB DOs and DON'Ts
DO watch Downtown Abbey if for no other reason than to see
the gardens as exuberant as Maggie Smith herself
And should you be in England, this month's


Gardens Illustrated


urges you to go to Highclere,
the actual house and grounds of Downton.

It seems that it is too expensive for the BBC crews to move scenes out into the gardens,
so you have to go and see them for yourself.
Lady Carnarvon, the real queen of the manor,
is dying for you to come.

Like any gardener, she wants to show off her garden...which gets
back to my old favorite point,

What is the use of having a garden
if no one ever
sees it?
DO think about subscribing to Gardens Illustrated. It's my favorite
gardening magazine (they won't let us
link you to the story or pix
without a subscription),
but Highclere looks GREAT.


DON'T, on the other hand, be too discouraged if there are
No plants on the
Gardens Illustrated 100 Must Have Plants
that you want and don't already have...

This seems impossible, really, I guess I need to look more closely.


DO plant little spring things in your mossiest spots.
The lovely green stuff is very hospitable...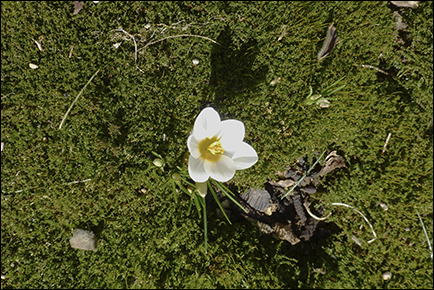 DON'T be too disheartened when you realize the rabbits are back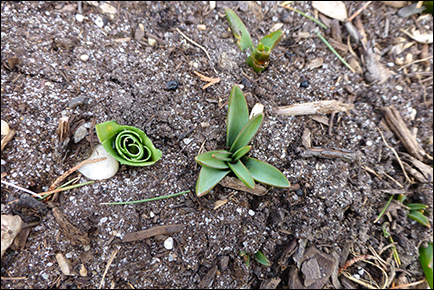 because there is nothing one can do about it.
Around here we have been in a fox cycle, and they don't seem to
care for the garden, but evidently we've gone back to the bunnies.

DO trust Arum italicum to survive anything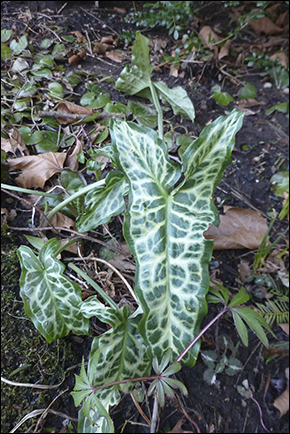 DON'T align amaryllis only with Christmas...
these brought superb
life into the Plant Room just last week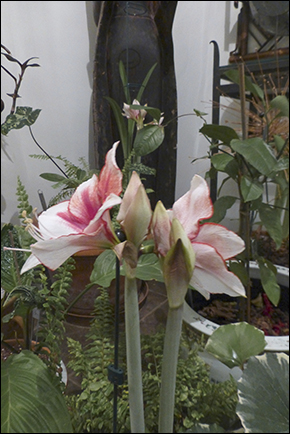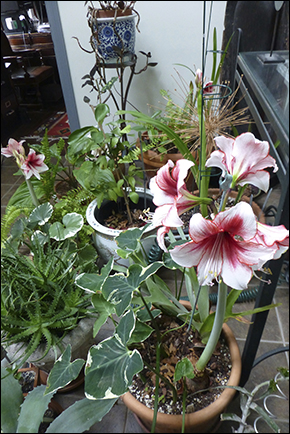 and always be appreciative of the smallest things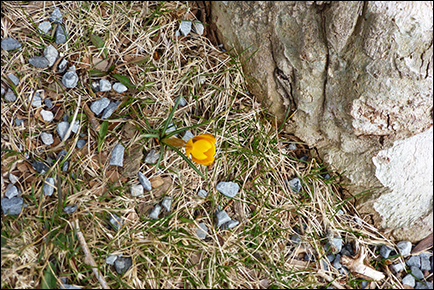 The

NEW MUSEUM

is an experience
The

Pawel Althamer


(a Polish Artist that I had never heard of)
exhibit there now takes up 3 floors.
Sculpture on 2 not for me, but the work on 4 caught that nostalgic melancholia facet of me that always pulls the strongest chord, like William Kentridge, like Juan Munoz, like Nicholas Africano.

But it is Floor 3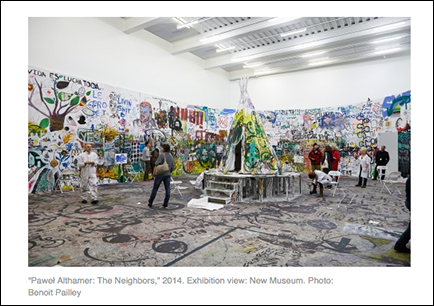 a gigantic space that I thought you might want to know about.
For the price of museum admission – if you care to – you can don
a painter's smock and go to town with museum-supplied chalk, crayon, paint, dyes - anything you can think of - and leave your own indelible mark,
well, that is until someone comes along
and paints over it.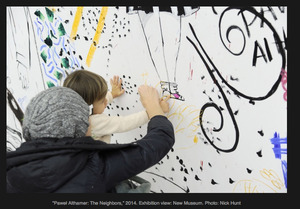 It is an experience ...
They even supply laddered-scaffolds on wheels.

Another interesting thing about the New Museum is that the people who attend are more or less indecipherable from much of the art.
It's great to see how The Bowery has come to life.
You should go.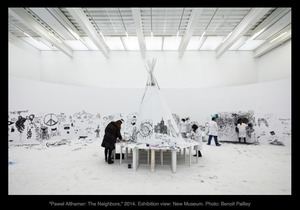 Don't miss Alice Aycock's sculpture the next time you are in New York City.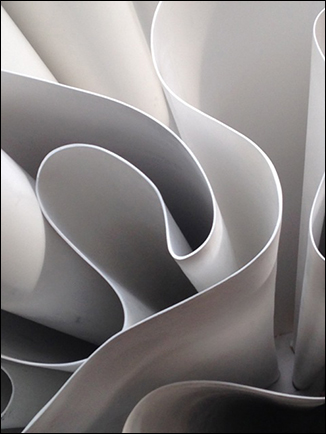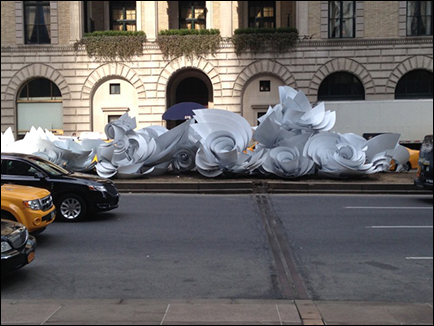 Park Avenue has never looked so good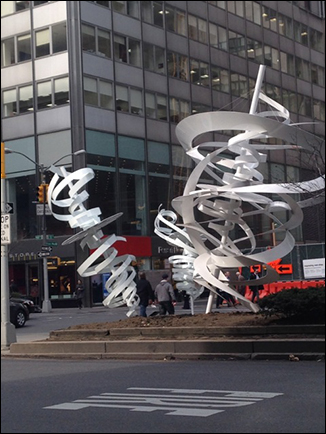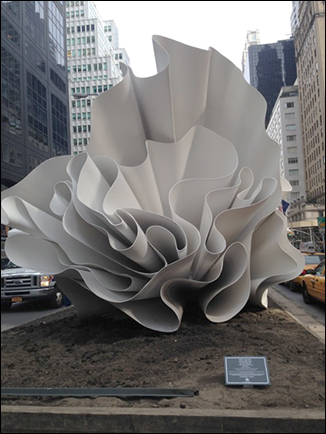 If it looks fabulously familiar, it means you are a
friend of

LongHouse


and saw our 32' long preview of one piece
of this fabulous installation
last summer.

It will be on Park Avenue from the Seagram's Building (52nd) to 59th street until June.

It's really great.
Skye (far left) is in Indianapolis.
She is now officially an All-American Swimmer!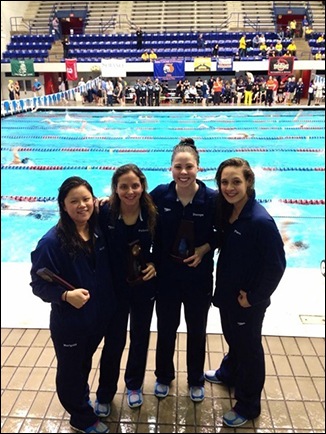 MOSSY MINDS
Who knew that one of my very best friends is also a moss aficionado? Isn't that nice...

This is how Maria Bacardi exhibits her moss...
she carries bits of it from all around the globe
and raises it in little bell jar cum terrariums .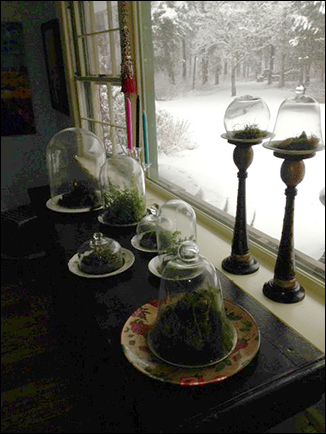 This exotic stuff is from a surreal seriously rocky mountain range
in the Malaga region
The rocks are called El Torcal
and she has brought some back for me!
Words, a testimonial if you will, from a pleased


Dianne B Shovel

owner...

woohoo! The shovel arrived and is most excellent indeed! Surprises like this (& the

clippers

&

gloves

) are an unexpected delight! Thank you for offering such cool tools, i cant tell you how pleased i am.
Best regards, Michael Greene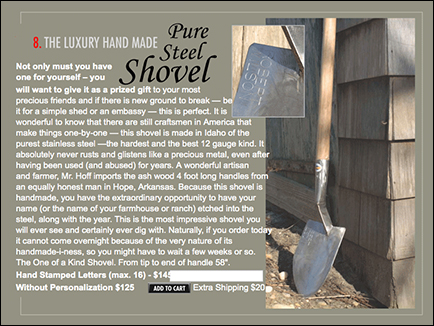 So, if you order now, you will have your

Shovel


just in time for digging in all those wonderful new plants and trees that you have been
dreaming about all winter.
Because these shovels are really handmade and engraved one at a time by Farmer John in Idaho,
I can't offer you a discount, but I can promise that you will love your shovel and if you want to make a particularly fine and longlasting impression on someone special ... they will never forget you
if you give them this as a gift:
for a birthday, a ground-breaking, a new garden...

But here's the good deal for my special reader friends...
If you order within the next few weeks,
I will send you a beautiful pair of the new Dianne B


Leather Gardening Gloves

.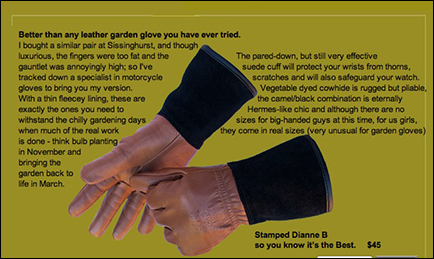 You will not see this on the order form, online or anywhere else; but if you are still reading this -
I suppose you will trust me
The Spring Equinox will be officially here by the time this arrives on your screen...
Perhaps with it, the world will calm down a little and hope will
again spring eternal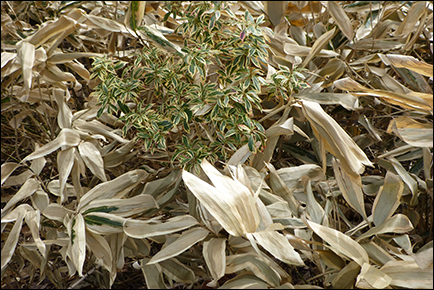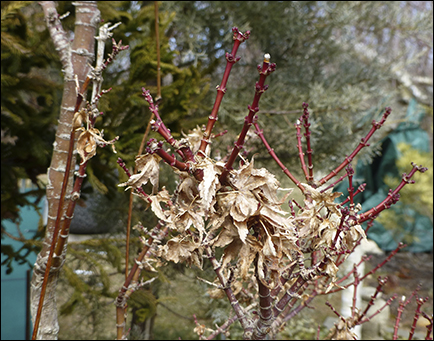 and everyone will fluff up their feathers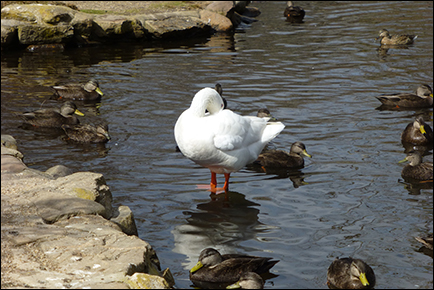 and show off their new spring colors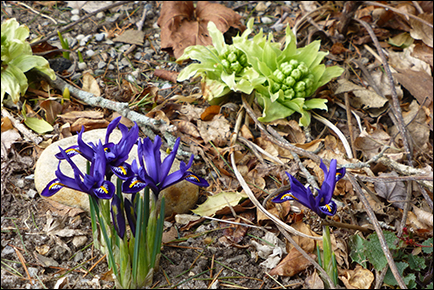 Magnolia weathers whatever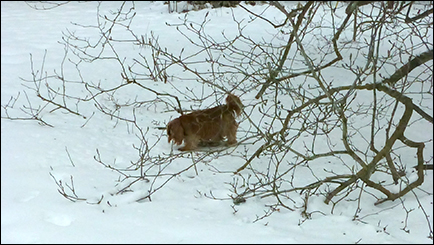 (The snow was so icy she could walk on it)

But she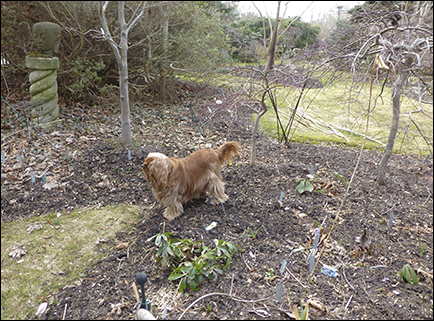 and Flora Pandora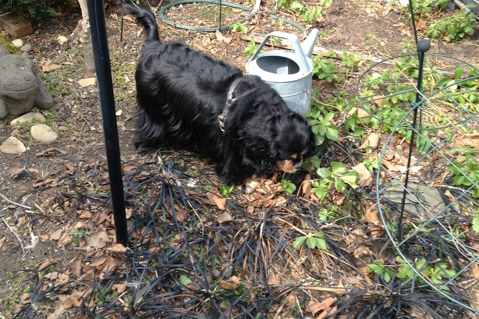 and this little boy and his dog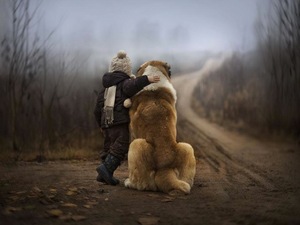 Elena Shumilova Photo
are all waiting for spring
just like you and me
KDHamptons bills itself as the
"Luxury Lifestyle Diary of the Hamptons".
Its well-traveled many-faceted founder,
Kelli Delaney, is a gardener too.
She recently published this dialogue with me about
What Occupies Gardeners when there is not
much of a "garden".

I hope you will like to see it.