| | |
| --- | --- |
| DIRTIER ....The Newsletter | |

DIANNE B's GARDEN DOs + DON'Ts
DON'T be skeptical.
It was with only a shred of belief last year that I ordered two
Acanthus 'White Water' from the Territorial Seed Company –
only because I was ordering tomato plants for Lys
and said, "Oh, what the hell...
why not?"
Even though I've never had luck with Acanthus,
even from the fanciest nursery.
Well, you see, you never know.
Not only did both plants come up with gusto this season...
but they are really white-leaved and you know,
I am a sucker for that.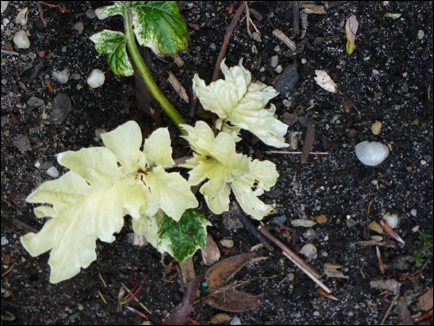 DO let the ants crawl all over the peonies and don't worry.
Peonies love ants and vice versa: my first piece of gardening lore from Steven Hamilton's grandmother Minnie-Minnie Meyer.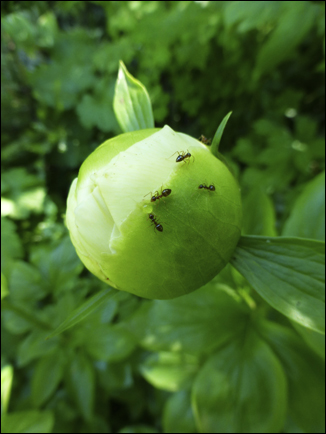 DO invest in single petal peonies, for my money they are the most beautiful...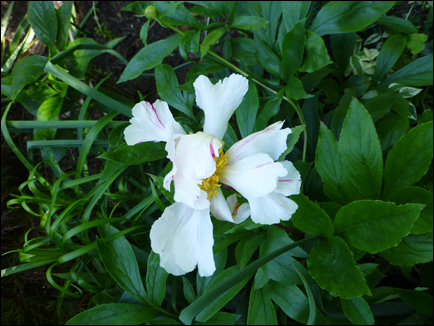 DON'T EVER Plant big Oriental lilies under Japanese maples –
it was a lousy idea and those lily stems poking through the otherwise harmonious canopy is just awful...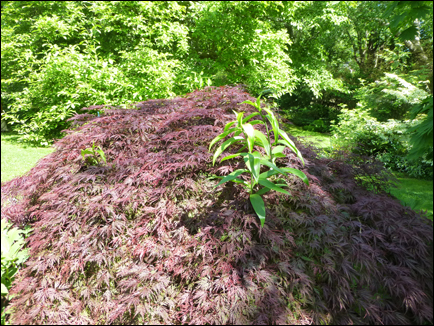 DON'T fall for an enticing name...
After waiting 3 years for this 'Red Velvet Elvis' iris to bloom,
it's a dud.
This Louisiana Iris definitely does not like New York.





DON'T GIVE UP....2 examples
I thought this spindly twig of a Chionanthus would never bloom,
But here it is.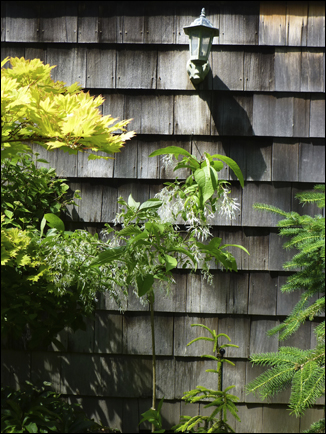 Just as ethereal as an image I've tried to emulate for ages.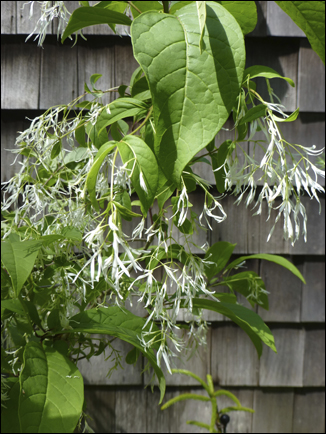 and 2.
Back to Acanthus.
I've been waiting for bloom on a simple Acanthus mollis
for years and years.
I finally have ONE, just one,
but it's a great tall muskily colored sexy stalk.
Another nice thing is that it was a gift from Rick Bogush
of Bridge Gardens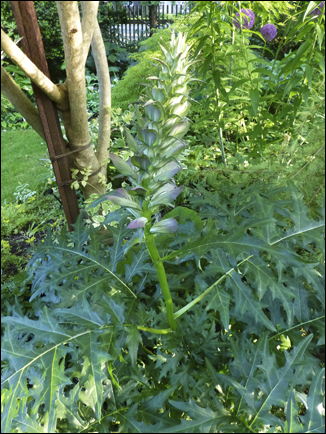 It looks even better now than this pix.
SNEAK PREVIEW
Not only are the LongHouse Reserve and Watermill Center Benefits the best parties in The Hamptons
(and this is according to Bill Cunningham
in the New York Times, not me);
but they afford the most fantastic opportunity to buy really good, preselected art of many kinds
(usually at much better than gallery prices).

Due to my inside track in these two wonderful foundations,
here is a tiny taste of what will be found at the Benefit Auctions:



At LongHouse – White Night – Saturday, July 20 2013


Alice Aycock, a drawing, beautiful





Michael Combs, a photograph of creatures
he has carved with his own hands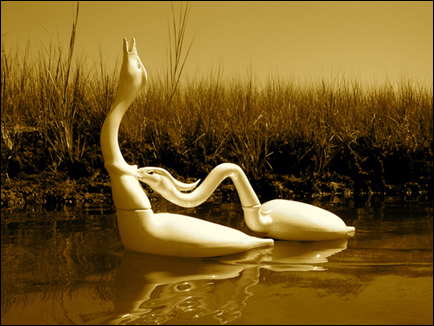 Dale Chihuly, a gorgeous glass nest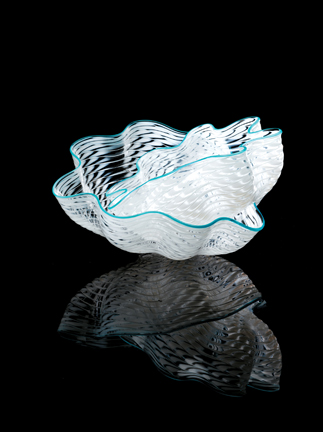 Christo, the iconic wrapped Pont Neuf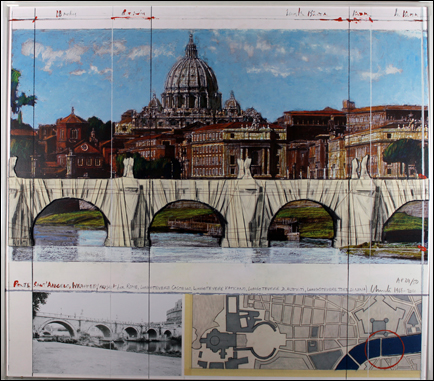 Dickie Landry, a great photograph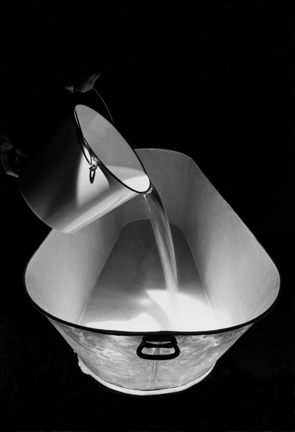 Hope Sandrow, one extraordinary feather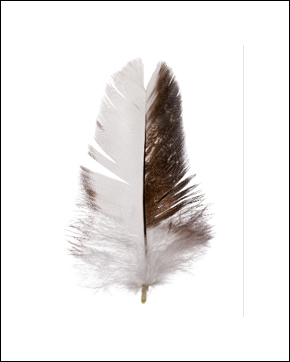 At The Watermill Center – Devil's Heaven –
Saturday, July 27 2013


Peter Dayton's fabulous photo transfer table.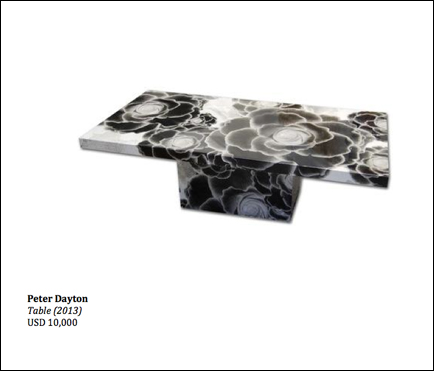 Alex Prager photograph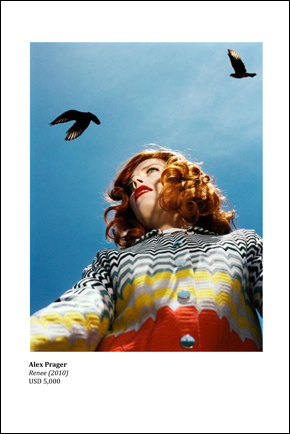 Andy Warhol Punching Jean Michel Basquiat,
a famous photo by Michael Halsband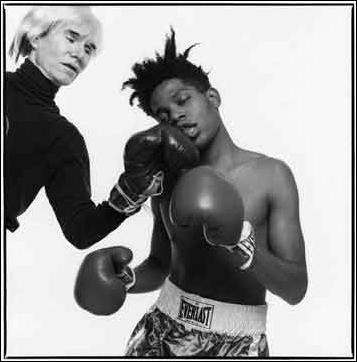 Lovis Dengler, magical photograph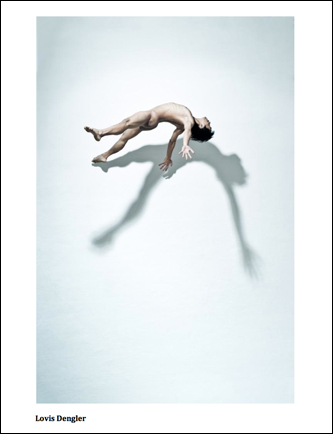 Lucy Winton, a very special drawing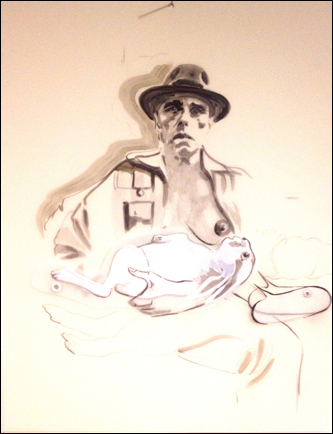 Warren Neidich exemplary construction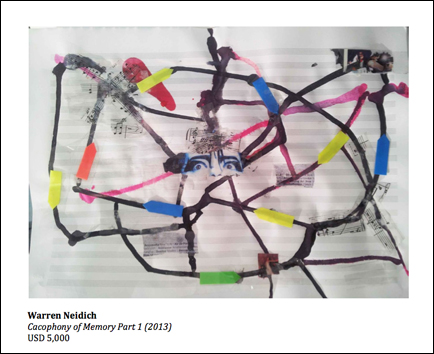 If you absolutely cannot make it,
not to either Benefit
(or have qualms about the ticket prices that start at $500)...
there is still an opportunity to exercise your art collecting yearnings:

The auctions will both be online:

LongHouse as of July 8th at paddle8.com

Check watermillcenter.org as of
July 15
Don't miss out.
A NUT for JAPANESE MAPLES
My admiration for these splendid Acers never wanes and
I just grow fonder with the leafing out each season...
as I madly snip and clip to keep them in
my close garden bounds.

This long-fingered red leaf
came from the great HAH Plant Fair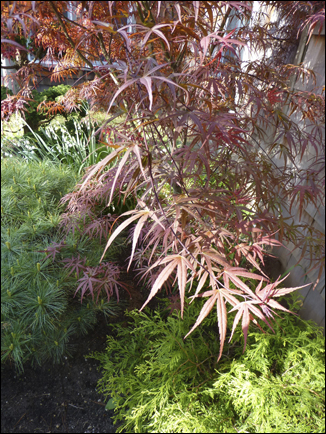 A classic cut-leaf in gold
came from a Madoo Conservancy auction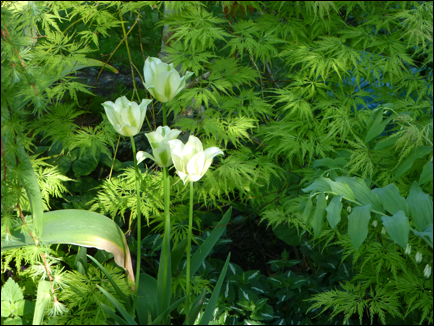 the clever mixing of two classics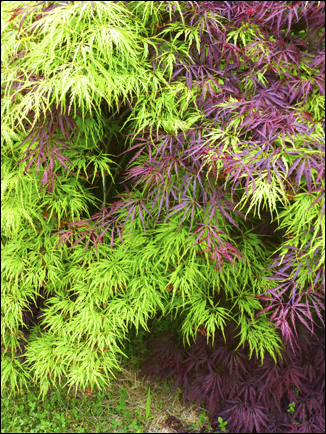 the exuberant new growth of Full Moon maples,
Autumn Moon is better in summer than it is in autumn,
and Red Moon (the dark one)
is actually Acer palmatumxShiras Johin.
Johin means elegant,
which is no surprise.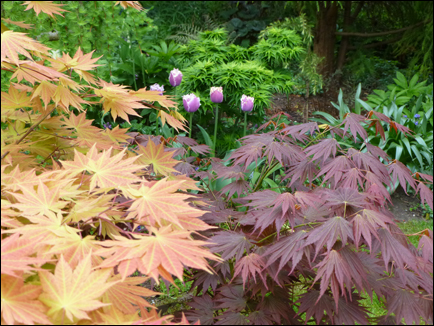 The mounding form of this Lion's Head we first saw
at April Gornik and Eric Fischl's
and the little burgundy one
beneath it is 'Shaina'.
It is a real 'dwarf' just like Marders promised.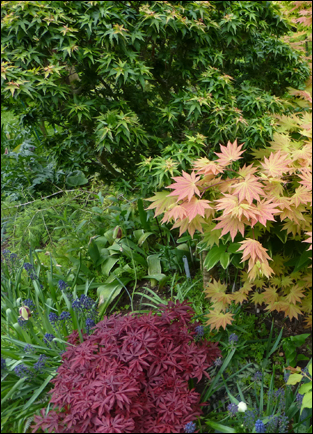 LET ME SHOW YOU A FEW THINGS
This extra black purple German Iris is a real flower that produces dye. Not some dyed-to-match thing from a corner deli mind you, but the real thing.
The mysterious color dribbles out of the flower as it is waning,
or, I suppose, it would bleed also if crushed while still fresh,
but who could bear to do that.
I imagine this is from whence terms like Royal Purple derived.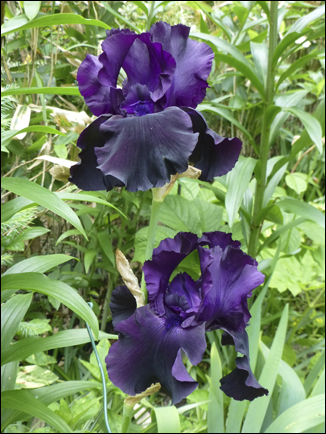 The falls look even blacker than this, trust me
Allium 'Forelock'
This one's a treasure...a stand-out...a weirdo
just like I like them.
It arcs gracefully, like a swan neck, as it is coming into its own;
but taller than all the other Alliums which are,
you know, stiff as a board.
This droopy one is my favorite stage and lasts a few good weeks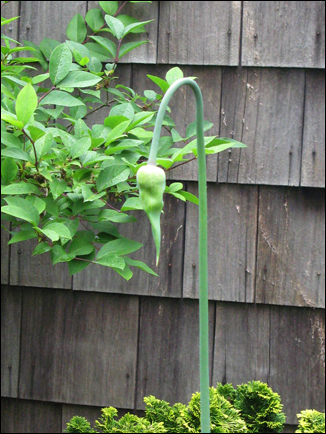 And then magically when about to burst open
it straightens up tall...well over 6 feet...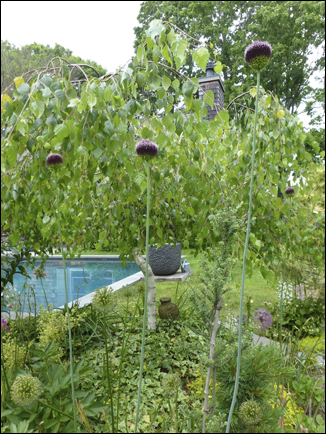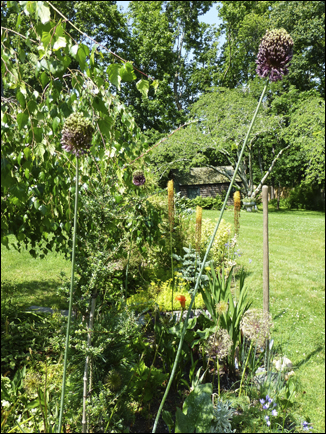 Then turns into a funky brush-top colored like a three layer cake in Lavender over violet iced with a funky green
It's great.


And here is a Smoke Bush actually Smoking (Cotinus coggyria)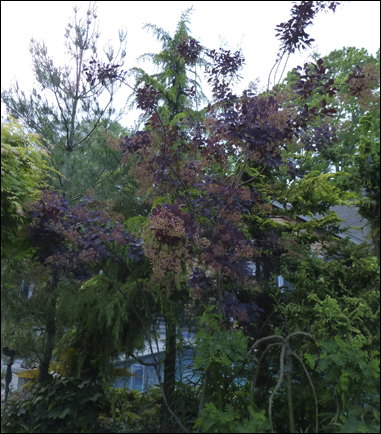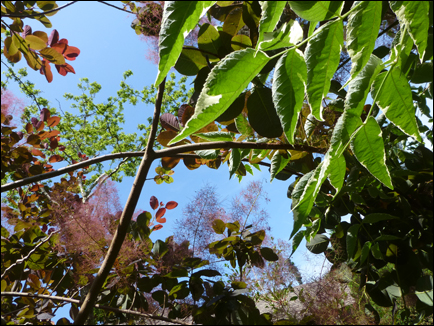 Another of those gardening dreams come true



The gigantic palm-shaped leaf
Magnolia macrophylla has a huge flower too.
Unfortunately you see it here on Day 2...

I thought to myself the day before – oh I'll take a picture tomorrow, but as you see –the big bloom is a fleeting thing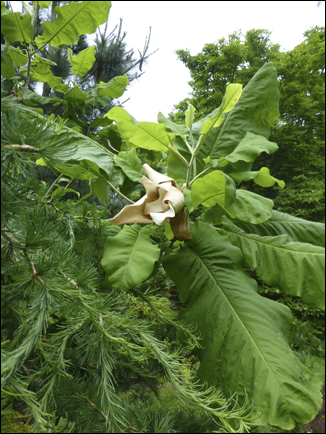 And now, a few views of the Sag Harbor garden of
Jon Gilman and Brad Learmoth. This is a self nurtured garden...
the palpable difference between it and a paid-for landscape
is always so evident:


Look at the way they've nestled their Monkey Puzzle Tree
in a quiet corner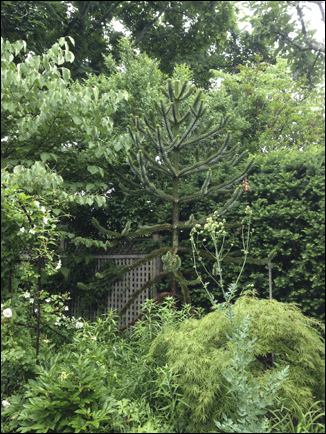 The personality of their koi pond (one of their ponds)
is apparent in the mix of disparate and eccentric elements
( too imaginative to have been bought yesterday
at any price)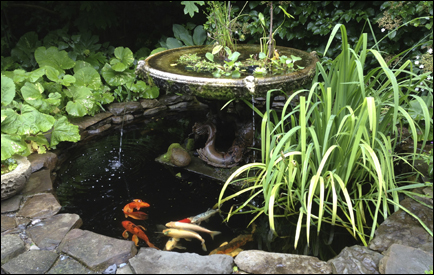 The wonderful strangeness of their plant choices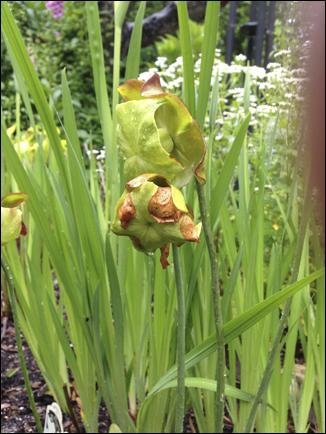 And then, this single rose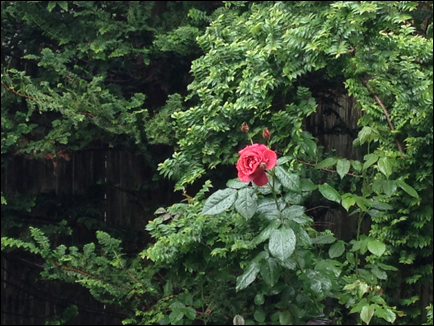 GROUNDCOVER
The Continuing Saga of Glamorous Groundcovers

There can often be too many ferns of the big thug type that like to take over....
but of the Athyrium species, I think you can never have enough:
this is the Japanese fern 'Ghost' and tucked in front is the lacier
A. felix-femina 'Victoriae'. Ringing the foreground is ever-useful Lamium and the shiny green leaves
are always beautiful Hellebore.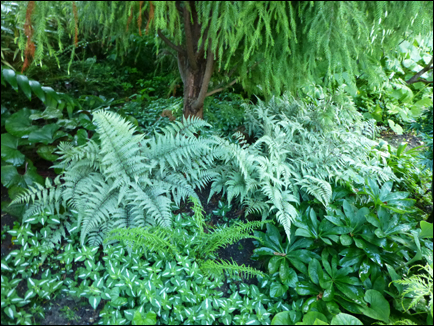 The other indispensable fern is Autumn Fern.
Oh, it is the last to put out new fronds in spring but hangs on longest through the seriousness of winter, and is the
most delicious mutation of coffee colors ever.
Here with Solomon's Seal, Asarum and more hellebore leaves....
the very best groundcover, though most gardeners
don't perceive them as such.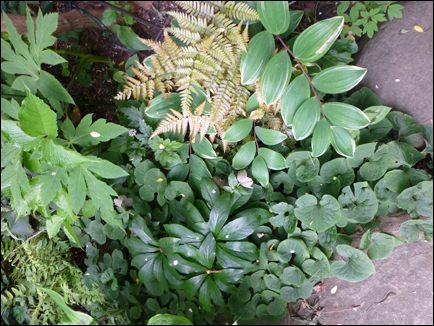 ERIC FISCHL'S BAD BOY BOOK
Well, it is definitely my current bedside reading


Full of artworld anecdotes and artistic metaphors

A large crowd gathered at Guild Hall last week to hear Eric talk and get their books signed. It was there I learned how many people were unaware that you can view his controversial and now iconic bronze
sculpture 'Tumbling Woman' right here in East Hampton...
So don't be in the dark
Come into the light
where else but at LongHouse Reserve.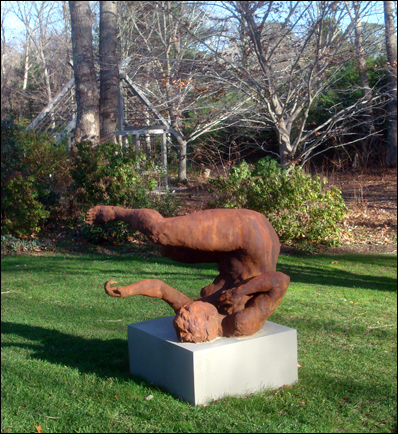 The Last Issue of Herbertia
+
The Dissolution of the
International Bulb Society

This seems sort of sad. Even though they were only paper periodicals (and always a little too tropical and/or houseplant-y for me)...
I joined because I liked the idea that this society existed at all.
Another of gardening's little quirks....
and now it's gone
~~~~~~~~~~~
but I feel really sad about the memoriam which follows...


Rest In Garden Heaven
JOHN BARHAM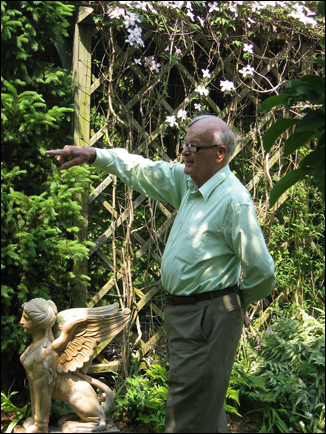 He was a great guy and a passionate gardener.
I know that all of you who have ever
been the recipient of his
good-natured gregariousness
or have been
touched by his bigger-than-life
fondness for abundance
will join my feeling
of melancholy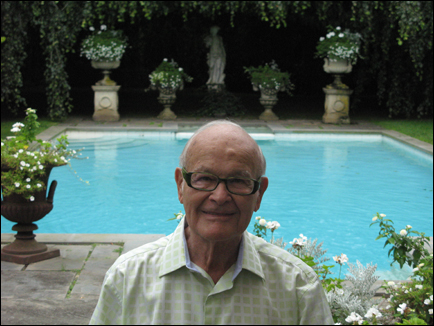 He loved monkeys,
and buddhas and linghams and hands and bronze birds and bells,
but most of all he loved monkeys in all their
various representations.
So, his gift of a pair of bronze monkeys
are among my most precious treasures.
In his garden
In my garden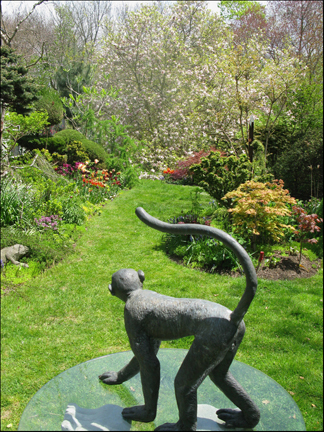 THE ARTIST IN THE GARDENER
Bearded Iris and Tulips have a never-ending palette
and unlike a painter saying a work is finished...
a garden is never finished. So, I relish the opportunity to choose a few new iris for next year....
For instance...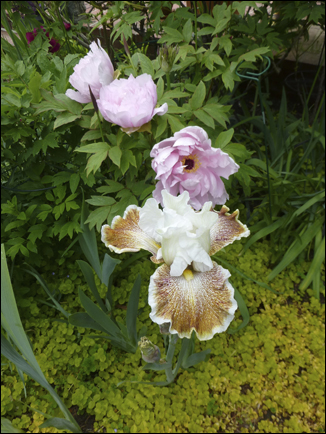 I love this burlap color Iris
(it sort of looks like most of my summer clothes)
but it does not harmonize with the pink tree peonies behind it...
so I am on a hunt for a rosy-taupey one

And how to expand this combination of a Japanese maple showing off its new leaves, the droopy-bell Allium bulgaricum and this gorgeous Iris named 'Touch of Mahogany'?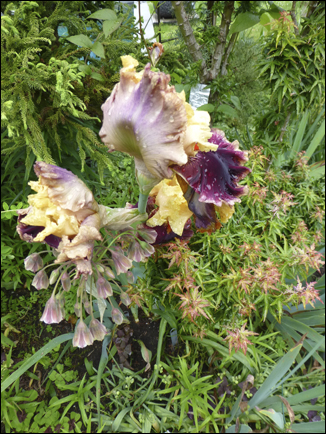 And more of this purple-navy blue against the intense darkness of Eucomis 'Sparkling Burgundy'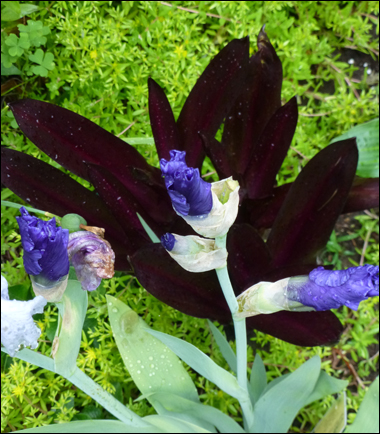 And I know I have always touted Schreiner's Iris Gardens
as my go-to Iris source, but I have a new find.


Mt. Pleasant Iris Gardens


I have just placed my first order and get this ---
they have a beautiful web site but you
have to print out the order form
fill it in
and
mail it

I am charmed
PRECIOUS PULPITS
Is it Jacks-in-the-Pulpit
or
Jack-in-the-Pulpits?

Either way...more thrilling than ever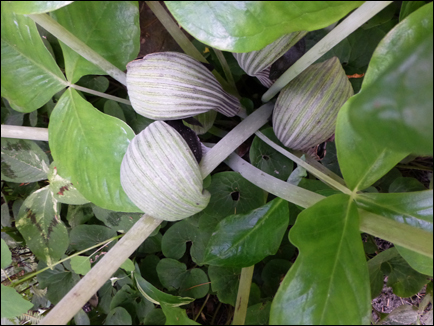 'Black Mambo' continues to proliferate
and this rare one, Arisaema costatum, is in its second year
in my garden and I'm ever so proud
because it adorns the backcover of the scholarly
Timber Press tome,
The Genus Arisaema
(for which I paid $79.95 !)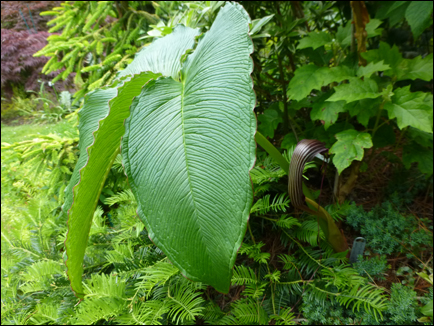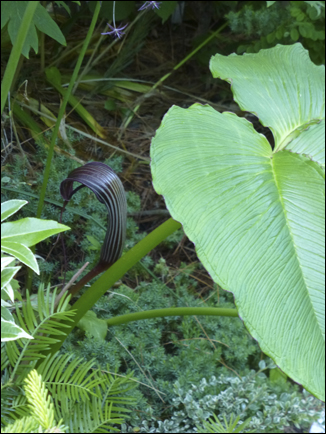 see it at the base of the bronze bird...look at that leaf




The disappointing note here is Willow Creek Gardens in California,
from whence it came,
no longer carries these
superlative Arisaema because
NOT ENOUGH PEOPLE WANTED THEM

Can you imagine?


and there is nothing to say about this A. candidissima peeping through the Oxalis except that it is divine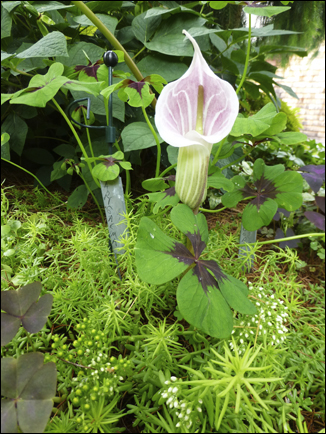 4th of JULY
VERY GOOD DEAL
I realize that most of you will be spending your Holiday weekend splashing, partying, firework watching and eating hotdogs,
but there are those of us who do not neglect our gardens
no matter what the occassion...
So for those of you who need a little incentive
in the way of garden accoutrements ---
this is your chance at
Dianne B Best

Our

Made in America

items are yours at


SPECIAL PATRIOTIC PRICES
For 4th of July
1/4 Off


in other words...25% less



The Engraved Monogrammed Steel Shovel you have always wanted,
(or wanted to give
)
108.75 instead of $145.00


(Shovel price total does not include $20 heavy shipping fee)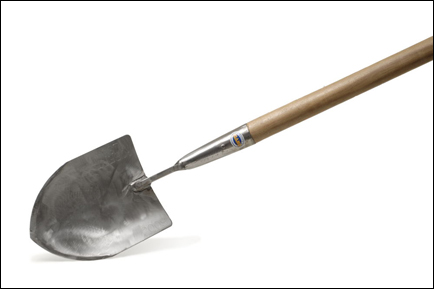 The One and Only Dianne B ToolBelt
$43.50
instead of $58
(discount applies to Loaded or Empty Tool Belt)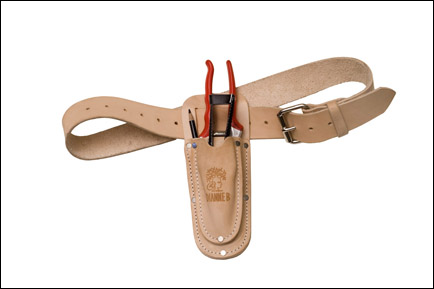 The Irreplaceable Zinc Markers
$29.25 instead of $ 39
And that, my friends, is an unbelievable bargain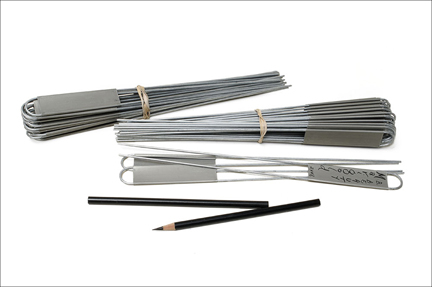 And last but not certainly least

The Exclusive Dianne B. Peeping Stick

$26.25 instead of $35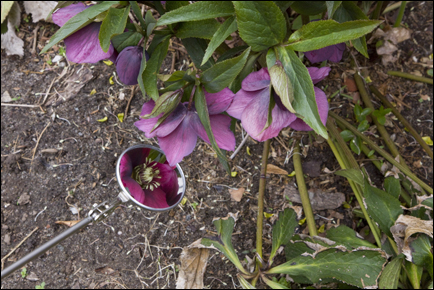 This offer good until the French Independence Day, July 14
Of course, the garden loves to be visited at any time,
but this season's last Garden Conservancy Open Day for me
is Sunday, July 14.

The lilies are plumping up and I hope they will be bursting into bloom
And there are a few other floriferous havens here and there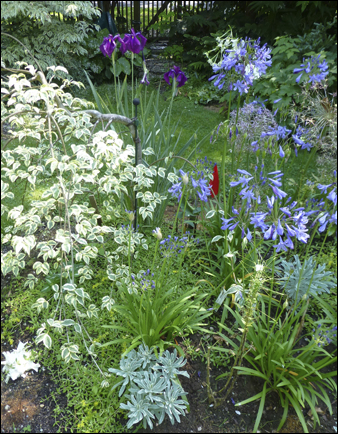 But you know my garden is not really about flowers,
so come to see the layers and patterns and shapes and colors that are in their peak of fashion now...
---