DIRTIER ....The Newsletter




Volume 51 Late October, 2013

Really distinct colorings happen most vividly in Fall,
and this autumn has been a gala of perfect 60 and 70 degree temperatures, gaudily colored skies and gorgeous day
following gorgeous day.

Autumn hues are not only about the usual burnished bronzes
and red and golds...
the blue-green and whites, perhaps my favorites,
are really in their stride.

There is variegated and then, there is the really heightened .
This is the almost-wholly-white leaf of
Cornus controversa, an exceedingly graceful dogwood which grows
in wedding-cake like tiers.
(Yes, the one at Rosemary Verey's Barnsley House)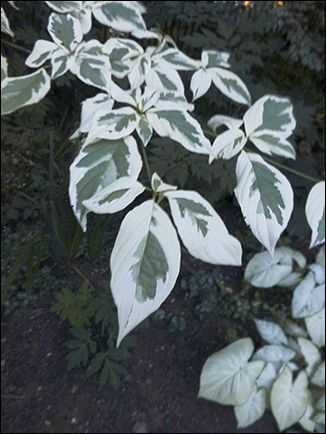 While, this is the coloring of its very close cousin
Cornus kousa 'Wolf Eyes'.
It is somewhat less white
and the leaves
more wavy.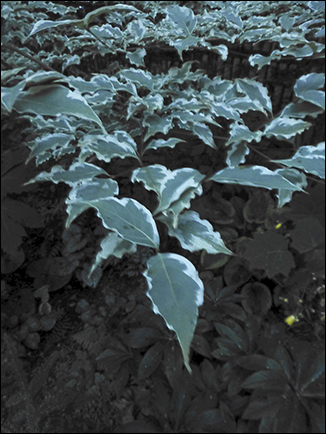 And this is how this kind of coloring serves as a perfect backdrop
for other sensations,
like the flowerhead of Angelica gigas.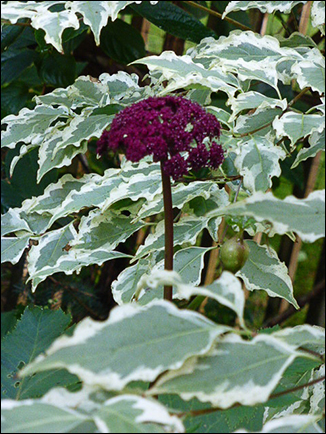 Calla lily 'Picasso' at its peak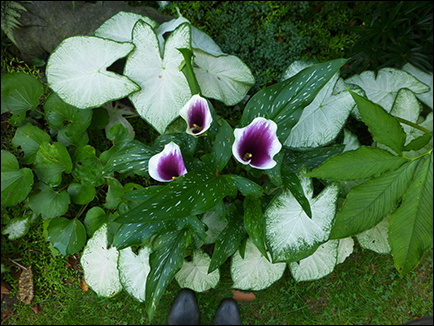 Blue-variegated-white plants make me swoon,
and though there aren't so very many of them outside of the Hosta world (and you know, I am not crazy about Hosta),
this Euphorbia 'Blue Glacier' gets more distinguished each week





The painted ferns are whitening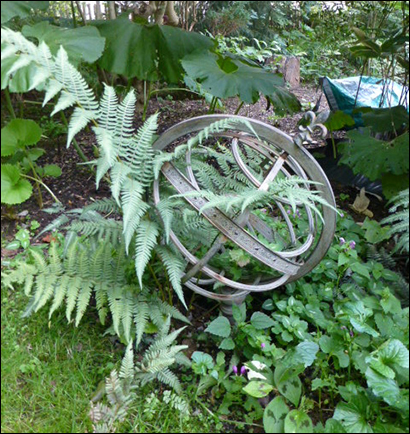 Contrasts are more distinct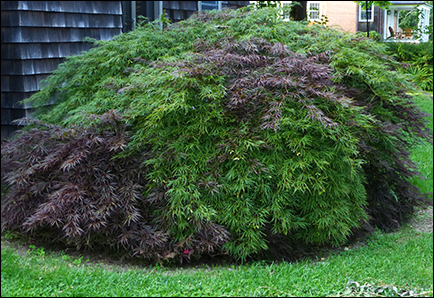 And the blacks just keep getting blacker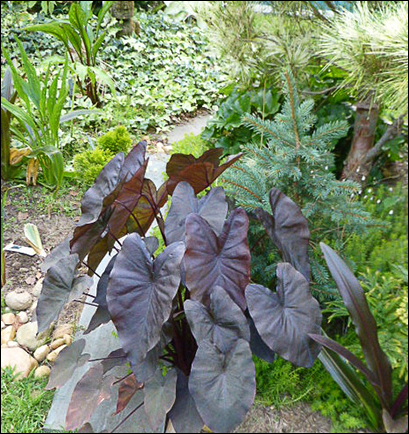 How can I mention Rosemary Verey, or think about Barnsley House
without paying my due respects to
BOB DASH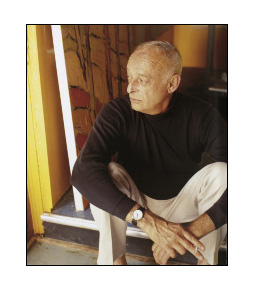 Jonathan Becker Photo
She was one of his best friends and his succession of beloved Norwich terriers
were always named Barnsley.
We all knew that when he stopped drinking those Bloody Marys,
it was a bad sign; and as his FABULOUS words appeared less and less frequently in the East Hampton Star --- I grew alarmed, and melancholy, along with his many friends.
The only existential garden
writer I've ever known.

But for me --- his totally unique personality and talents were such
a part of what drew me to the Hamptons, and to gardening, that I
can hardly believe he is gone and wonder how I might have
appreciated him even more.

I first visited Madoo around 1990 when my early garden passion
was in full throttle.
Except for my big, very big, tawny Briard, I was alone when Bob Dash
appeared in full muster and bellowed ---
"no dogs allowed" ; but then he saw my enthusiasm
and re-regarded
Gorgeous (named so because she was) and became a
puppy dog himself.

A wonderful eccentric --- keen for everything and so so smart.

I will really miss him.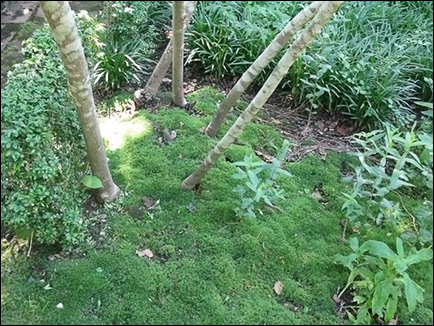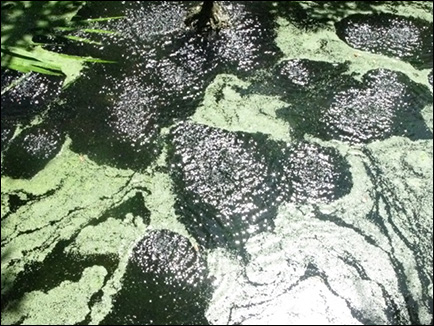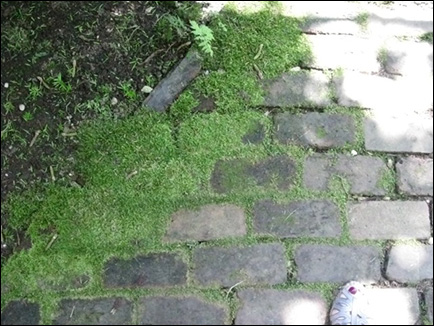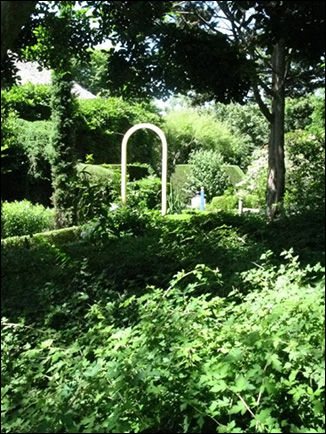 But his legacy, Madoo, is a wonderful Sagaponack garden
with a strong following and will keep him alive
for us all.
WORTH THE WAIT
I know I have been taunting you with a NEW
The Best @ Dianne B. entry ---
a Gardening Glove quite unlike any other;
but it takes a long time to get things right.
And since I have the strictest criteria
about what constitutes the
TWELVE BEST...
I knew this had to be
just right.

So, finally here it is:

READ MORE ABOUT THEM AND BUY

The Garden Gauntlet Glove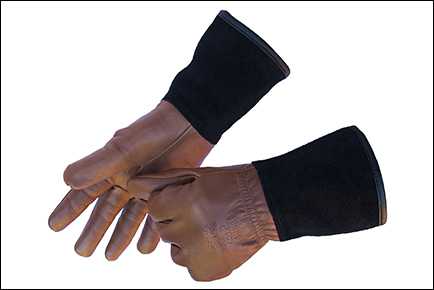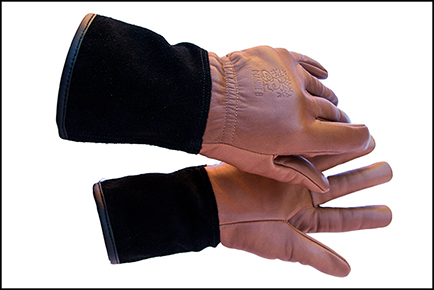 Just in time for the rigors of Fall gardening.
I have been thoroughly trying them out while pruning thorny
things like Aralia, dividing stubborn Trillium and old Hellebores,
and digging up the most precious Colocasias and Callas with
big and burly tubers and roots.

Well, the gloves have behaved splendidly for me
and now
you
can have them too.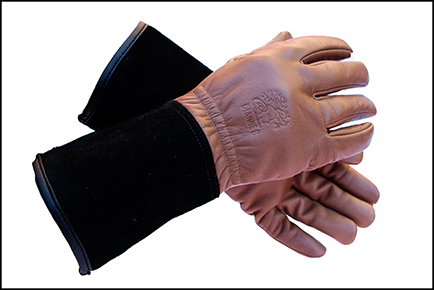 And because they will make The Perfect Gift for all the
gardeners in your life....
order right now for ever-memorable Christmas presents.
Well, all of the female gardeners that is (I'm sorry I had to leave guys with bigger hands out on this first go round, but it was enough just to get three sizes ).
I have discovered, though, that
Women's size L is equivalent to Men's size S.

So, in stock (though I don't have too too many)
and ready for you

$45

S- M-L



GARDEN GAUNTLET GLOVE by Dianne B.
GARDEN SECRET REVEALED

This is a good trick, and though tricks are not
my usual bailiwick,
I got away with this one for 2 or 3 months...
Not one person questioned:
Why is there only one?
Does it winter over?
or even
Where did you get it?

This big white Calla lily was so perfect
that all people did was Oooh and Aaaah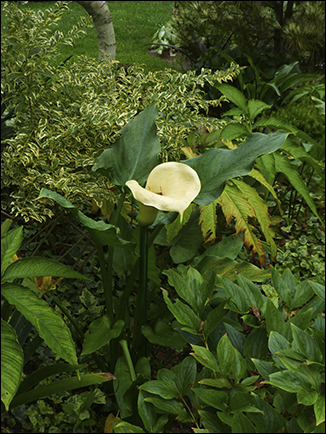 Fake Calla flower...real Calla leaves
Ha Ha Ha
Notice I even put a 'plant ring' around it, as if it might fall over from its heavy beauty. The stem, of course, couldn't be stronger.
The living breathing Calla aethiopica plant refused to flower
and I decided to help
Mother Nature along.

I think it was a good, and good-natured, trick.

Notice, too, that beautiful variegated Callicarpa (beautyberry) behind it...I think it is C. dichotoma 'Duet' from Heronswood...
it's white berries are tiny, but abundant.
COULDN'T RESIST
I never stop on the street to take phone photos of store windows,
never,
but there was something about this Hermes library window
that called to me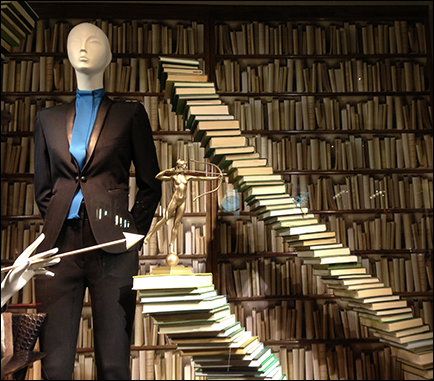 If that gold-dusted figure with the bow and arrow looks familiar,
it's because it's a classic one of my namesake,
Diana, the Huntress...


and also, there is a bigger version of the very same at LongHouse
UPSIDE DOWN
I love all the upside downiness of certain flowers...
I love their gravity-defying insistence
I love the way they always seem as if they're about to fly away..
Like meteors...like Shooting stars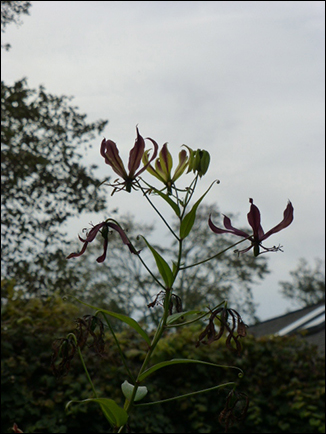 And especially, this one. Right now it has just waned,
but for the last 6 weeks it has been blooming its head off ---
all from one tuber. (Brent & Becky)
Lilium Glorioso rothschildiana -
the name is rather deific, isn't it?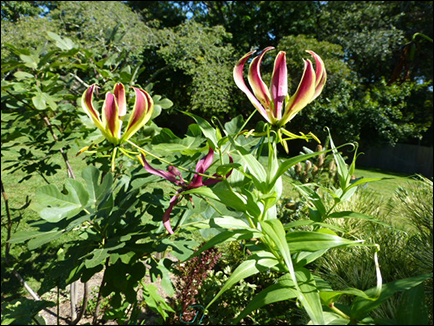 And that heart-shaped bud just before it opens is to die...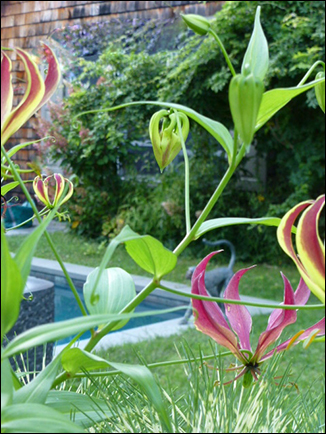 Growing it up through this tiger's eye pine was not a bad move either
The Tiger's Eye is another of the fabulous species that revel in intense variegation as autumn sinks in

Other upside-downers:
Cyclamen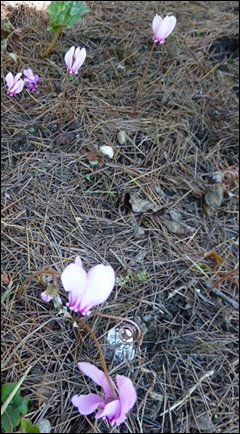 Some Columbines (Aquilegia)





Shooting stars (Dodecatheon meadia)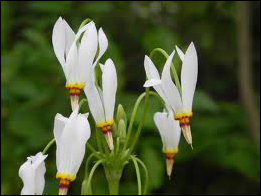 Even this giant size sunflower on the wane...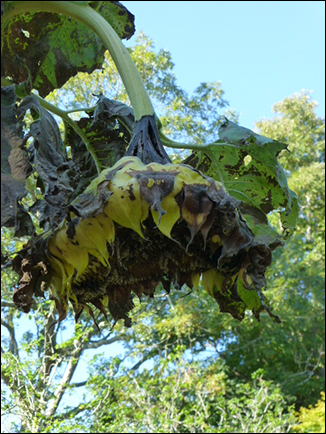 MORE ABOUT CYCLAMEN
15 unabashedly cute upside down Cyclamen flowers in one day..
well – that's almost a drift if not a meadow.
FIFTEEN





And it is Cylclamen hederifolium, the one I least expected to prosper, and not Cyclamen coum, which they say is "easier".
Hederifolium is the more interesting one with the jagged and highly variegated leaf.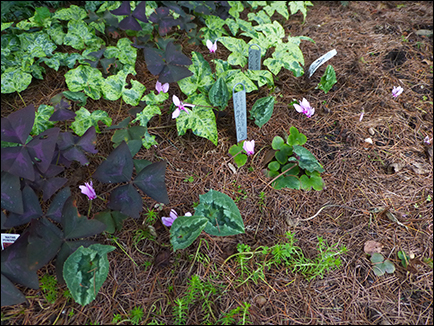 Hooray for it and Edelweiss Perennials.

When I went on my cyclamen tear last year, I ordered some
C. purpurescens too,
but nothing much seems to have come of that
DIANNE'S Dos and Don'ts
DON'T give up on Colchicum. More or less – I have just ignored the several already planted because the flowers flop over the day after they open and generally look like a mess.
BUT – this year, you see, I decided to try cutting some -
to my surprise because the petals are fragile-looking, they lasted for days and days in a vase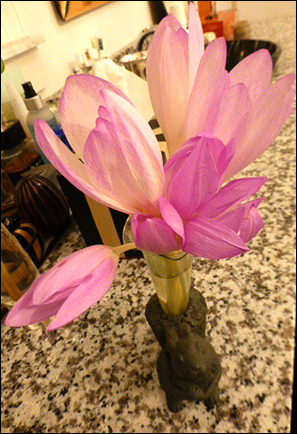 So now I have a new found appreciation. The last one to bloom was this perky one with a brilliant pink middle stripe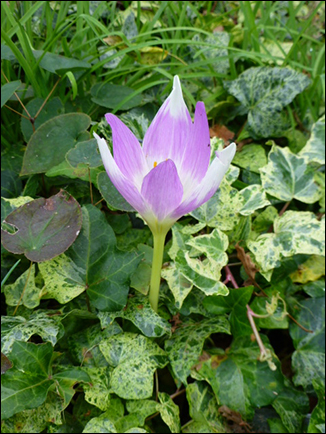 DO be inquisitive.
Can anyone identify this charming creature?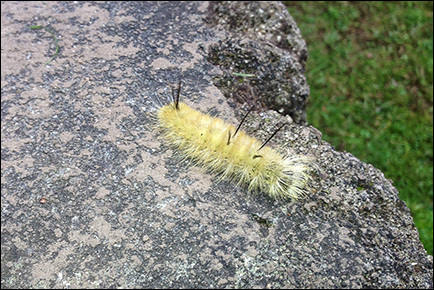 DO trust the dark. Arisaema 'Black Mambo' has never
been grander (see her dwarfing Magnolia)...or more productive. Perhaps it looks light in this image, but it is really dark under that Sargent's hemlock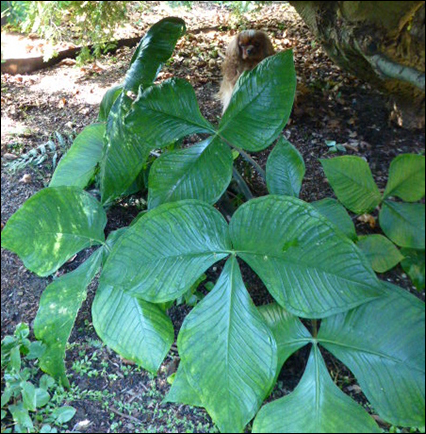 DO always be on the lookout for surprises...this Arum pictum fromOdyssey was completely off my radar
when it suddenly appeared last week.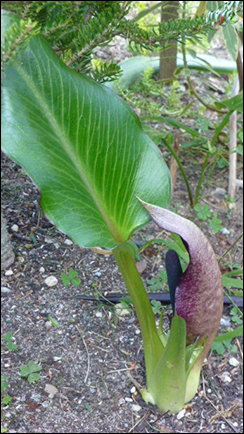 DO look closely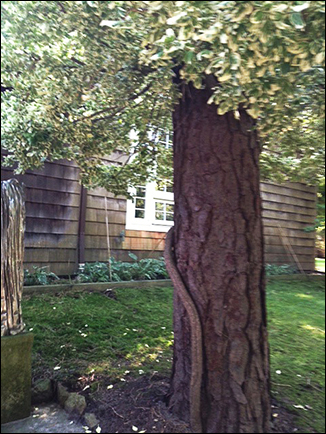 At first glance, you would think this is a staunch tree trunk
with pretty variegated foliage, but if you really look you
will see that it is a mighty old leafy vine that has wound its way around the big old tree trunk.
It sits near the picturesque pond-front home of
Bryan Hunt and Lucy Winton and they don't know what it is...
not the tree or the vine... but it sure is nice ...

and
DON'T jump to conclusions.
4 or 5 years ago, Jack Larsen gave me a willow tree and though put in a good spot, befitting the giver and its source (the great annual plant sale at Wave Hill), I just wasn't that crazy about it..didn't get it. Suddenly, finally, this autumn the branch tips have burst into these charming white catkins and now I get it. Salix Bockii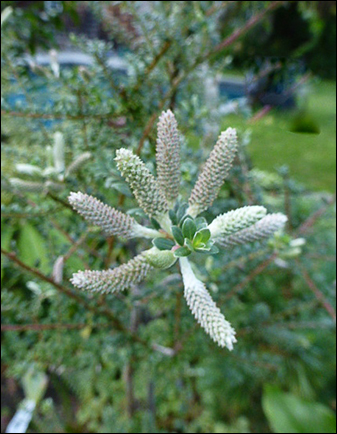 Speaking of Jack, he hosted a glorious
LongHouse Horitcultural Award weekend last month.
Wish you could have all joined.
The Saturday events began at, of all the wonderful places to choose from in East Hampton, the "elegant St. Luke's Church Hoie Hall."
This is a quote from Martha.
Some of these pix, in fact, came from her blog.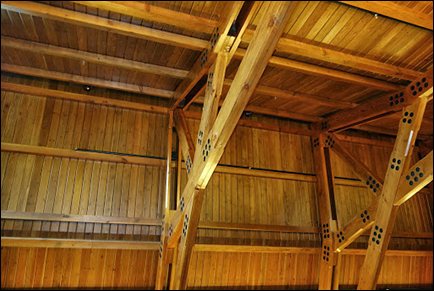 The Church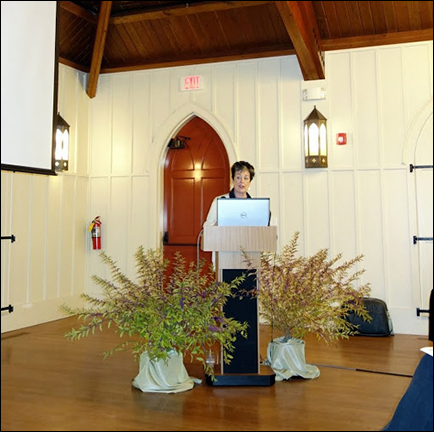 Me welcoming everyone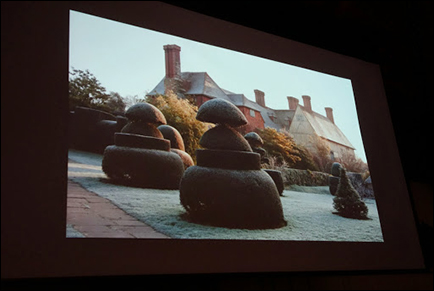 Topiary at Great Dixter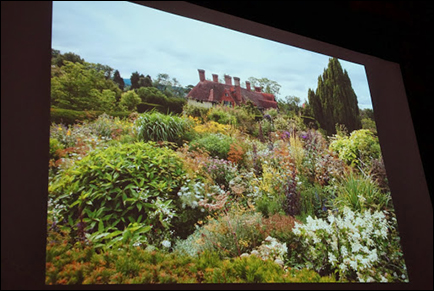 Plant tapestry at Great Dixter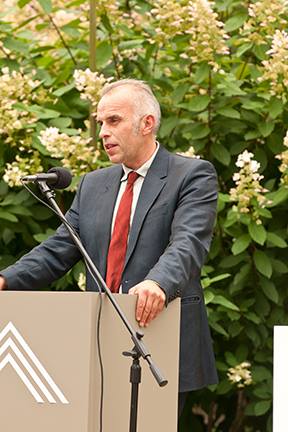 Fergus Garrett, our honoree and guest speaker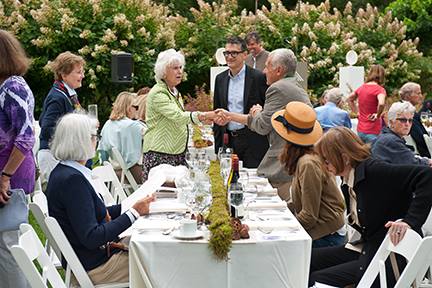 The Luncheon at LongHouse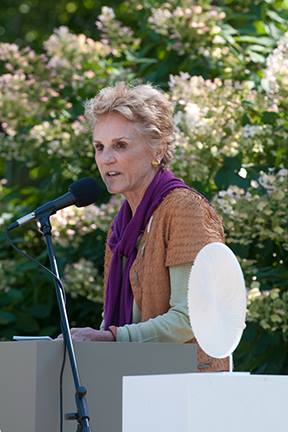 Warrie Price of the Battery Park Conservancy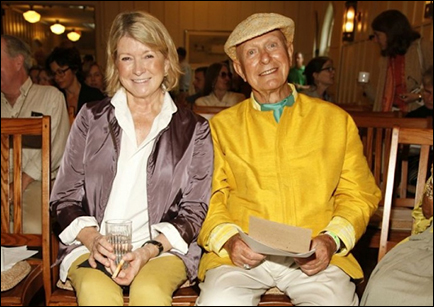 Jack and Martha
"Be the first to not do what nobody has ever thought of not doing before"

Brian Eno...

He is not a garden guy, he is a music guy, but he has a good way with words.



Instead of raking and doing over-necessary tidying – this is a
GREAT TIME to divide your plants to increase your own garden
or GIVE THEM AWAY.

These are the wonderful volunteers of the
Horticultural Alliance of the Hamptons.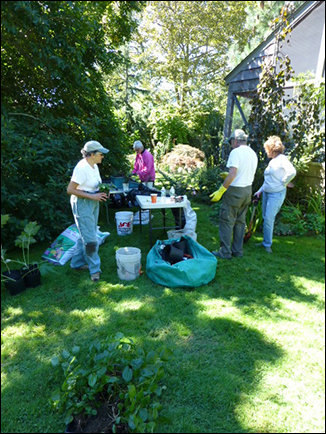 They came to my garden and dug up ONE HUNDRED plants, which they will sell at the the Great May 2014 HAH Plant Fair.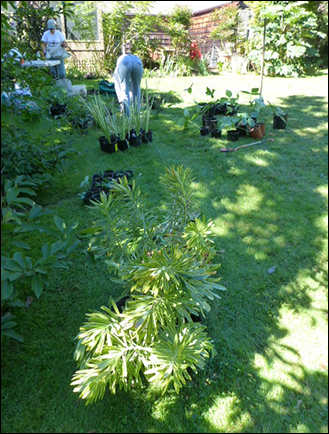 Can't believe I gave up all those green and gold
Euphorbia 'Ascot Rainbow',
But it's such a good cause.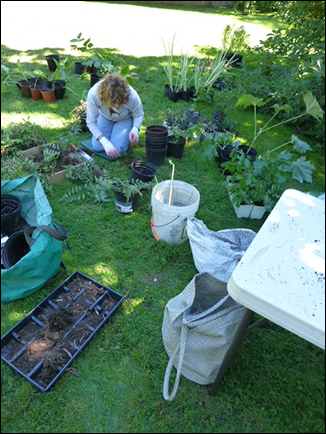 That's Bettina Benson (no relation),
she master-minds the whole thing...
I hate that word, but this is without question
My very favorite of the few
I take the trouble to move in and out
with the season.
It has been with me so long (at least 15 years) that I don't really know what it is...a Farfugium of some sort... but I don't think
they were even called Farfugium in the 90's
Anyway
I love it.







Do we dare to eat a FIG!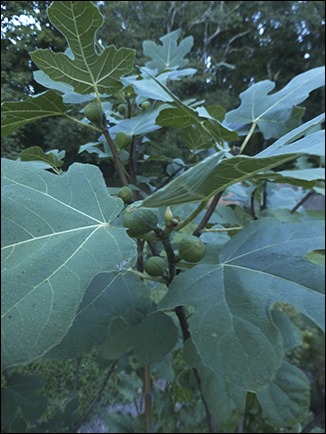 Can you believe...
we had a SECOND flush of edible figs!
Is a beautiful book. Not merely another pretty picture book
about unattainable landscapes that can't we relate to or afford...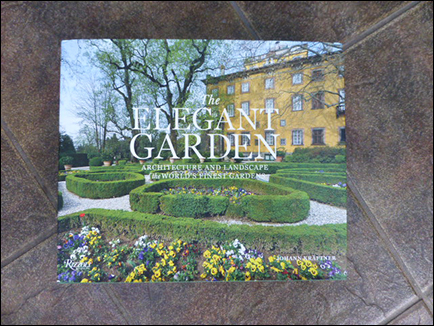 but an interesting take on garden history as depicted through works of art and architecture...the three totally intertwined.
A great gift for the garden library connoisseur.
It taught me, for one, that there are Reitfeld houses...
thought it was only chairs.
Illuminating
By Johann Kraftner.
DON'T STOP TILL YOU GET ENOUGH
But I will never get enough of a precisely not-only-variegated but architecturally bicolored leaf like this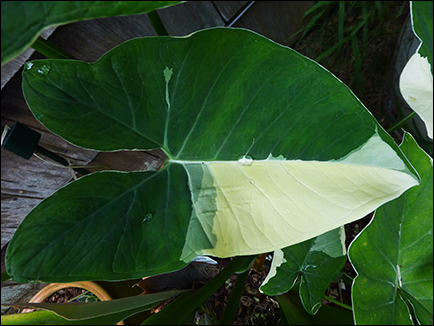 It's that X plant
Xanothososanum
No, that's not right..

well, it's something like that
MAGNOLIA KNOWS

A good thing when she sees one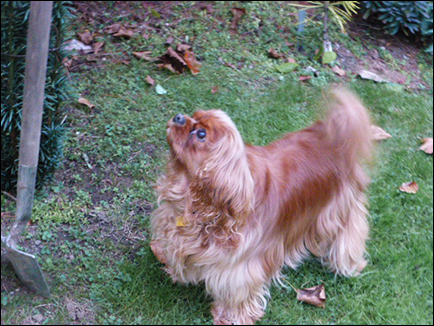 She is looking at my ever-lasting solid stainless monogrammed shovel...
mine is engraved
DIANNE B
2004

Sometimes I remember to store it in the shed, but it
has spent many winters outside.

If you order yours now ---
It will give Farmer John plenty of time to make the
beautifully eternal steel thing – engrave it exactly to your liking –
and get it to you from Idaho
in plenty of time to put it under the tree.

To urge you to give the gift of a lifetime,

Special CHRISTMAS SHOVEL SPECIAL

From now until November 15 we can promise you
not only on time delivery,
but the great Special Christmas Price of $120 instead of $145
for this engraved heirloom exclusive


(discount appears in Shopping Cart)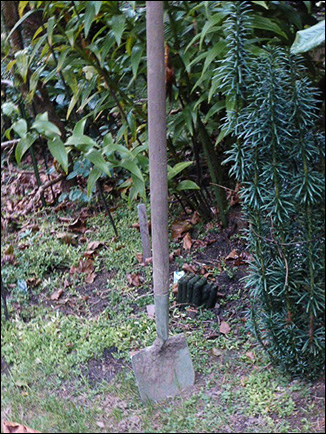 Dog's eye view on Pet Sunday at our beautiful
St. Luke's Church on the Village Green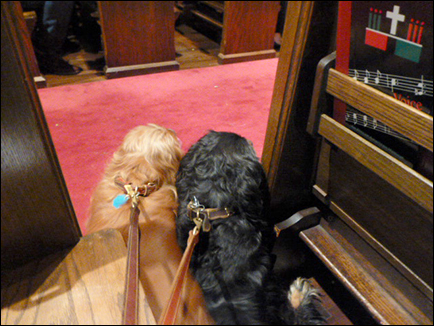 We had a few birds too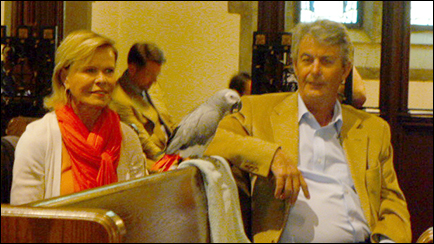 Some dressed to match their pets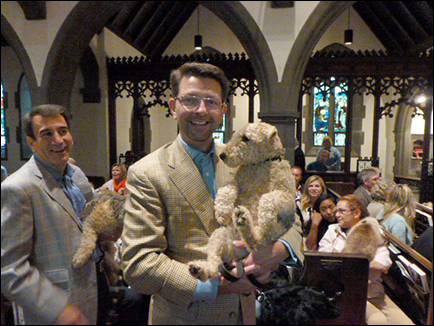 and dogs galore! Just great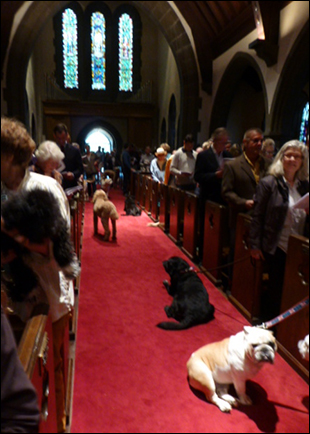 And everyone benefits from a good blessing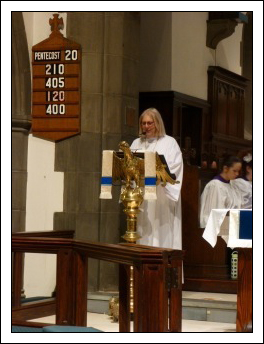 Order your Christmas present Shovels

Buy your
Garden Gauntlet Gloves

and

Start planting your bulbs

Stay Tuned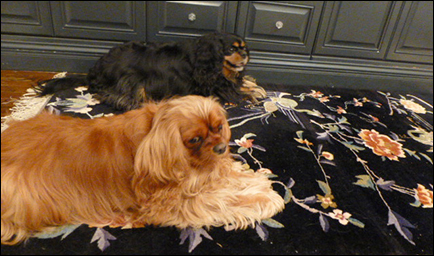 Hope it suddenly doesn't get too too cold...