THOUGHTS ON KEEPING WARM:
( or VAROIUS METHODS for CONQUERING the COLD)

The time-honored practice of protecting tenderer trees has been accomplished in several ways around here.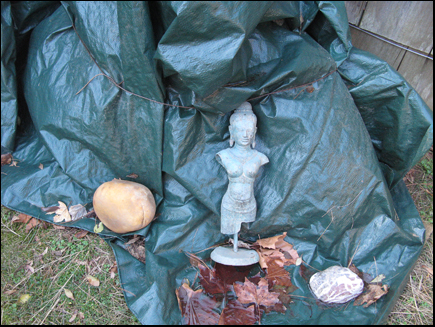 Remembering how her father wrapped their fig trees in Connecticut, Lys super-wrapped our Fig Tree Ficus carica 'Brown Turkey' first in hay, surrounded that with burlap , then a tarp; and added a Khmer goddess and a rock for good measure.
This next is my loose approximation of a Christo.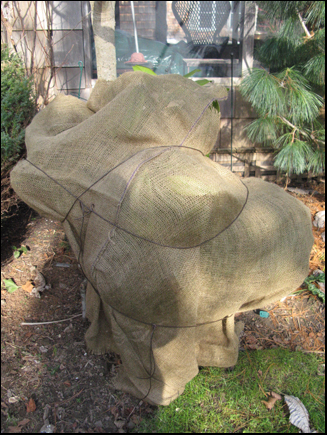 Notice how the
English Garden Twine
caresses every curve of the fledgling summer magnolia that I am trying to accustom to the maybe-too-shady spot.
Wrapping a tender plant, here a prized big-leaf
Farfugium, like a gift basket is another favorite method to be accomplished with a few squares of burlap (available at most garden centers, but you usually have to ask for it) and more of that fabulous
English Garden Twine
, which has a million uses.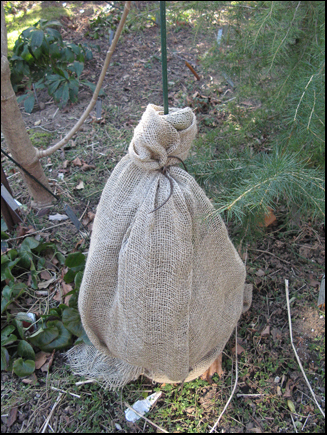 The Farfugium came from Plant Delights. They got it from Marco Polo Stufano, so I feel particularly protective about it because not only is he the retired originator of the great gardens at Wave Hill – he is now conferring with LongHouse via The Garden Conservancy on our new Affiliate status. And you know how I feel about LongHouse.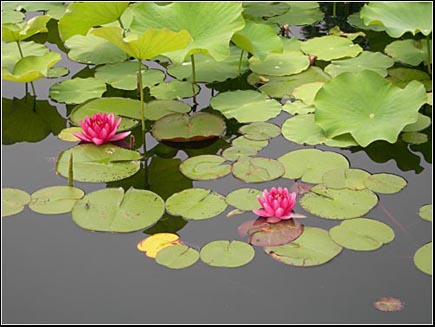 LongHouse, East Hampton, NY



Excerpted from Volume 31 of DIRTIER. You can read the entire issue HERE.
To sign up for DIRTIER, click
HERE
.