DIRTIER
....

The Monthly Garden Memoir


Yes, it is about to burst into bloom...which means it
should still be pink on Saturday May 9.
That is the
Garden Conservancy Open Day
and I hope you all will come to visit my garden.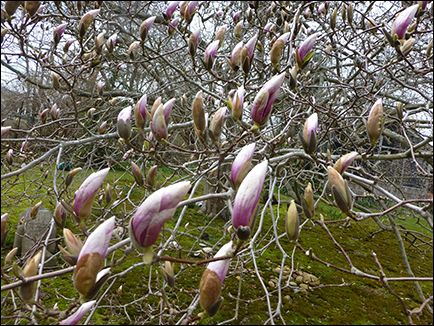 And yes, that winter might have been long, dark and horrible; but there are those who ADORED it...for example The Tree Peonies. Never have they been so
lush and bud-laden, but more than that, they are
throwing off many new what-will-become woody stems from their gnarly old bases.
Look closely below...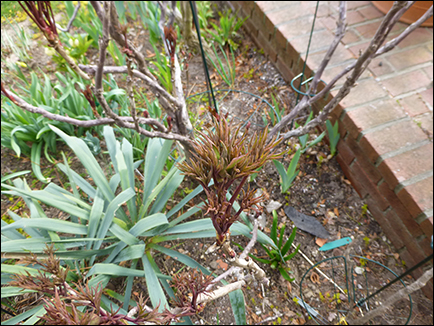 It's a record year to be sure.

Actually, the garden has fared quite well except for those treasured 'Glacier Blue' euphorbia ( really blue and fabulous when they arrive from Forest Farm, but very temperamental)and I don't see any signs of Lupine or Pineapple lilies yet;
but just look at what I can see:


This was the very first hint of blue when the snow had melted ... a tiny treasured Hepatica with its shiny liverwort leaves growing among the Cyclmen that persisted under the seven weeks of snow cover
It's adorable, no?
The fresh red growth of this special Japanese maple against the paper-thin frozen leaves, which have been clinging to it since the first hard frost last December when they stratified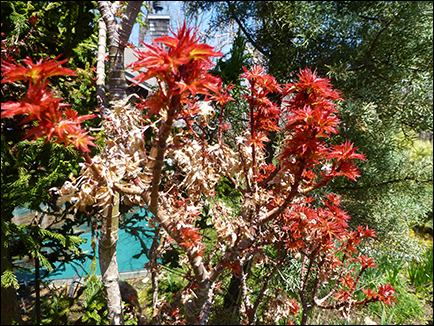 A Fritillaria persica that is going to flower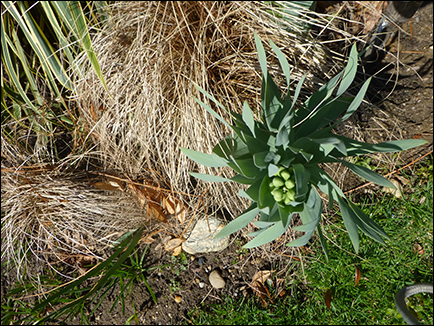 The chartreuse center of a Hellebore I can't name,
I think it came from
Marder's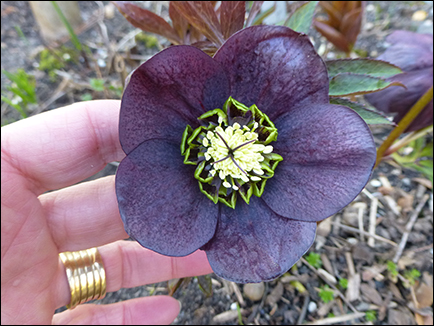 This pale butter yellow Hellebore is a subtle specialty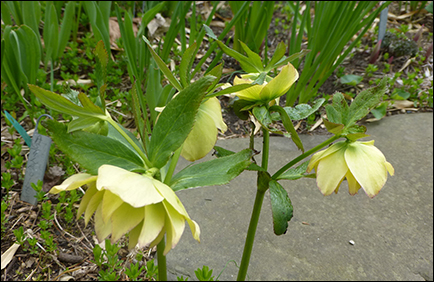 But not as good as this abundant swathe of Double Blacks (Onyx Odyssey
Soules Gardens, Indianapolis
)
perfect under the branches of a Skylands spruce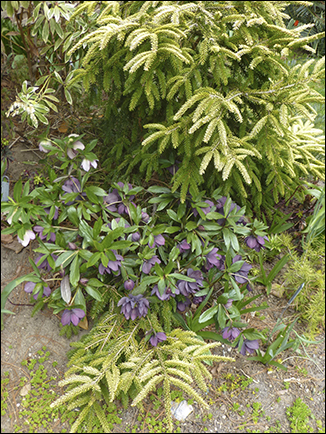 Shy white hyacinths that have been blooming in this dark spot for at least 10 years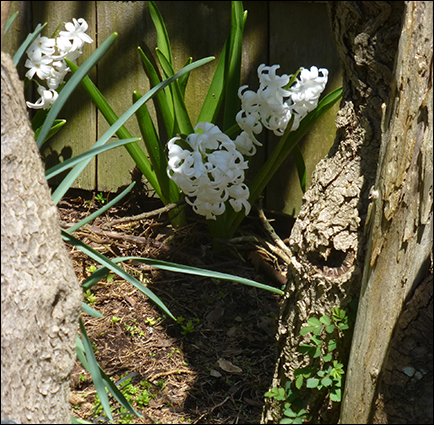 and my precious patches of Bloodroot, a Sanguinaria
called 'Tennessee form' from that fabulous
snowdrop specialist,
Hitch Lyman's Temple Nursery.
(no web site, must actually write to:
Box 591, Trumansburg NY 14886.
He writes back in beautiful script)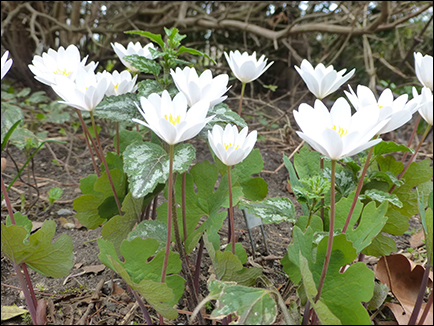 The sight of my first snakeshead lily
(Fritillaria meleagris of course)
growing among the starburst
dwarf daffodil 'Rip van Winkle'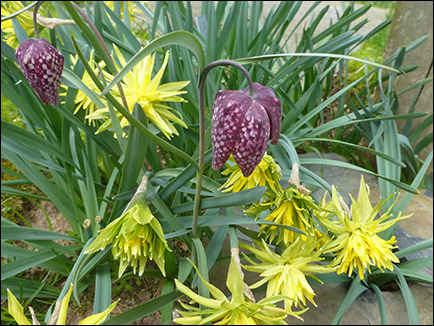 just made me swoon
And this Ganeesha, the Elephant God of the Hindus, is a perfect lead-in to our trip to India and other ports. Truthfully, I didn't see one plant or one tree or
anything horticultural that I haven't seen before,
(not the forte of the Indian people anyway),
but in Singapore: we did see a few things FANTASTIC.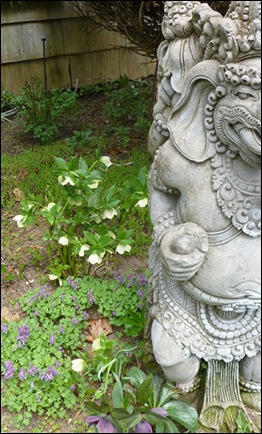 Singapore is High Modern, admittedly socialist, but ever so impressive.

This building with the ship on top houses theaters, museums and more designer label shopping than
you can even imagine.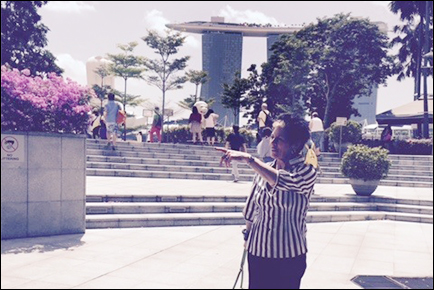 As evidence of this shopping phenomena,
the angular glass building is not an art gallery or
opera house, it is a Louis Vuitton STORE.
I swear.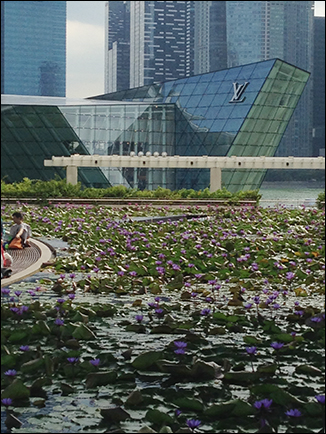 When it was announced we were visiting A Cloud Forest, that was built only a few years ago, I thought,
"Oh ho-hum, what can this be?"
Well, my pictures are lousy but it was the most fantastic array of rare orchids and every single exotic growing thing you have ever seen or even heard of:
bromeliads, prehistoric ferns, totally mysterious succulents growing in profusion on a man-made mountain with, yes, man-made clouds at the top.
It sounds awful but it was fabulous.

Huge pitcher plants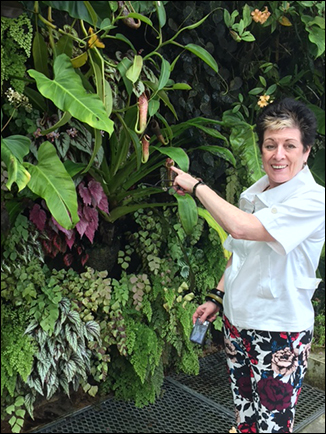 300 year old Olive Trees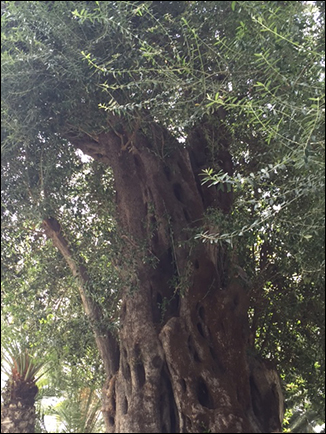 Eel-like cactus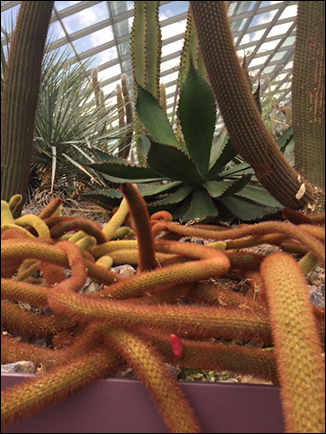 you have to see it to get it....
so when in Singapore
You Must Go


Asam Tree, or Rain Trees (Tamarindus Indica) are everywhere and that is all I have to say about
Malaysia and Sri Lanka.
Except in Sri Lanka there was this salmony color bougainvillea everywhere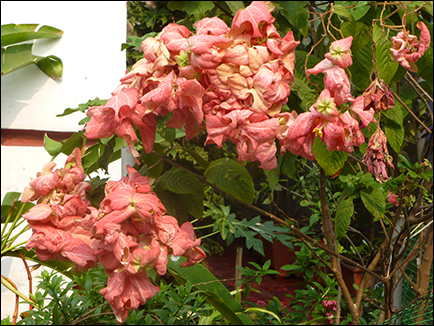 and some charming window gardens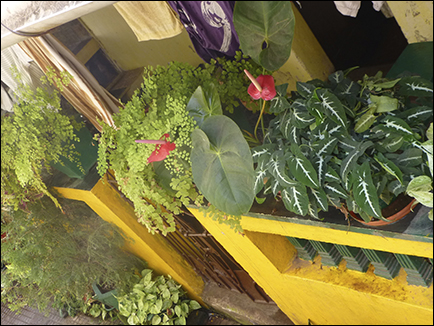 and pathways along the waterways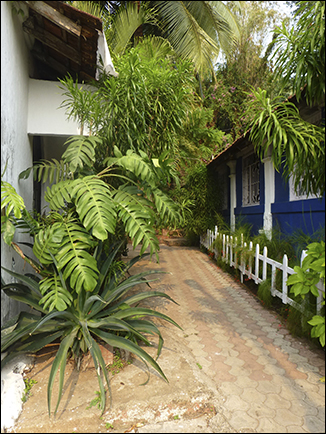 On to INDIA...beginning in the south at Cochin...
This part of the world is particularly good with pattern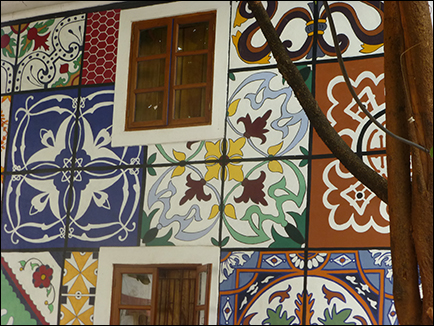 and color COLOR
C
O
L
O
R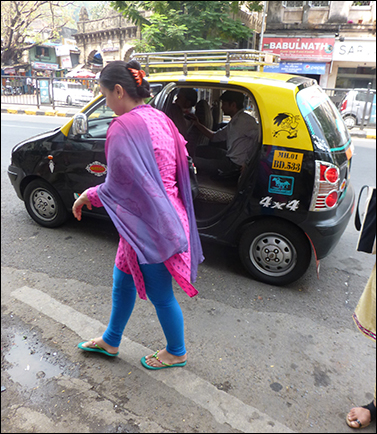 every woman every where every day looks
more or less like this,


and somehow it all works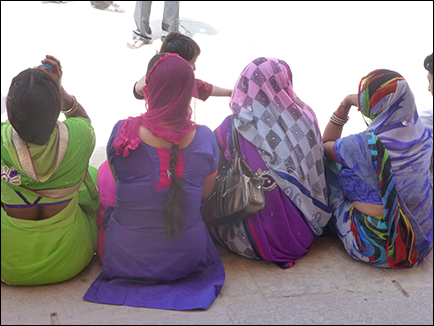 but only in India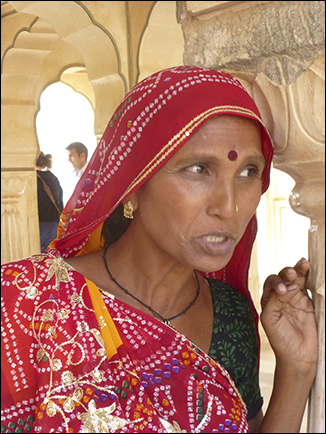 And the good news is that there is an all-out desire for education. Considering that there are 1.25 billion people in India (average age of 27) that is a lofty goal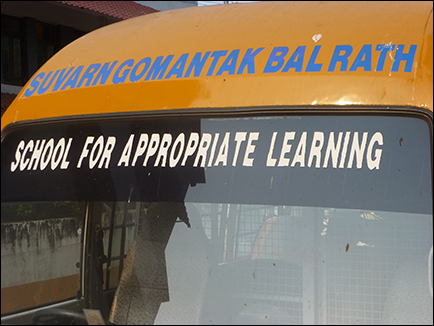 By the way...
80% are Hindu
and are always adorning their gods with flowers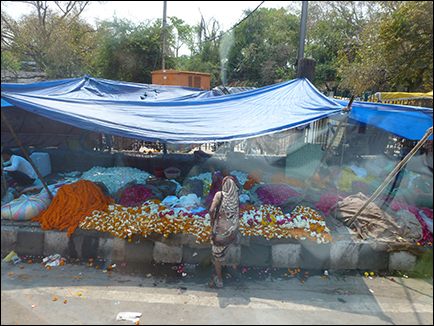 and 13% are Christian...that might not sound like a lot,
but 13% is 162 million people and Jesus was everywhere presented in all sorts of
novel interpretations, techniques and traditions
In old Goa, long a possession of the Portuguese, there are tons of Churches...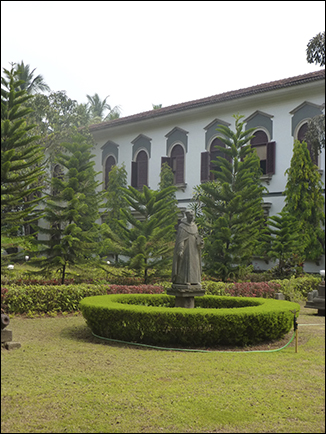 and the only touch of landscaping except for the hotels...
beautiful big fat Norfolk Island Pines
and good hedges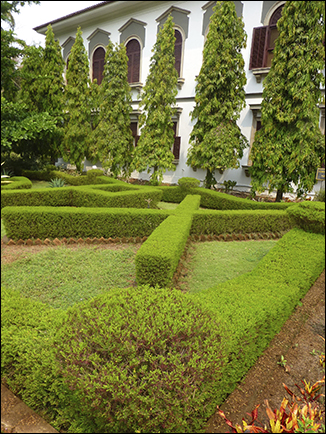 Gardens don't seem to have much of a place in population-thronged India, except for the British enclave of Lutyens in New Delhi.

In Mumbai, for example, the Hanging Garden is a big tourist stop.
The Peace idea is nice, of course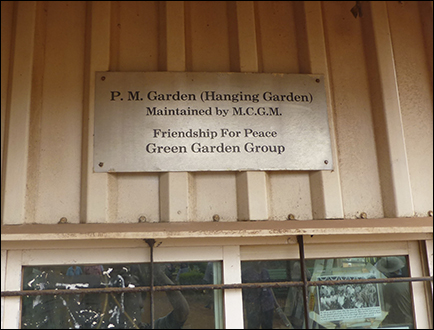 but considering that topiary is the highlight, this scraggly giraffe sort of tells the tale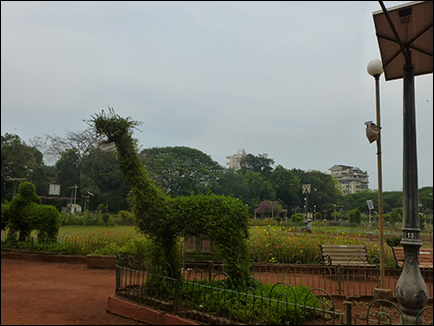 The real highlight of Bombay for sure was the residence that Mahatma Ghandi occupied for 13 years until 1933
This was his bed.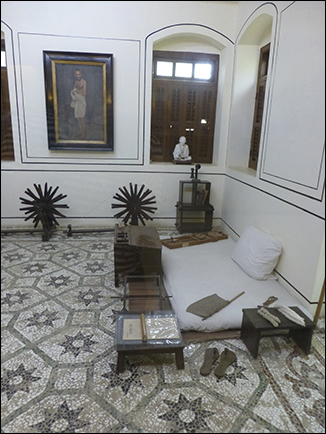 This his library where the books look very well-worn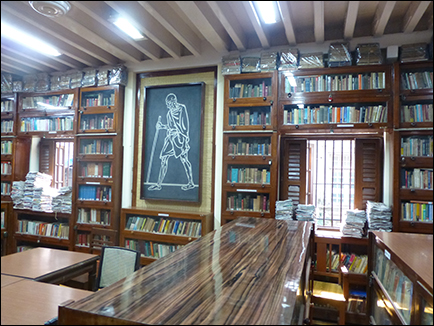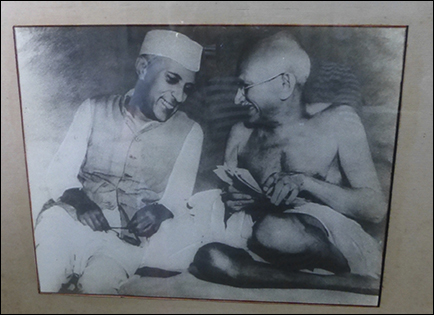 You could just smell his presence and feel the pride
of the people who recognized that he changed the world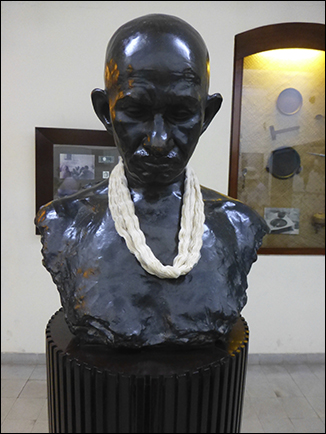 Non-violence reigns true..doesn't he look peaceful?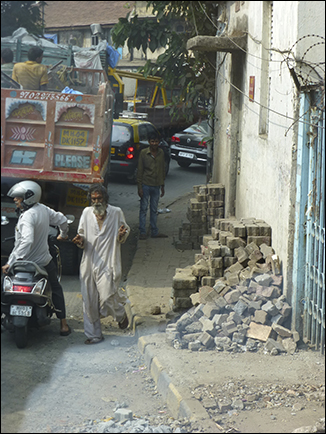 Breathtaking beautiful India is in the north, at the Taj Mahal, at Varanasi,
in Udaipur (the lake city) and Jaipur (the Pink City)
We loved the cacophony of horns and hollerers,
donkeys braying and parrots squawking, tuks-tuks
sputtering and over-laden trucks jostling with
motorbikes and people and everything
stopping to make way for the cows

The cows, sacred as they should be, were my
single favorite element.
That they feel comfortable everywhere
(non-threatened, the epitome of non-violence)
and are all fat (or sort-of fat, dogs too) and suddenly, you have a different view
of the garbage strewn streets upon realizing the piles are left there to feed all the animals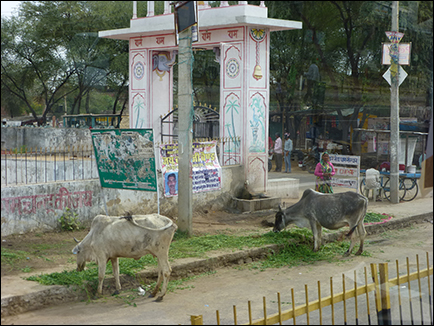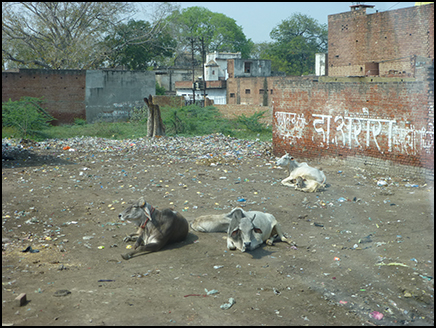 These two contented black and whites decided they were tired and plopped down on the meridian in the middle of a big road filled with bikes, motorcycles, tuk-tuks, trucks and anything else you can name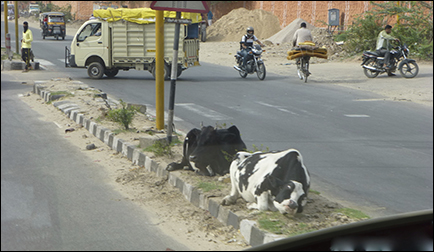 just out strolling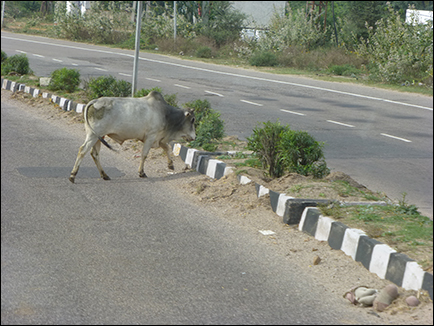 I loved them all.
Jaipur is not only pink: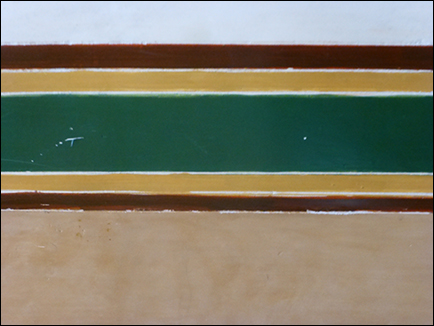 there are decisive colors and shapes
and gorgeous panoplies of other pastels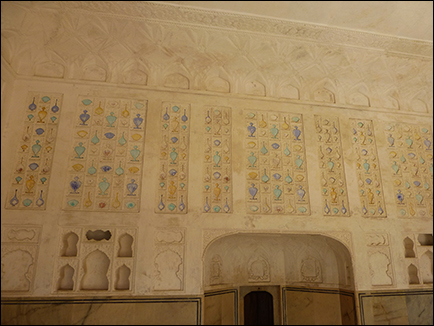 So, no gardens really; but flowers everywhere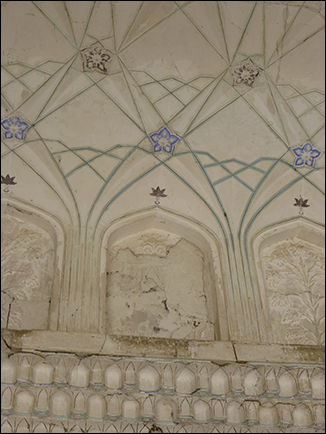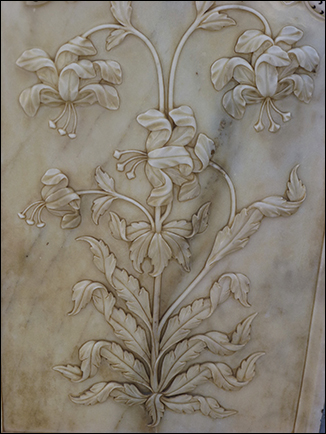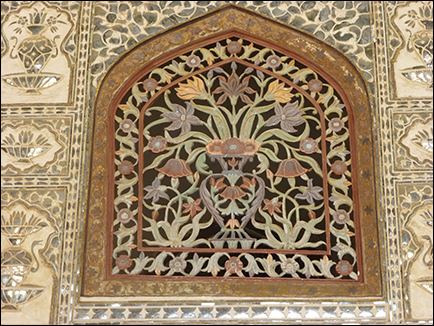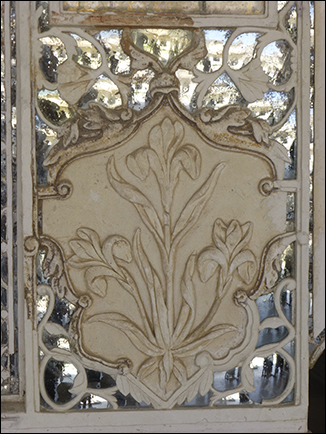 Of course, the Mughal architecture is to die for, which we came to appreciate through architect/lecturer
Dr. Richard Patterson
the chatteries and aedicules
that make it so exotic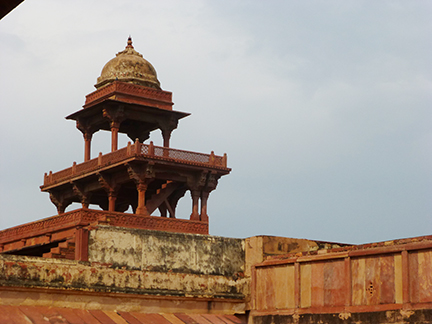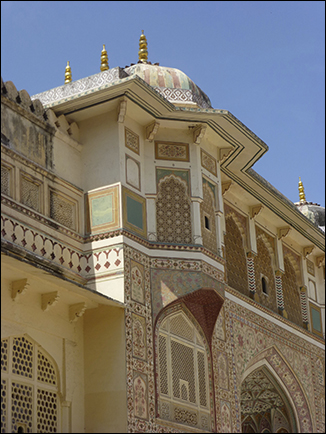 The Astronomical Observatory at Jaipur was completed in 1734 by a very clever Maharaja.
It still works.
They can measure time against GMT to .0002 of a second...and they do.
It is the official time of India.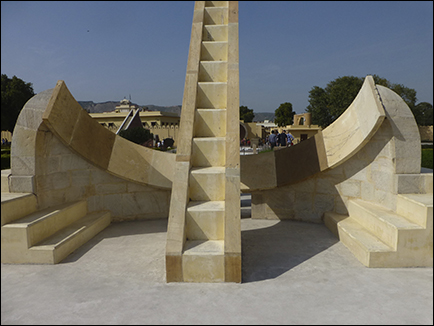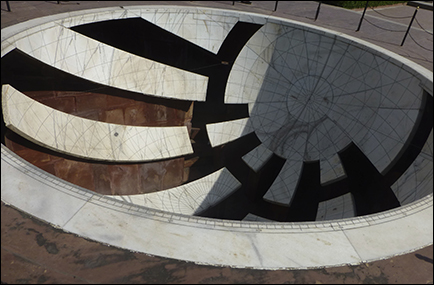 The fact this and other treasures of forts and palaces are constantly being painted, refitted and
restored is a wonderful way to keep those
billion people busy
We loved Jaipur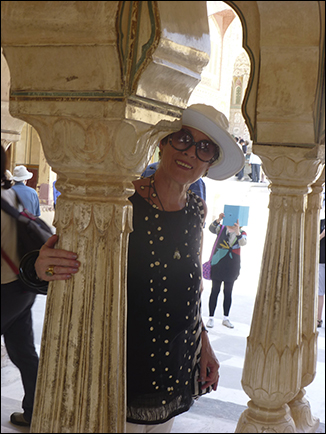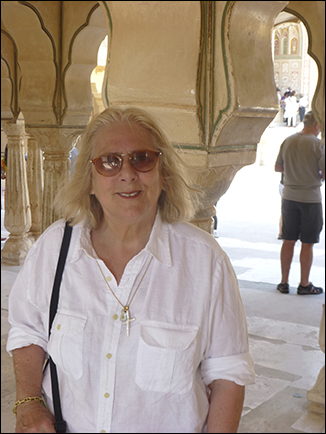 and oh, yes, there were gardens to be observed
from a distance
(the women couldn't mingle)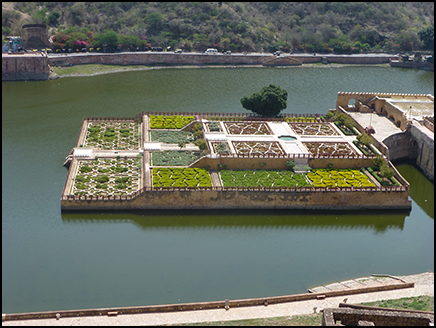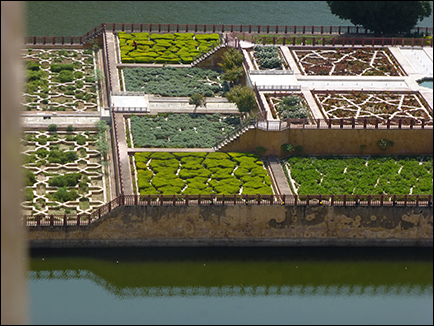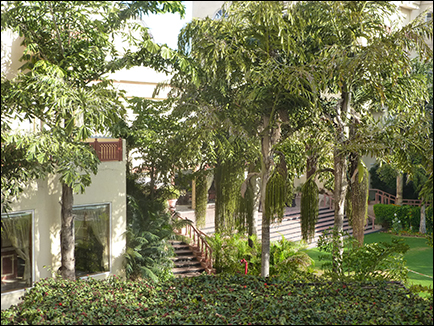 This paradisical look doesn't really count as it was
our hotel
A curious feature of our hotel was the all-glass bathroom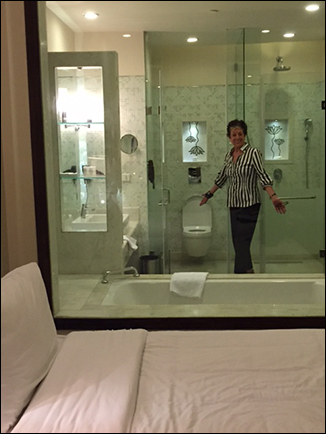 One last tiny peek into Old Delhi,
which is utter chaos: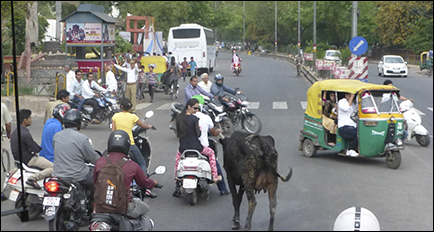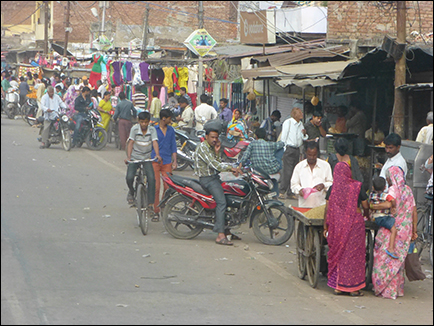 and its Anglicized sister city New Delhi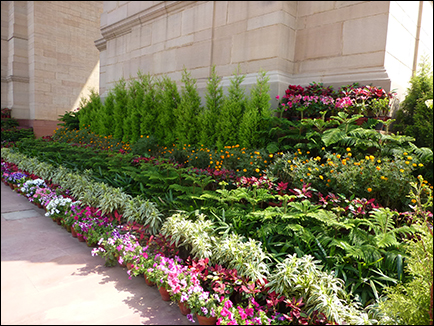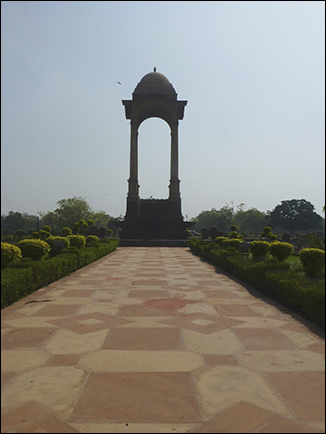 two different worlds side by side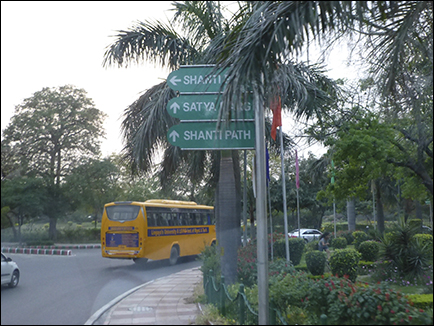 Shantih means PEACE.
(See the last verse of T.S. Eliot'sThe Wasteland)

Oh yes, one more fascinating thing, in the wheat fields between Agra and Delhi there were BLUE antelopes

.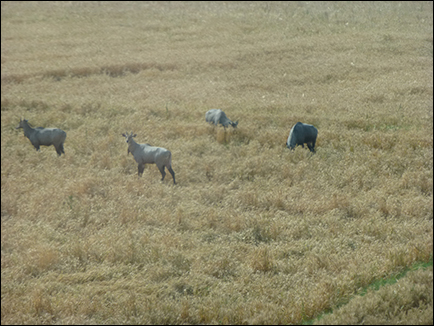 I am happy to be home and selfishly thrilled that spring was late in coming because I am really late in doing....
but catching up as I revel in the wonder of each
thing breaking through the earth and unfurling.

Anyway...everything being late means also that the weeds are late to sprout, the pruning has become especially obvious, and the precious emergence of spring
even more special:

the purity of the first white crocus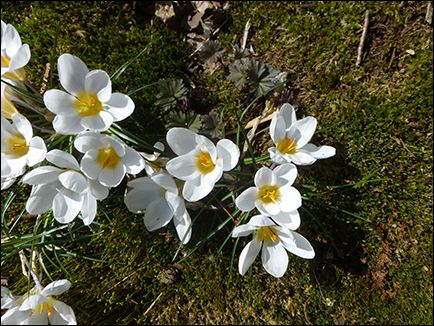 the double Galanthus 'Flore Pleno' sure does
bake my cake
the Hepatica among the cyclamen multiplied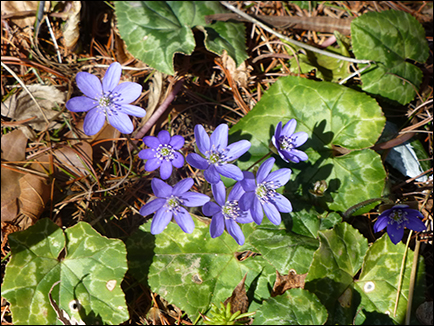 and this year I have 4 different colors of tiny but thrilling Corydalis, but I'll spare you the subtle variations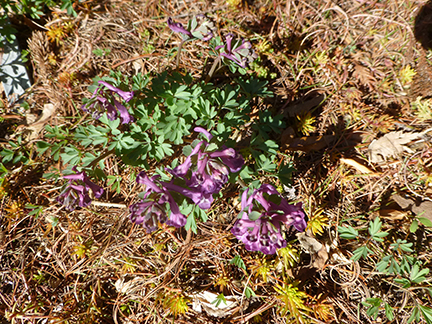 This dreamy dogstooth violet growing among the
shiny leaves of European ginger is heaven...(this special rose and white form from the great
Odyssey Bulbs
)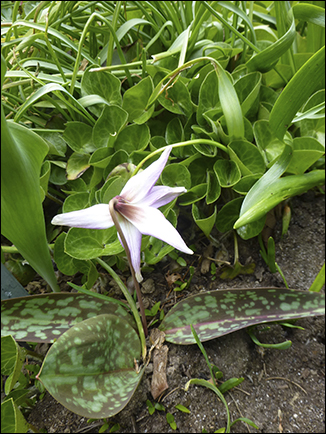 Who can ever have enough?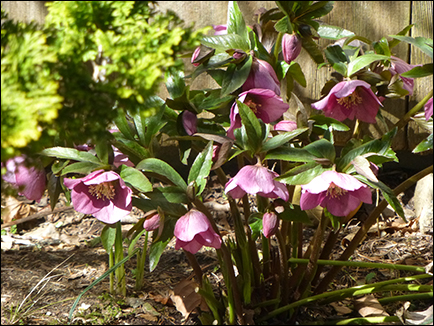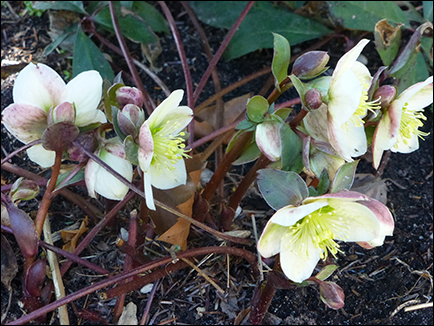 And hooray for the bravado of these crocus.
They couldn't wait for me to take that old burlap
blanket off of them.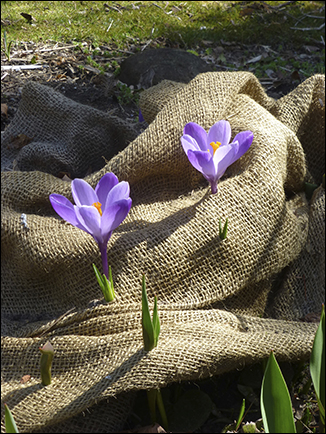 OK -- It isTime to Garden! and
Dianne B
is ready to fulfill some of your gardening tool needs – sort of.

You may have noticed that I am phasing out of things, the Yard Bags are no more and will not be remade
(minimums ridiculous);
but there are still some wonderful things to be had:

These dandelions were unearthed with 16" inch long
roots intact by
the determined Lys Marigold. See the size next to a gradiated 14" best trowel,
( you can buy it anywhere, though at
Brent and Becky
it's the cheapest) .
But you can only unearth these determined
beasts with the
Dig Deep Weeder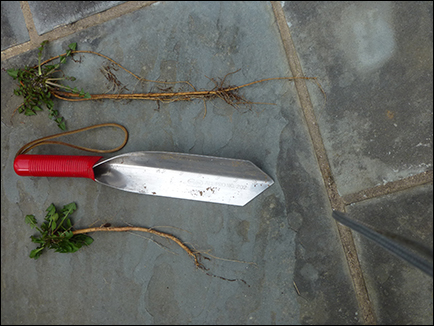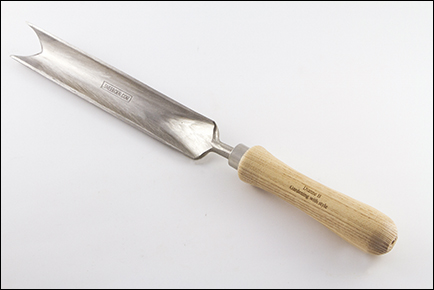 and if there were ever a time to use your
Peeping Stick
– it is right now
as the hellebores explode and the nodding
Fritillaries open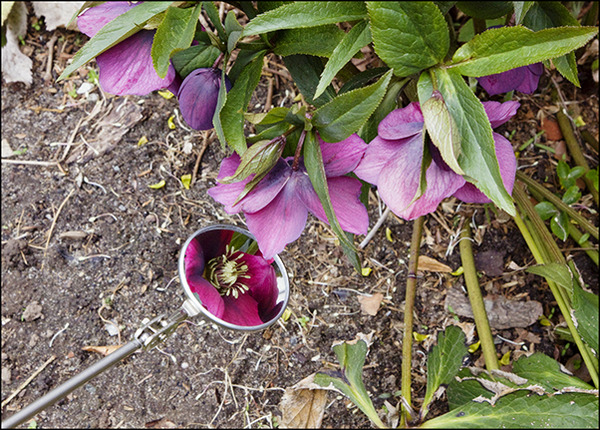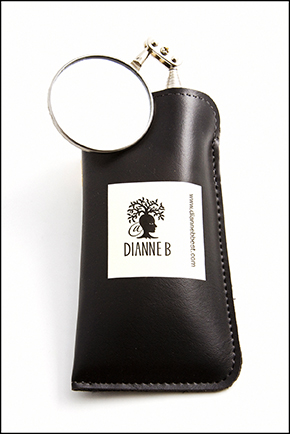 Happy Spring EveryOne...

Mark your Calendars:
May 9 – the garden is open from 10AM to 2PM
for the
Garden Conservancy
and

Wednesdays and Saturdays –
LongHouse
has reopened for the season and it has never been so abundant, nor have the art installations ever been so good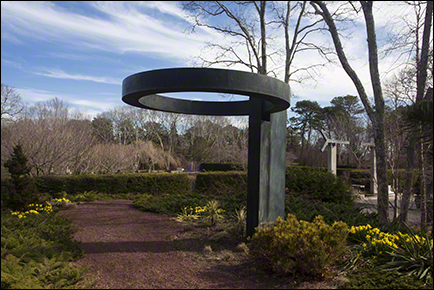 Takashi Soga, Eye of the Ring, 2007
and
MAY 16 – the First Ever Most Wonderful

OLD STONE STROLL
May 16 3-6pm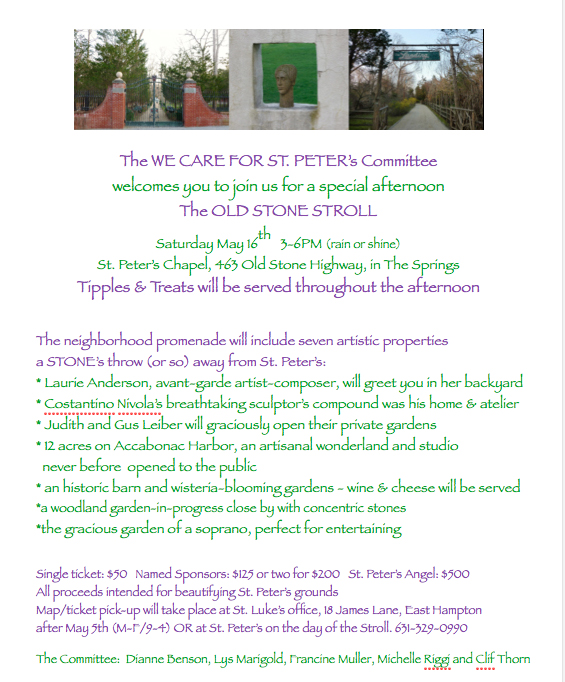 Hope to see you very soon,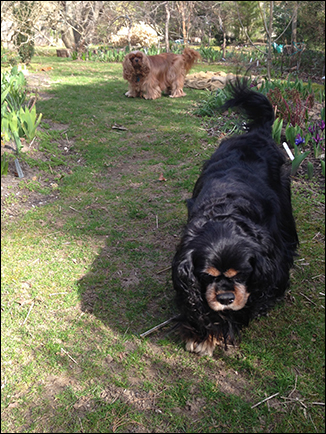 Hmmmmm that earthy spring scent is so good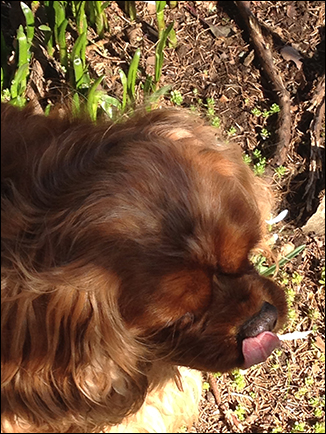 Mmmm tastes fine too.

Visit Dianne B Gardens
Visit Our Website
Find us on Facebook
Forward this message to a friend