DIRTIER
....

The Monthly Garden Memoir
Volume 58 July, 2014
Dianne B


GARDEN TOURER'S FAVORITES
The martagon species lily mixing with teardrop Clematis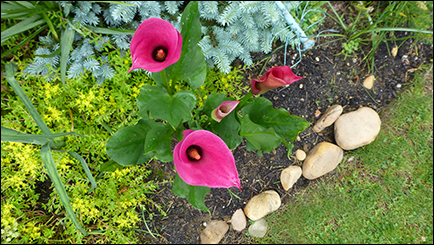 Ellen Watson Photo



This hot Pink Calla, a product of that big fat brown bulb you saw in the last issue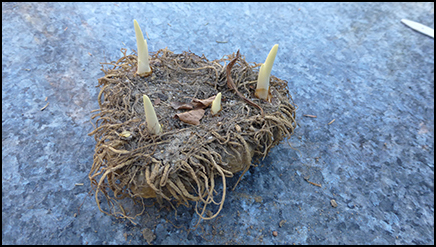 And the flashier the better, although sometimes these flashy things take over and I think the real point of the garden is missed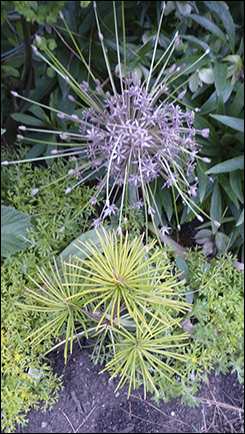 but this Allium schubertii (about 15" across) and young Sciadopltys 'Ossorio's Gold' (
Broken Arrow
) are show-offy in the best, though not necessarily subtle, way


There was lots of white: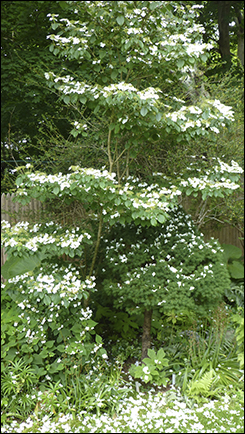 'Summer Snowflake' shedding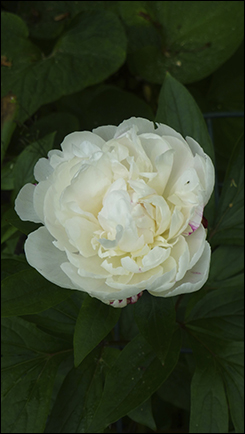 Peonies popping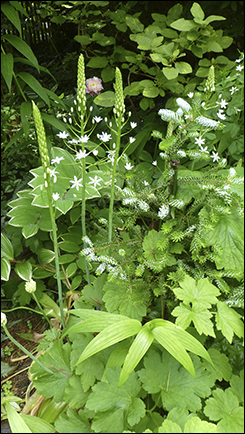 and the terrific Ornithogalum magnum
surprising everyone
(a great easy Fall planted bulb from
Van Engelen
for less than a dollar each and they come back each year bigger and better, and last longer than Camassia)
Dogwood 'Wolf Eyes' admiring its white splashed friends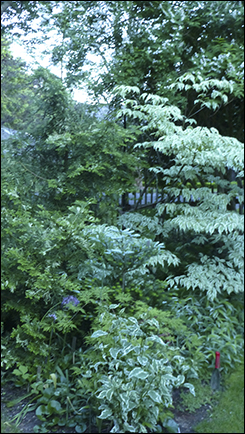 Clematis 'Gillian Blades' taking over from the white azalea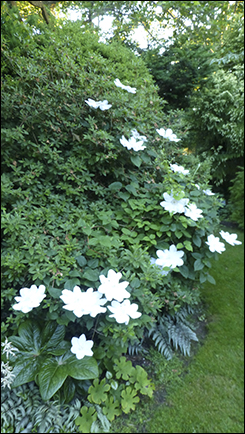 (people don't seem to believe me when I tell them
this is a real re-bloomer)


But it is the weird wonderful world of dark and shady places that caused the biggest gasps...
An Arisaema season like no other, that's
Jack-in-the-Pulpits to you

Faithful Arisaema ringens makes its entrance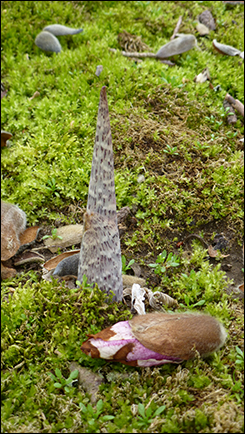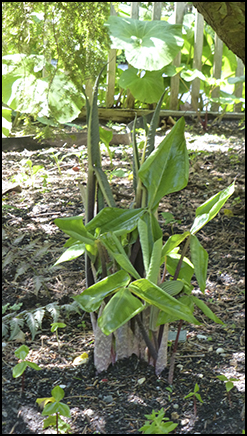 Can't convince many people to crouch down like you
must do to see her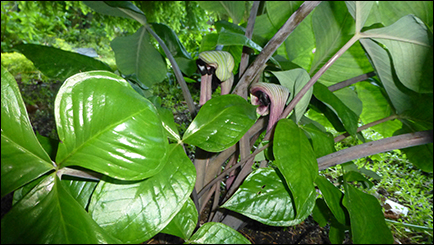 The very first Jack to bloom in the tender days of spring

Arisaema sikokiana – this is my baby of only
a few years.
My elegant huge one of several years made no show ...
you never know...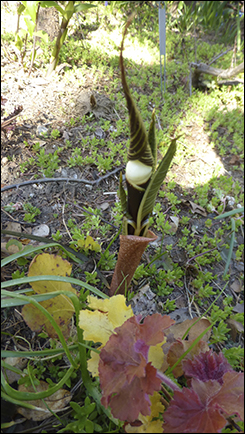 Here are some garden tourers: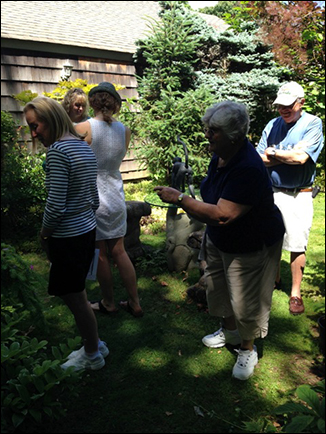 What is that?
Taking away some Petasites....everyone is welcome.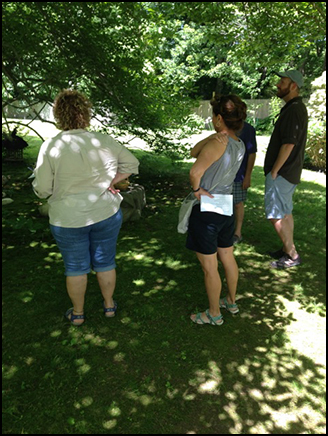 Admiring the moss garden

Some are enthralled by things like
Arisaema thunbergii ssp. Uryshima
(there are no cute common names for these beauties),
this came from
Marders
, but this year have none...
boo hoo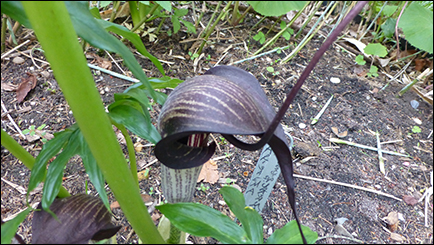 mysterious and hard to photograph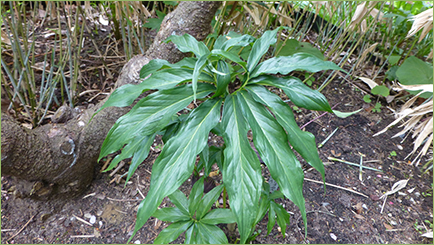 the hoods and the fabulous leaves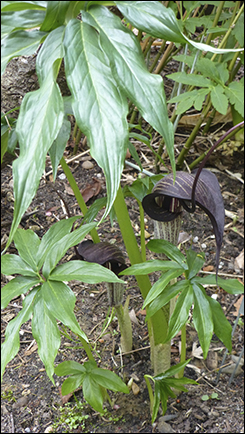 the long lascivious whips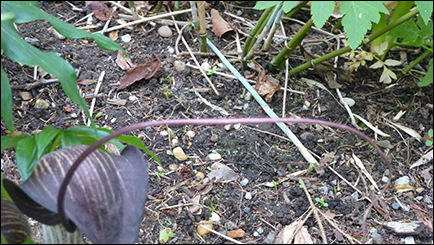 profile view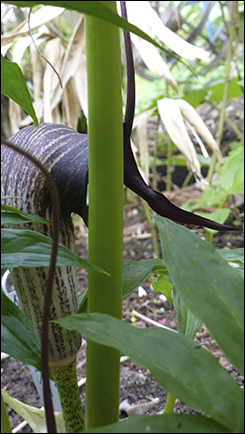 Then there is the persistence of this four foot tall beauty stately appearing among the sasa veitchii.
It has returned faithfully for 5 or 6 years...
never another...just one... tall and proud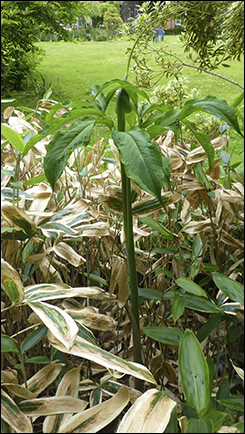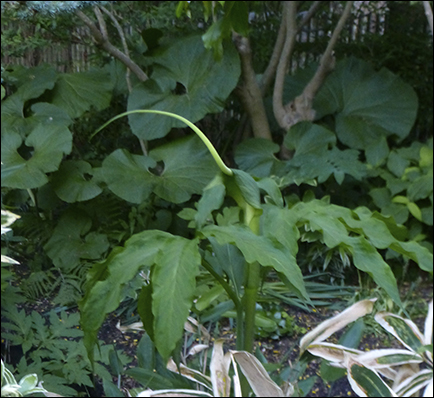 See this A. costatum starting to unfurl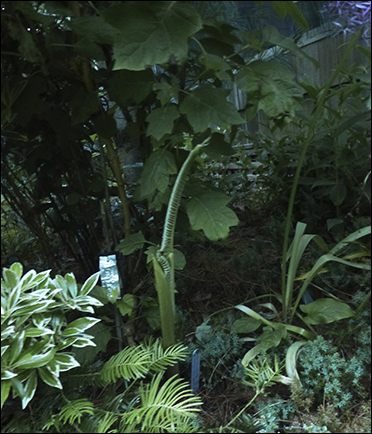 this is what it becomes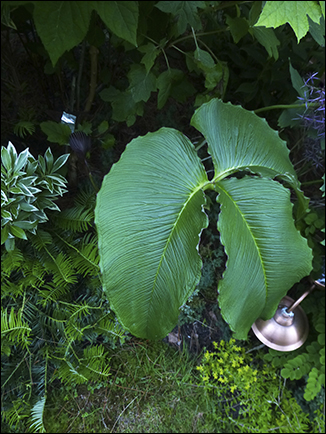 and here is the "flower"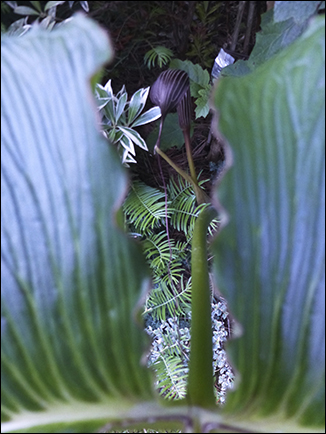 and the prettiest, by usual standards of pretty,
is the charming pink A. candidissimum
from the
great
Odyssey Bulbs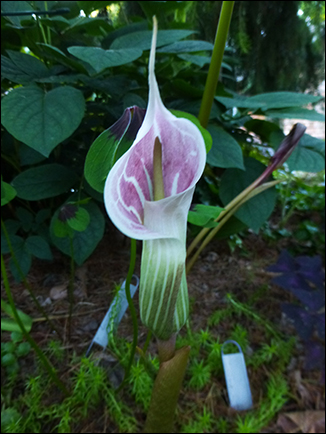 I knew it was a eye-catcher, so had to post on FB. Someone thought it was a tulip...

THE EPITOME OF GRACEFUL
The fabulous unfurling of the swan's neck-like 4-5' stem of the great Allium 'Forelock"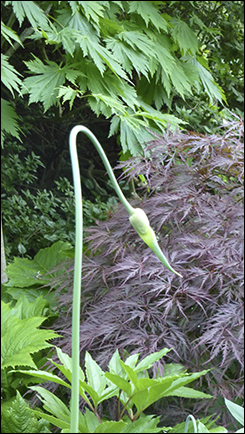 it only straightens up as it is about to flower
But there is nothing like the real thing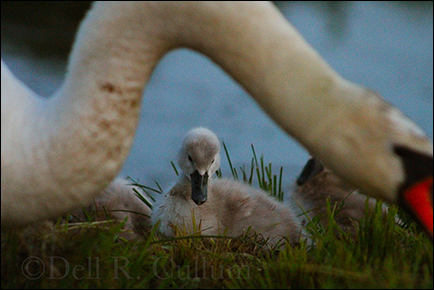 Dell Cullum Photo


JUST CHANGE IT
If you have an ungainly shrub that doesn't do
much for you
Be radical...prune like crazy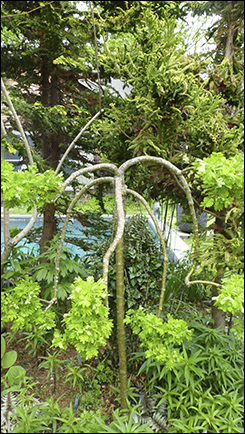 this weeping pea looked like any old shrub when I
bought it at
Lynch's
, but I saw this yellow
bark underneath
and kept snipping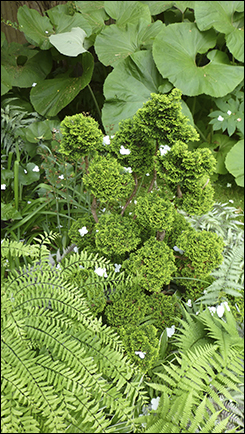 the bouncy little Hinoki in the dell
was just a blob


NATURE'S COLOR IS INCOMPARABLE
One might say that both of these are pink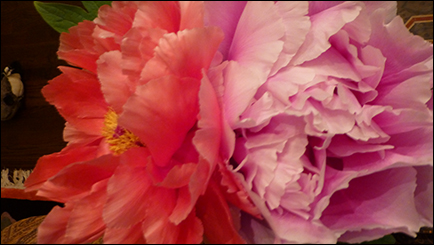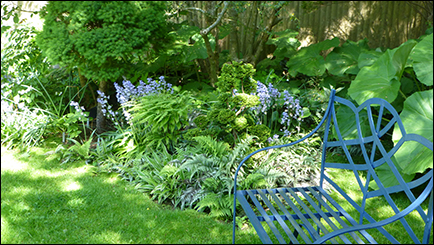 Blue on blue –
Cotswold blue bench on bluebells


Purple (the amethyst sort) on purple:
Lupine 'The Governor' with German iris
and Allium christophii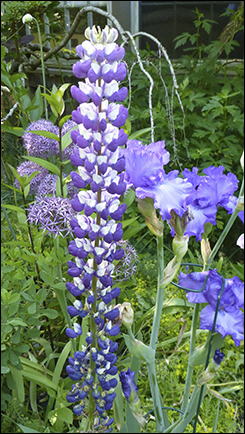 More White on White –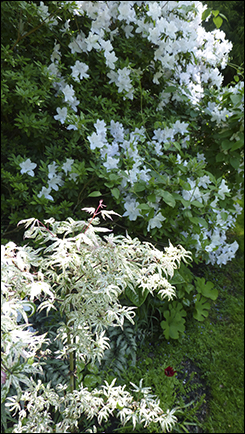 Floating Cloud Japanese maple on white azalea

Mrs. Foster's Zucchini blossoms -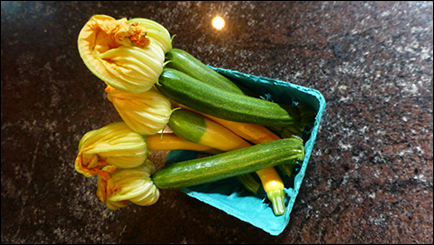 Black on black – The bi-color dark-edged white columbine, the weeping purple beech and Flora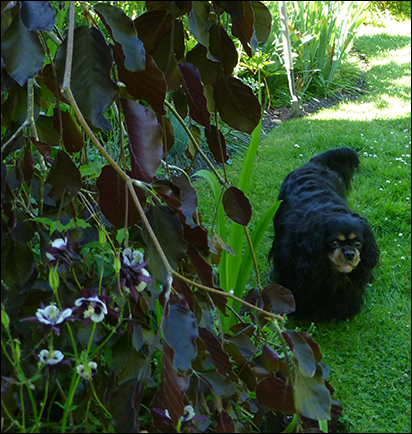 And how about Purple on Chartreuse?
This is another of those color combinations that
only work in Nature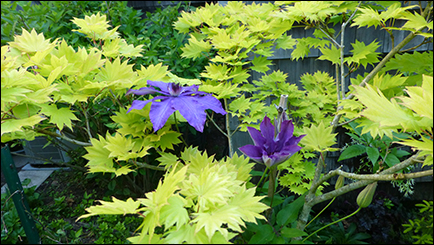 And don't even ask me how to describe the colors of this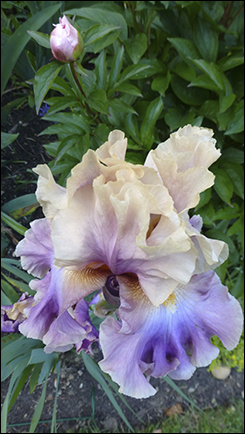 And now let's step out of nature and look at a
Really Divine Blue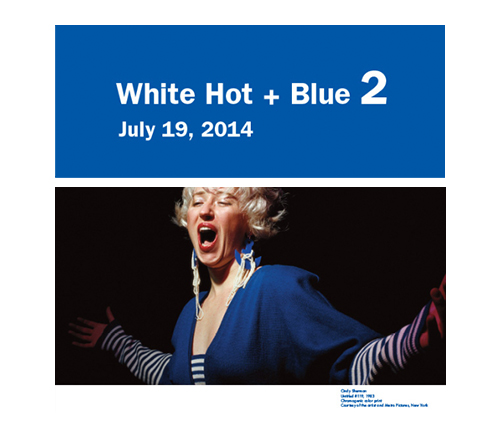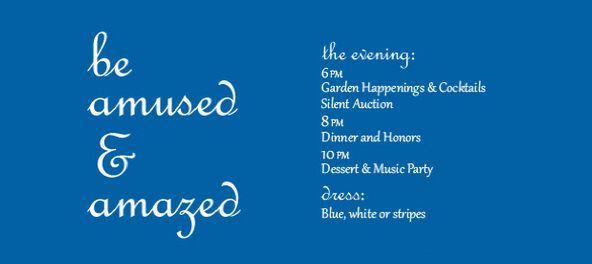 July 19, 2014
LongHouse Reserve Summer Benefit
White Hot + Blue 2
Honoring Agnes Gund and Cindy Sherman

Be amused and amazed....
6 pm
Garden Happenings, Cocktails and Silent Auction
8 pm
Dinner and Honors
10pm
Dessert and After Party with DJ Donna d'Cruz
Our LongHouse Benefit invitation –
It looks familiar because you last saw it sprawled on the walls of MoMa at Cindy Sherman's retrospective.
The image originated as a collaboration between Cindy
and my Dianne B. stores in 1983.
Without a doubt – the White Hot & Blue 2 Benefit will be
The Party of the Year
July 19th


Wear Blue, White or Stripes



Throw caution to the wind and come!


DIANNE'S DO's and DONT's
DON'T make blanket statements like
"I hate all yellow flowers".
This one's wonderful.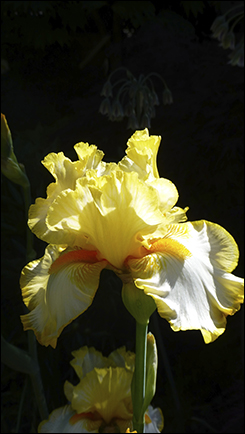 DON'T think you can just stick in a little red poppy you found at
Lynch's
because it looks so cute. Sticks
out like the proverbial sore thumb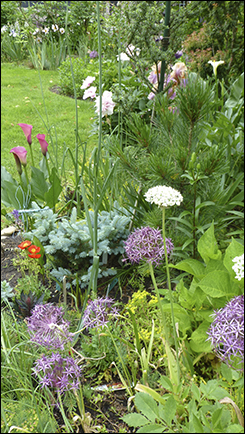 I pulled it out midway of the Garden Open Day


DO coddle...I put a blanket of burlap on this
classic white Calla...
Zantadeschia aethiopica no less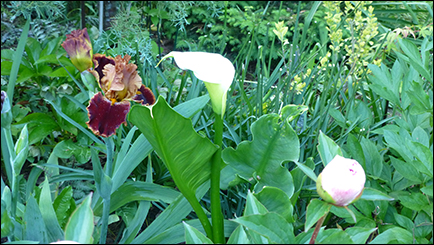 And it survived that very same winter
It was the little blanket that made the difference,
I just know it


DO believe me
I swear I did not plant not even one Japanese painted fern at the corners of this good old wooden bench from the Philippines...
they (the ferns) just decided they would look good there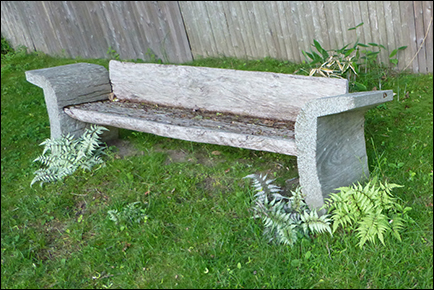 I SWEAR THIS IS TRUE


SUMMER GARDENER'S LUCKY DAYS
Dear Friends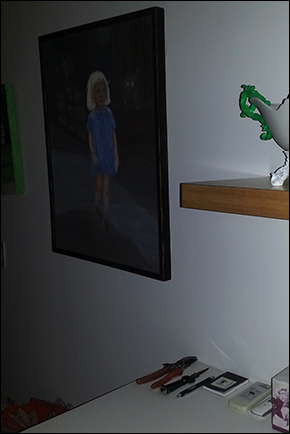 This is a picture (taken in the penthouse garden room of a very famous photographer) of the incomparable
Japanese Clippers
that are only available at
Dianne B
Soon my dwindling stock will be gone...so, I would take advantage of this offer to get your Clippers...or your
Felco #2
(at an unbelievably good price), your
Yard Bags
, your
Tool Belts
and your
Dig Deep Weeder
right now.
FOURTH
OF
JULY
SPECIAL *** 15% OFF
Use coupon code: 15%OFF
Stock up at
The Best @ Dianne B
and make your garden even more beautiful...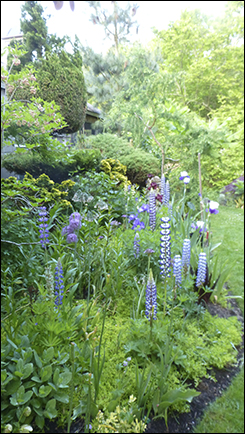 This floriferous foto belies my insistence that my garden is not about flowers...

Well, you know you could be wrong
...Bob Dylan

And speaking of him, I imagine you've heard that the pencil-written-hotel-stationery words to Like A Rolling Stone Sold for $2.1 million
I personally think it was a great buy:
Consider the words:
You never turned around to see the frowns
on the jugglers and the clowns
When they all come down and did
tricks for you
You never understood that it ain't no good
You shouldn't let other people get your
kicks for you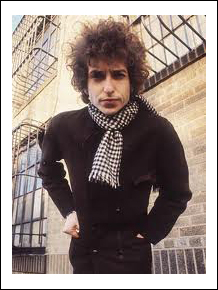 Iambic pentameter of another kind...

And for the real thing:
(iambic pentameter that is)
Mark your calendars right now
Not only is Hamlet coming to
Guild Hall
in November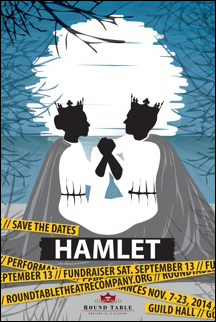 But
The Tempest is coming to us via the new
Bay Street Theater
On August 16th and 17th
The new director Scott Schwartz is cleverly having
ONLY TWO PERFORMANCES:
August 16 – a Donor only staging at a private home
And
August 17 - FREE – Location to be disclosed
The great John Glover will be Prospero
Yours ever so truly (me) will be playing a Queen in both.
(And for those of you in the know, it's true that
there is no queen in The Tempest.
But in this production, he is now a she ---
Alonsa, Queen of Naples)
and may I remind you of Helen Mirren's great turn as
Prospera.


And now, I must get back to weeding my moss
& learning my lines.
It's great therapy.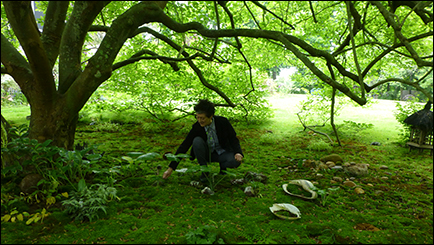 I hope I see you next at the
LongHouse Benefit
on July 19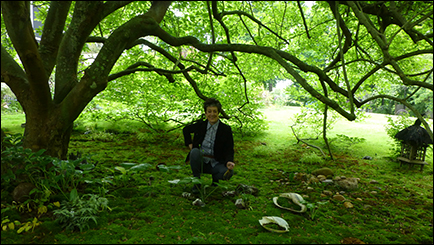 Don't forget the firecracker Fourth of July offer
15% OFF -- use code:
15%OFF
'til July 14.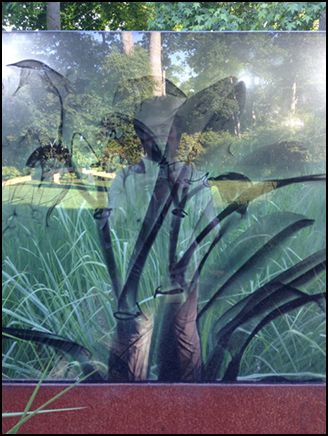 Steve Miller
Installed at LongHouse in the Grass Garden
Come and see...

Visit Dianne B Gardens
Visit Our Website
Find us on Facebook
Forward this message to a friend
---