DIRTIER ....The Newsletter




Volume 50 Late Summer 2013

And what is there to rhapsodize about now, you ask...

Well,

Japanese Ferns proliferating like mad and popping up in the most picturesque places, for one...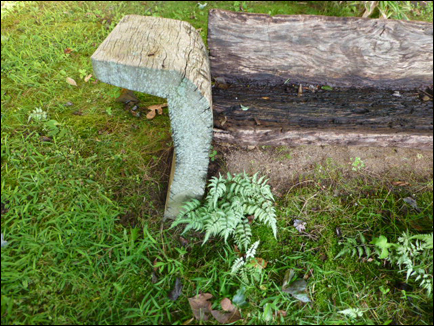 Both Magnolia and the monkey have
high-flying tails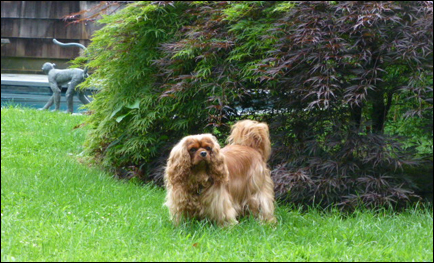 Vitex --- what is better at the end of summer?

Does anyone know if there's a dwarf version?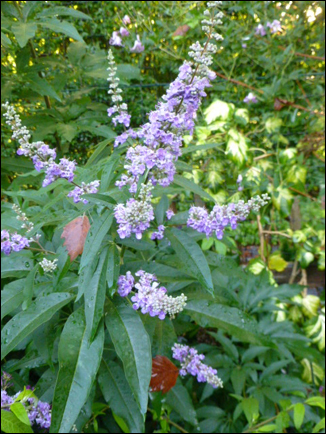 Alocasia 'Teacup' gets better and better and better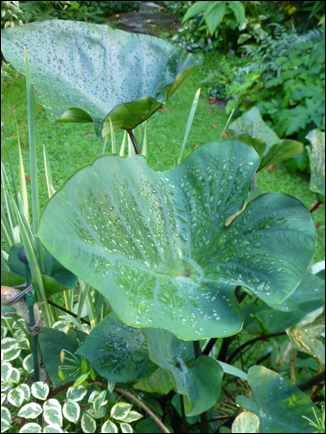 The promising buds of the Formosa Lily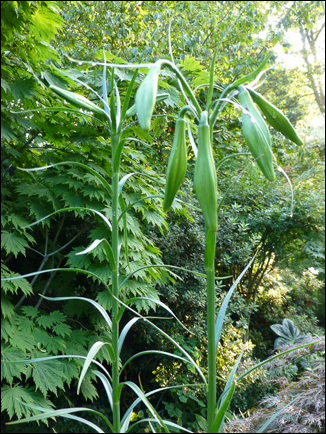 And the charm of my favorite species lily ---
the graceful and discreet Lilium speciosum album
(McClure + Zimmerman)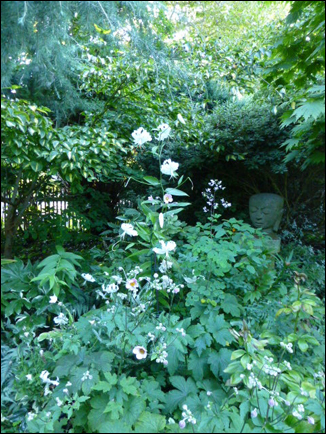 The total surprise of a persistent Angelica gigas popping up through this sizeable fir tree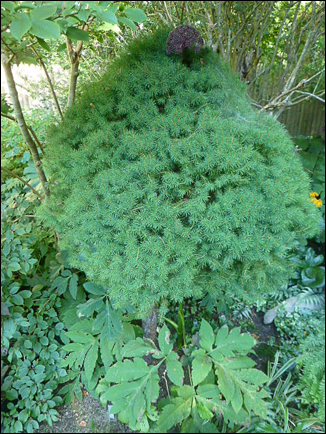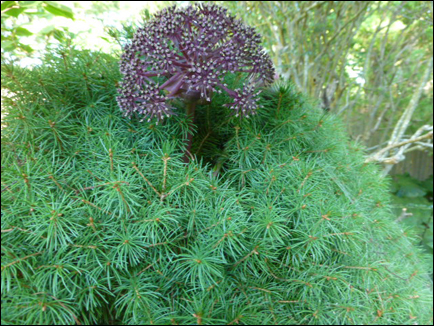 And I didn't grow it,
but look at this fantastic totally surreal dragonfly
that landed on our screen
Wings with transparent stripes!
Better than fashion could ever be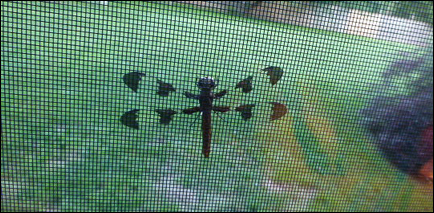 Please do not get roped into a meticulous Fall Clean-Up.

Leave some leaves.

Don't be too neat/it's not natural
and there are huge benefits of natural mulch.
THE REAL STORY
For those of you who read HC&G, you might have seen a story in the Labor Day Issue called CRAIGMOOR,
about CRAIG SOCIA'S NEW CASTLE/HOUSE.
The House is divine.

It says that Dianne Benson wrote the story; but actually,
it is not the story that I wrote at all.
For you insiders who read DIRTIER,
and if, of course, you are interested,
this is the story I really wrote:
CRAIG SOCIA HC+G 2013

If you ask me, the starry-eyed saga of Craig Socia's gradual ascent from a small ramshackle cottage in 1999 to the five-building fairytale compound he now calls 'Craigmoor' is the American Dream Come True Hamptons Style.

The story goes: he wanted to flee New York and come to East Hampton with not much more than a red pick-up truck. With his exquisite taste and good humor, he attracted Jamie Drake as one of his very first garden design clients, and you couldn't ask for better than that.
There are now many big-time patrons on his roster (perhaps the redolent rock-hewn undulating fantasyland of Peter Wilson is my favorite), allowing Socia to afford himself some inimitable luxury of his own. When he has time to indulge in this luxury is another story, as his personal touch is much of what has made him such a success.

Quietly but deftly he acquired three adjoining lots on Accabonac Road, and soon built a new graciously large house for himself, stunningly awash in beiges and browns and exceedingly impressive. The new edifice pictured here is even more than that. It prompts nothing short of an imagined castle evoking some dream concoction of The Little Prince, coalesced with the Renaissance pile of Hamlet's Elsinore. Forms are solid and colors are subdued to the point of near nonexistence with a heady, harmonious palette of black, white and grey punctuated with the zing of metal and the hush of stone. I am particularly fond that the gray of choice is Dior Gray. Not only because we chose it for our own Beekman Place bedroom, or its obvious appeal to those aspiring to the couture- in-life, but Craig says "it is the richest of all the dark greys ...has the most red in it...which gives a special warmth at night when the lights are on."

Practicality rules but you would never know it. Craig Socia is always thinking ahead whether it is in the imminent proportions of a garden (a very tricky subject) or the future of his fiefdom. The main salon is a huge diagonally laid stone-floored space with vast wooden double doors that give the room a totally Country Gentleman feel. But, actually, as Craig is considering the notion that perhaps one day he might be moved to sell Craigmoor as a single estate --- the now-castle could possibly become the most glamorous garage in the world!

Spanning three stories, the vertigo inducing circular stair is drama personified, but approached by the Socia spirit, it is playful rather than daunting. Every opportunity to display treasures gleaned from the privatest of local tag sales to the soukiest of bazaars is considered and staged. Enthralling chiaroscuro library wallpaper came from the decidedly unexotic location of Harbor Springs, Michigan, but everything feels desirably out-of-this-world here. Niches round and squared, casements deep and wide hold varied possessions and gems some pseudo-historical, some strictly classical and others mere tongue–in-cheek gnomes. Statuary of the 'Four Seasons' resides in window wells that span the 'family room' (though the big black TVs that appear all over the house, somehow, never seem watched) and the working space. These 3-foot-tall goddesses are eternal, having made their debut in the Iliad, but seem uniquely suited to the very modern purposes here. That they personify nature, promote fertility, rally the cosmos and are just beautiful, seems the spot-on touch for watching over this arena of Socia magic.

His trademarks are many: walls, portals, gazebos and arches made of
tightly layered horizontal stone, extravagantly comfortable redwood hewn
benches and birdhouses, a sense of timelessness and a divinely inspired feel for congruent color permeating a landscape.

So, the guy is not only a gifted designer of both inside and exterior spaces,
a builder of twig follies and tranquil Zen inspired bridges, a horticulturist of the first order; but he is also a brilliant businessman.

That is why my favorite feature in the entire house, and it is really a challenge to choose only one, is the black and white marble chevron-patterned corridor that points the way to the heartbeat of his home and his life The Office of Craig James Socia Garden Design. Beside all of this, he is friendly, cordial and generous. All the hallmarks of the American Dream.

Dianne B
East Hampton
26 July 2013
The images in HC&G are very nice, but they don't include my two favorite elements:
the black and white marble chevron floor and the gorgeous chiaroscuro library wallpaper...

So, here are a few more pics: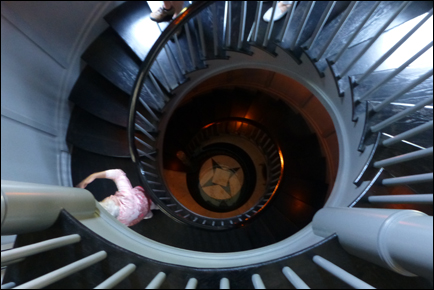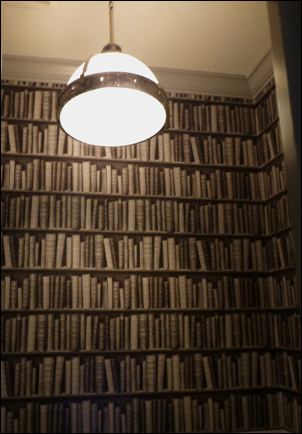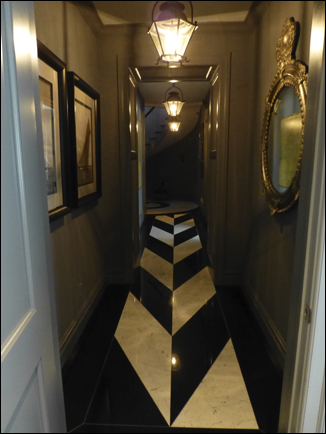 WHEN THE BEE STINGS
Yowzzzzzza....

Yes, and very stingy it was, or rather they were: the bees.
Edwina von Gal says they rarely get you in just one place, but are prone to sting multiple times once they've decided you have disturbed them.


I was in a murky corner and must have done just that.



She also explained the plight of the poor bees
(and all creatures that depend on meadows, wildflowers and ground
vegetation). Between the out-of-control deer eating everything in sight and the toxins that are being spread around like mad ---
the forest floor is disappearing.
So, the bees and all other ground-nesters are in real trouble.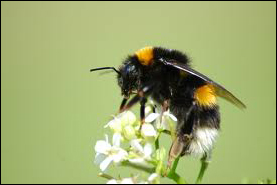 There are all kinds of bees: honey bees, bumble bees --
I think these might have been buff-tailed bumblebees.

So, on this day of my first bee sting in all these years --it happened to be the same day as some other unusual behavior
.
WHEN THE DOG BITES...
She would never bite us, but Magnolia did attack a perfectly
innocent bird and then stalked it ...
in the most unusual non-lap dog way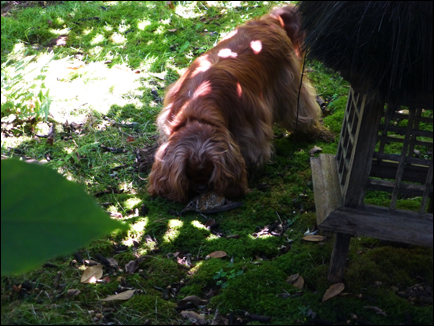 I am happy to tell you that somehow the bird escaped her sudden avaricious behavior
(we always wondered what would happen if she actually
caught a bird);
but along with the attack ---
she went crazy digging up my precious moss




This happened in the peaceful realm under the magnolia tree and it was actually shocking to see her as an aggressor...

Weird day.
KEN DRUSE SURE KNOWS HIS STUFF
Isn't it great when someone you expect to be really smart and really in-the-know actually is?
Obviously Ken is an expert observer among those who observe the minutiae, as well as the grand plan, of gardening.
With 18 books under his belt, I suspected as much.
But actually witnessing his garden antennae at work sealed the deal.

After showing off my Hydrangea arborescens radiata
(which I had completely lost track of, but of course he knew)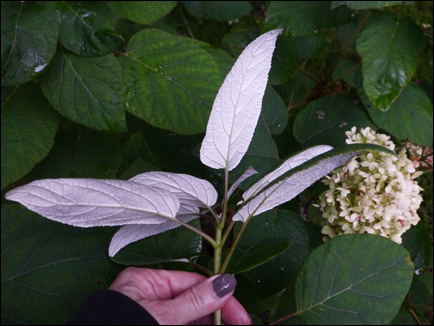 He said, Honey, what you need is Hydrangea 'Star Burst' and 'Little Honey'

Well... 'Little Honey' sounded a bit familiar, though I'd completely forgotten I had paid $25 to Broken Arrow
for the very same
thing in 2010

But in my very own garden, he spotted it!
There it is --- struggling to emerge in an overgrown spot
(those little gold leaves under the voodoos and the
Indigofera and the yews)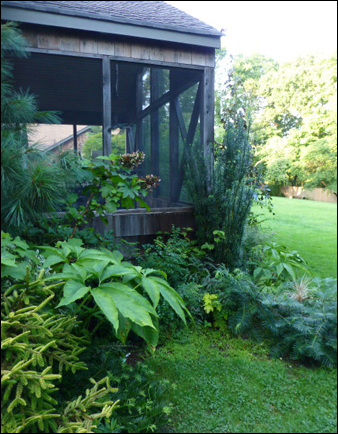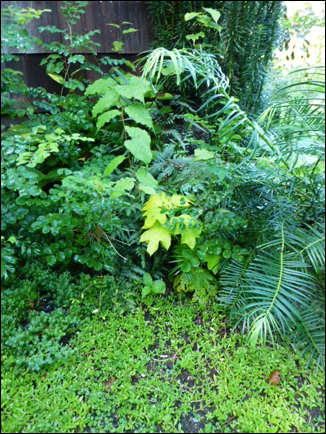 He picked this 'Little Honey' out with a glance,
which reminded me to take care of it.

I think he also liked this little cluster of white on white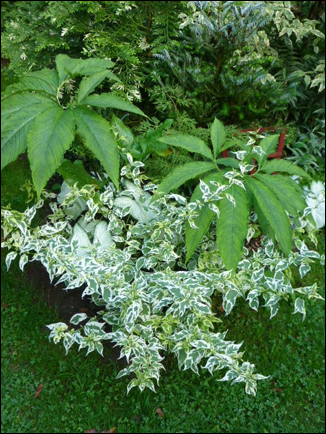 We went to LongHouse too...and his observations were great.
He loved it.
It is gorgeous at this time of year...
PODs + SEEDS + BERRIES + BUDS
Whatever they are, they are endlessly fascinating to me...

This woodlander, Japanese peony, P. obovata subsp. Japonica,
has a fleeting flower but a wicked set of seeds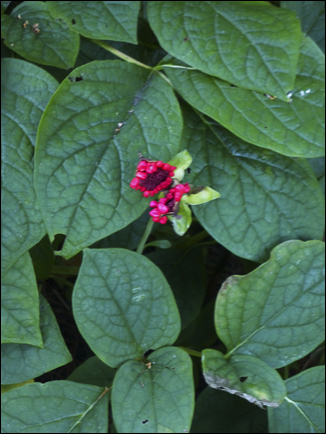 The surreal seedpod of the ever-glorious Arisaema sikokianum
is great upside down or any way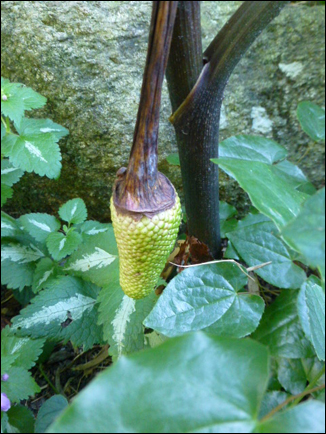 and look how gorgeous are the leaves, which last all summer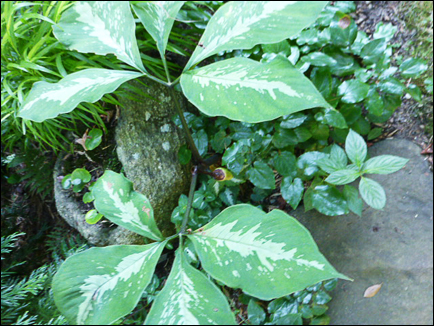 Black Mondo Grass is great over a chartruese ground cover like the rampant Sedum 'Acre', which allows you to see the berries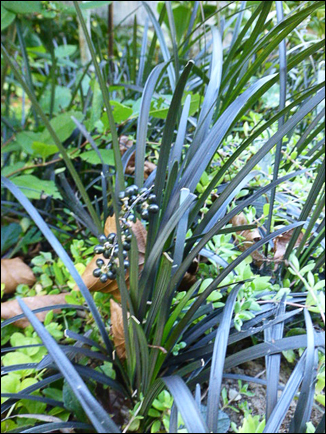 The buds of the Pineapple lily are great in front of the curled habit of the Abies koreana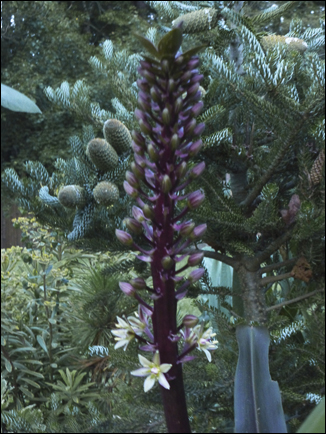 And I can't bear to cut off the seed pods from the Tree peonies.
They are so structural, so fertile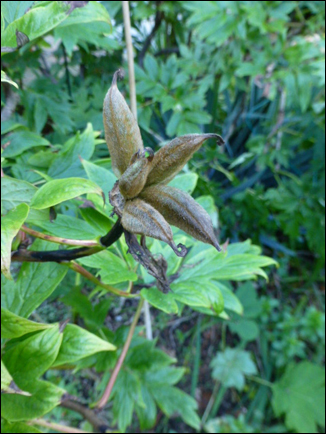 even though it seems the general wisdom is
to cut off seed pods

Any opinions ???
LAND
I love the way it is described by two of my very favorite women:

Vita Sackville West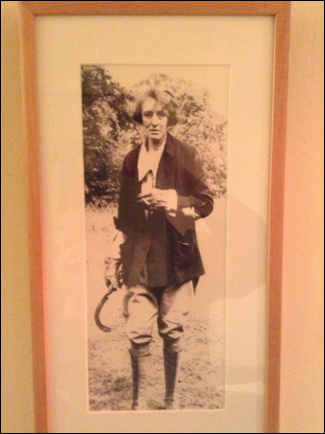 She distinguished herself in 1926 by a life exuberant enough to inspire Virginia Wolfe's Orlando in 1929,
but also her landmark and lengthy (107 pages in this first ed.)poem,
The Land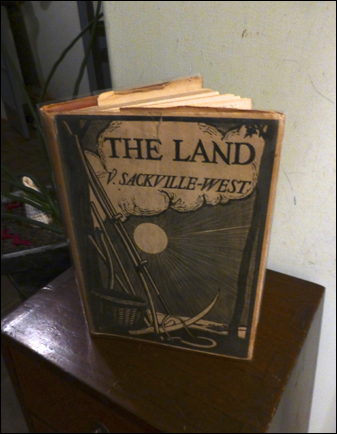 And Patti Smith:

There is no land but the land
There is no sea but the sea
There is no keeper but the key
Except for one who seizes possibilities...

That's how Patti Smith says it.




We welcomed September by seeing her shake the John Drew theater at Guild Hall like it has never shook before. Fantastic

Which reminds me, If you missed the radiocast of my Top Ten All-Time Favorite Songs on WPPB with Bonnie Grice it is not too late to hear it as it is forever available to you on the podcast...

Patti Smith's 'Free Money' is the 2nd song...I must have foreboded that she was going to be SO GREAT...

Lots of people told me they liked my sort-of weird compilation and commentary...so if you want to hear Catherine Deneuve sing a sexy song...or William Burroughs speak in rhyming couplets or the best version of Summertime ever...

Listen here--The Song is You.
Dianne B's DO'S and DONT'S
DO order Allium pulchellum along with your surely impending spring fall-planting bulb orders
It is the last allium to bloom - Really Late blooming, like summer – July – about 20" tall and absolutely divine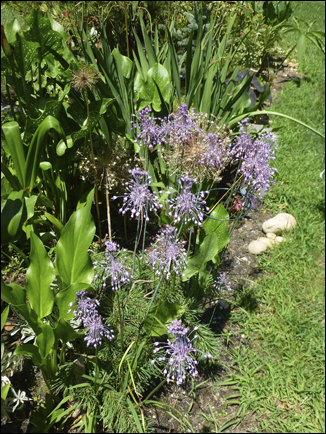 DON'T feel sympathetic about Slugs marauding boldly over your leaves and in the broad sunlight !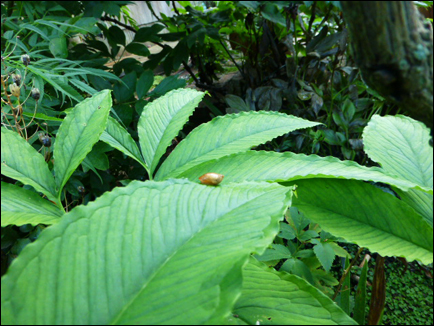 DON'T plant one stinky lily in the middle of nowhere...I just hate the way this looks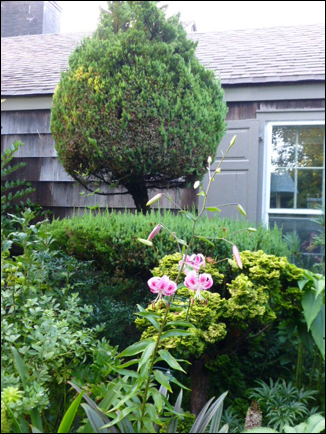 DO ask questions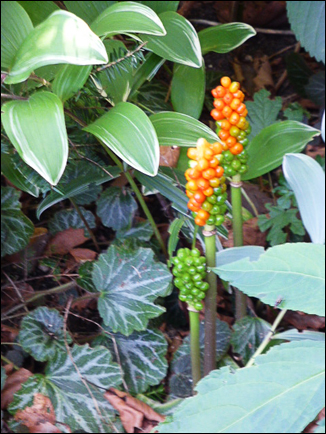 These are seed pods (or berries?) of Arum italicum.
One of my favorite plants in one of its fabulous phases.
It is always good.


DON'T dismiss all yellow flowers like I usually do (except for daffodils) because these happy daisy-like things popping up from Ligularia 'Othello' are quite mirth-making at summer's end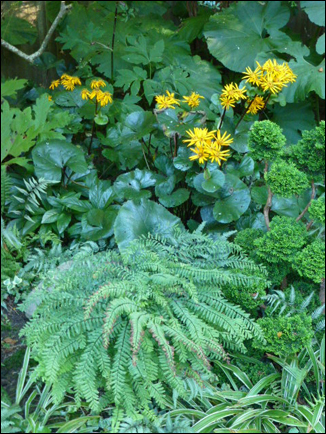 DO have patience with moss.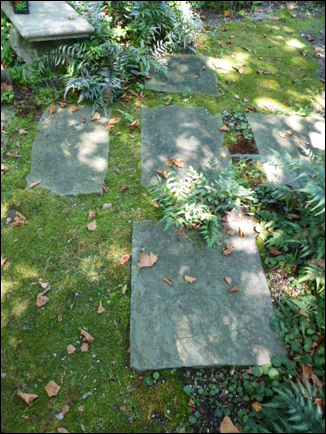 After several years, this little area is starting to respond

And when you get a nice fat multi-stemmed nursery plant
DO divide it before you plant it...it's like getting three for one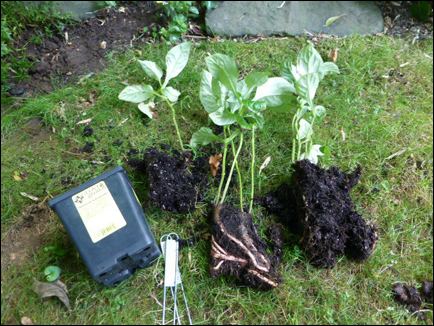 This is a woodlander from the great Jim Glover that I have never
heard of...
Hemiboea subcapitata...white flowers in September?...we'll see


And most of all...

DO trust your Dig Deep Weeder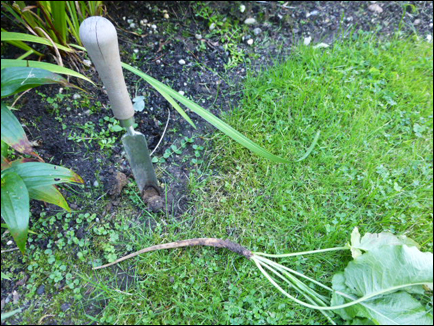 Now, That is a stubborn root
unearthed
ONE GOOD TURN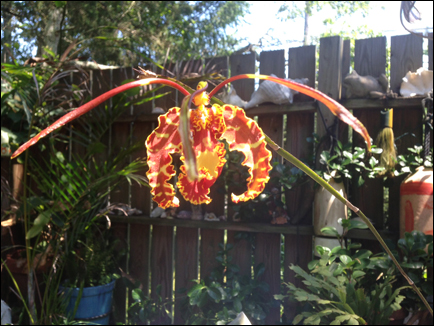 Once part of an elaborate and extraordinarily time-consuming orchid conservatory in an old life, this orchid now belongs to Nissa Hope.
So wonderful when something you once had thrives somewhere else.
HAVE I GOT A BULB FOR YOU....
One set - 3 bulbs - of Voodoo Lilies for $25


Guaranteed to be winter hardy on Long Island...that is all I can promise. They look extremely tropical, but are as reliable as Hosta.

This is Sauromatum venosum (or maybe S. guttatum I don't think it really matters), there are several in the Arum world that have, more or less, the same characteristics....but not one is as dependable as these

A weird and wonderful early summer spathe that only lasts a few days comes first.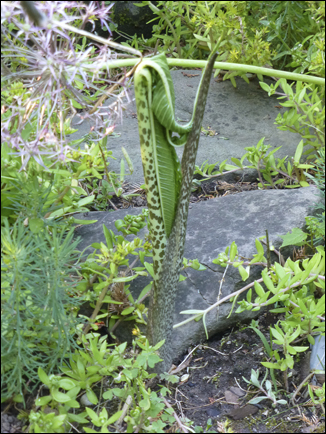 It is followed by tall, graceful, spotted stems topped by a circular tuft of exotic leaves that last for months and make fresh the tired old garden...

Obviously, I have a limited supply, but to those I hear from first:

Here's what to do...

Go to diannebbest and click on Gift Certificate at the top of the page.

When that pops up – choose $25.

Don't click 'To Me'
Click "Directly to recipient " button.

Type in Recipient's (or your own, of course) Name .
In the "Add Unique Message" box type: VOODOO
For $25 you will get one set of Voodoo Lilies.




In this set there will be:
1 Huge bulb – you will get the fattest bulb you can imagine...at least 3" in diameter...
1 Medium bulb – you will get a nice plump one 1 ½ - 2" in diameter

and 1 (or more) fine smaller 1" bulbs and probably a few more bulblets thrown in for good measure

Look at those spotted stems...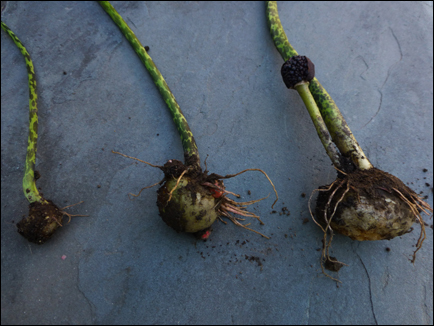 You can plant them on receipt (will ship before end September) and leave them in the ground forevermore and they will glamorize your garden for years to come.

They will all bloom next summer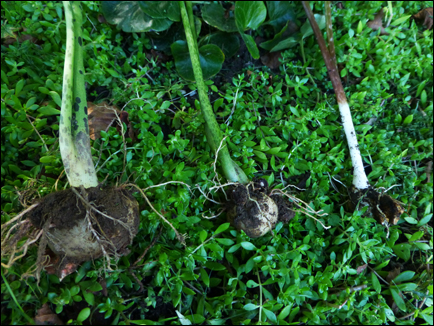 I said they are guaranteed and I mean it.
Not like those crazy Chinese peonies...
This is some year that we are living in
WSJ headlines on September 2:
News you would never have believed could appear on the same page not that many years ago:

Married Same Sex Couples Get Tax Equity

Justice Dept Won't Challenge Marijuana Laws
in Colorado or Washington.



AUTUMN GARDEN TIP:
Turn the handles of the Yard Bag toward the inside of the bag before it is fully filled to keep it open and ready for the next batch of unsightly stuff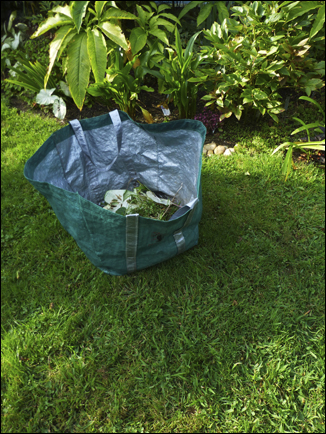 FEW LAST TOUCHES of EXUBERANCE
That special September freshness...
The Lespedeza 'bicolore' (not as boisterous as the magenta-flowered one) bursts forth from under the magnolia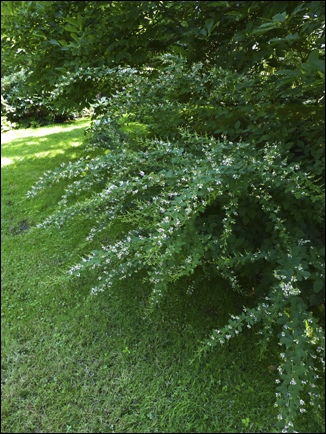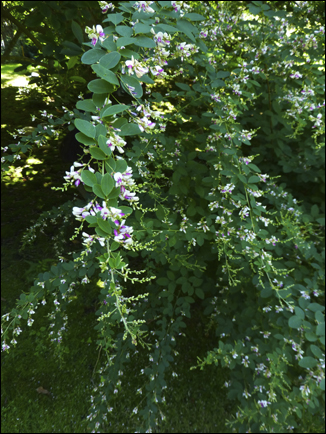 The beloved Aralia elata 'Silver Umbrellas' splathers itself in its billowing cloud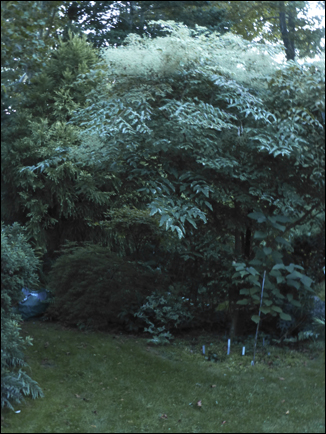 Flora the Good Dog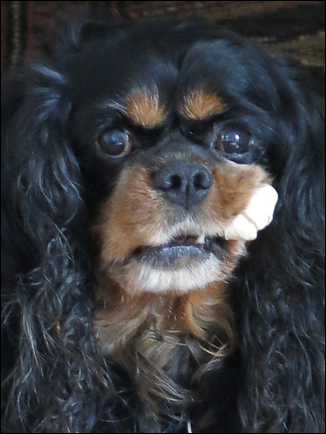 ---